Fried Spring Rolls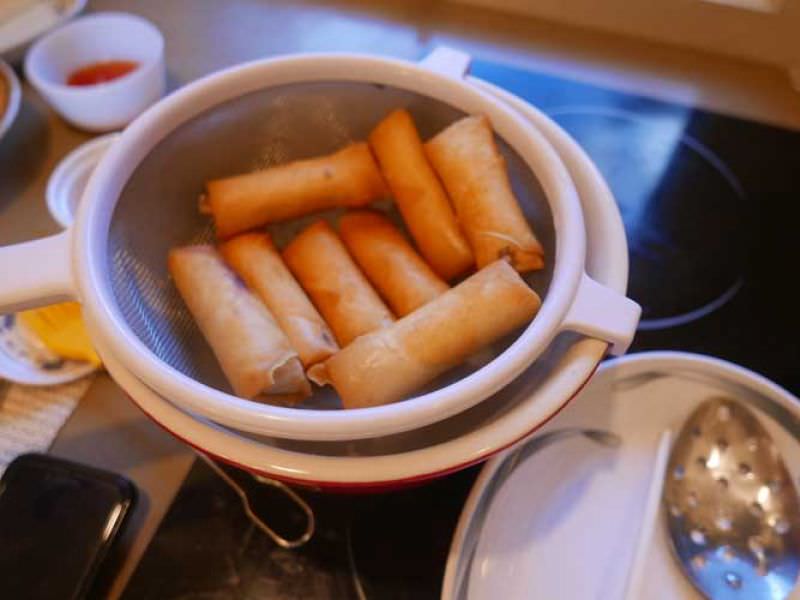 Method for Fried Spring Rolls
The amount you make is up to you and can be varied depending on how many spring rolls you want, but we used a small cereal bowl (as shown) for the filling ingredients and that yielded 8 spring rolls.
For the meat, we prefer about 70% pork and 30% prawns, but you can vary that depending on preference. To the sum total of meat, add about 20% onion and 20% carrot.
Season with fish sauce, Golden Mountain sauce, sugar and pepper.
Mix well with your hands until thoroughly combined.
Lay out a spring roll wrapper and place filling into the lower third, center. Tightly wrap as shown, then seal the wrapper by dabbing your finger into bowl of raw egg (whisked together) then wipe on the corner of your wrapper to keep together like glue.
Heat at least an inch of cooking oil in a wok and bring to a high temperature (it takes a bit of pracitce, but temperature is very important). Add some spring rolls and let cook a bit before turning the heat down to medium. Turn your rolls with tongs to make them evenly browned, then remove and place on paper towel or in a strainer over a bowl.
For the dipping sauce: Slice fresh red chilli peppers and place in a dish, then add a mixture of about 50% fish sauce and 50% water. This is a nice spicy sauce that goes well with the rolls.
We also suggest our sweet chilli sauce for spring rolls.
Enjoy!
Serve with chilli fish sauce
cropped-6Beautiful spring rolls

Reviews