Thai Fried Spring Rolls, 'Poh Pia Tod'

Thai Fried Spring Rolls, 'Poh Pia Tod'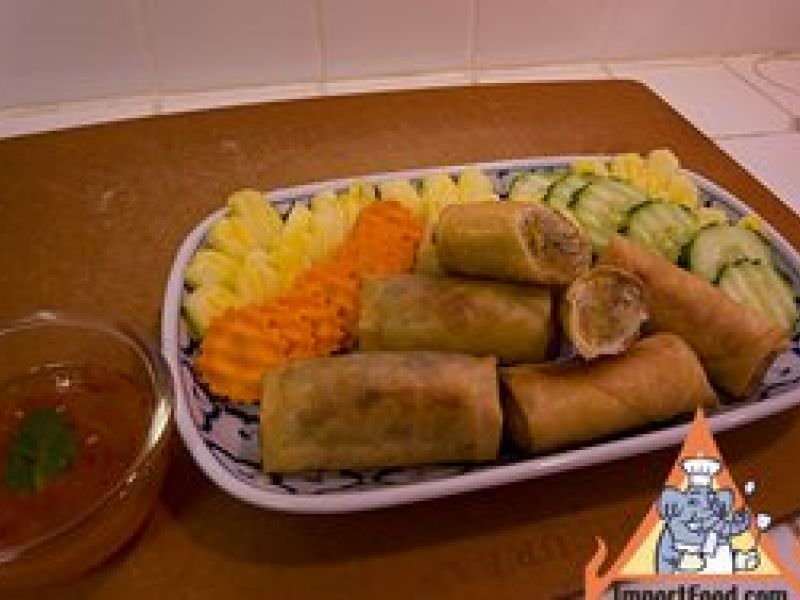 Fried spring rolls are on the menu at Thai, Chinese, or any Asian-style restaurant, and we think this style using genuine Thai beanthread noodles is the best. This is classic snack food that can also fill you up. Make a large batch if you'd like. After cooking the rolls, set them out in the open air without covering them up, and they'll stay crispy.
We also have
Recipe for Fresh Salad Rolls
Recipe for Fresh Spring Rolls
Recipe for Fried Spring Rolls
Ingredients
For 4 Person(s)
Ingredients
16

Fresh spring roll wrappers

5

Medium/large prawns

1

Cup

Fresh bean sprouts

2

Packages Beanthread Noodles

2

Tablespoons

Chopped Spring Onion

2

Tablespoons

Chopped Cilantro

1/2

Cup

Shredded Carrot

1/2

Teaspoon Thai pepper powder

1/2

Tablespoon

Minced Garlic

1

Tablespoon

Vegetable Oil

2

Tablespoons Thin Soy Sauce

1

Teaspoon

Sugar

Flour paste (see below)
Buy ingredients for this Recipe
Method for Thai Fried Spring Rolls, 'Poh Pia Tod'
Preparation
1. Mince your prawns with a sharp chef's knife, and put the minced prawns in a bowl.
2. If using shiitake mushrooms (recommended), soak in warm water until soft, about 15 minutes, then drain and gently squeeze out the water from each mushroom, and slice.
3. Soak your beanthread noodles in water for about 15 minutes, then, while still soaking, cut the beanthread into 1" length pieces using scissors (see picture). Drain, and put the cut beanthread into a bowl.
4. Make a flour paste by mixing 2 tablespoons all purpose flour with 1 tablespoon water. Keep aside. This will act like a glue to hold your wrappers together.
5. Open your package of frozen wrappers, remove from package, and set on a cooking sheet. Cover with a damp paper towel. As you remove each wrapper, keep the damp towel on top of your existing stack.
Method
In a frying pan, heat vegetable oil over medium heat, and add minced garlic. Fry until lightly golden. Add minced shrimp, shiitake, beanthread, carrot, and gently stir in soy sauce, sugar, and pepper powder. Stir fry this until it's blended well. Now add bean sprouts, spring onion, and cilantro. Mix well and cook just a bit longer, then remove to put in a bowl.
On a flat surface, lay out one spring roll wrapper and place the filling on top, then fold and roll as shown in pictures below.
Fry the spring rolls in about one inch of vegetable oil. Remove from oil with a slotted spoon or skimmer. Set on paper towel to cool.
Your spring rolls should be served with two sauces: sweet chile sauce for spring rolls, and sweet and sour plum sauce. Enjoy!

Reviews