Thai Sweet Chilli Sauce for Spring Rolls
Thai Sweet Chilli Sauce for Spring Rolls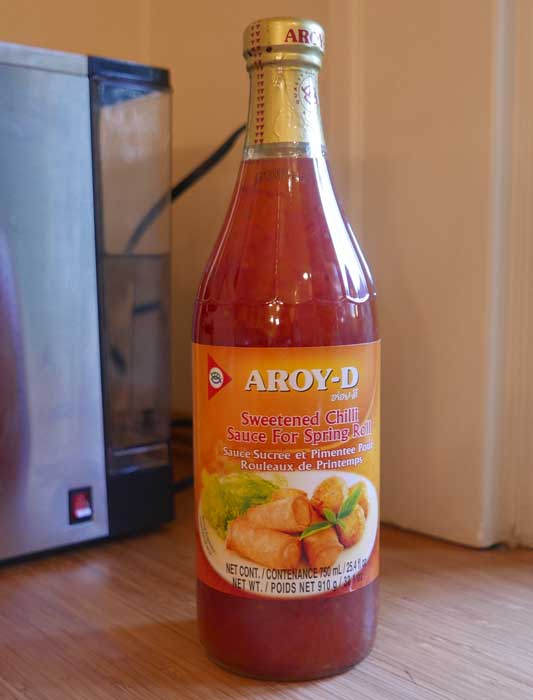 Aroy-D Brand
Whenever Aroy-D comes out with a new product we pay attention, as the quality is always "Top Notch". This is the same company that pioneered the All Natural Coconut Milk which has been well-received around the world.
This sauce has a fragrant, almost smoky rich sugary chile flavor that goes perfectly with spring rolls. We also carry Pantainorasingh brand (below).
Everyone loves a good spring roll (see our Thai spring roll recipe), and a great sauce like this is more than the "icing on the cake". It makes your spring rolls the pinnacle of perfection.
Packed in a large glass bottle, you get a very generous amount. Ingredients: sugar, water, red chilli, carrot, turnip, garlic, acetic acid, salt.
Product of Thailand.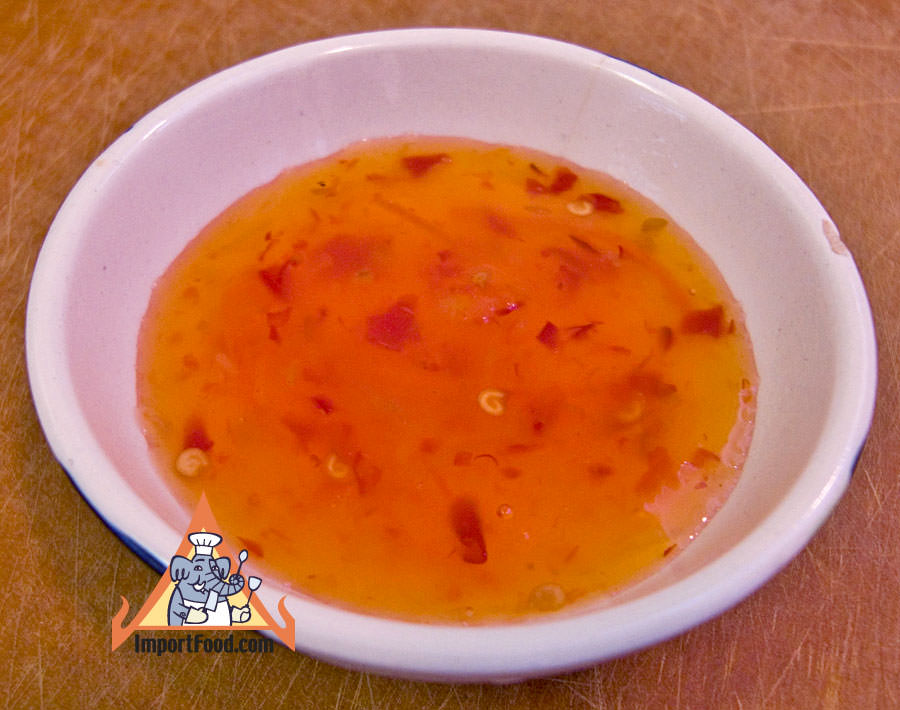 ---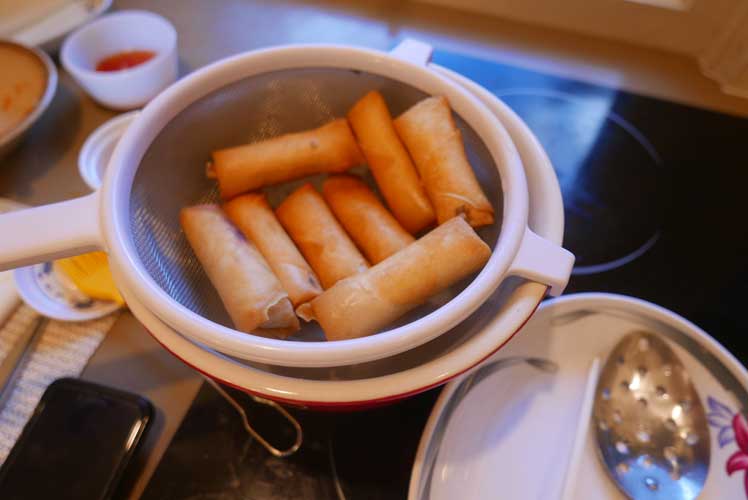 Fried Spring Rolls
These spring rolls can be made really quickly, as the filling is so basic and things are put together using eyeball rather than strict measurements. Fun to make and you can develop your own style.
We like making several dozen at a time then storing uncooked rolls in the freezer in a ziplock bag.
---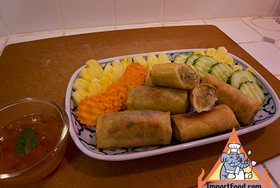 Thai Fried Spring Rolls, 'Poh Pia Tod'
Fried spring rolls are on the menu at Thai, Chinese, or any Asian-style restaurant, and we think this style using genuine Thai beanthread noodles is the best. This is classic snack food that can also fill you up. Make a large batch if you'd like. After cooking the rolls, set them out in the open air without covering them up, and they'll stay crispy. We also have a recipe for fresh spring rolls
---
---
Pantai Brand
This exotic sauce features shreds of carrot, turnip and spicy dried Thai chile seeds. The perfect condiment for dipping fried spring rolls, fresh spring rolls, and/or Thai fish cakes. Also a great dipping sauce for barbeque chicken, this is a thinner sauce than our sweet chili sauce for chicken.

High quality Pantainorasingh brand. Packed in glass bottle. Ingredients: sugar, water, red chile, turnip, carrot, salt, garlic, modified starch, acetic acid. Product of Thailand.

Street Vendor Video: How to make a sweet chile dipping sauce