Thai Chocolate Rice Krispy Bars with Ovaltine & Chocolate Bavarian Cream

Thai Chocolate Rice Krispy Bars with Ovaltine & Chocolate Bavarian Cream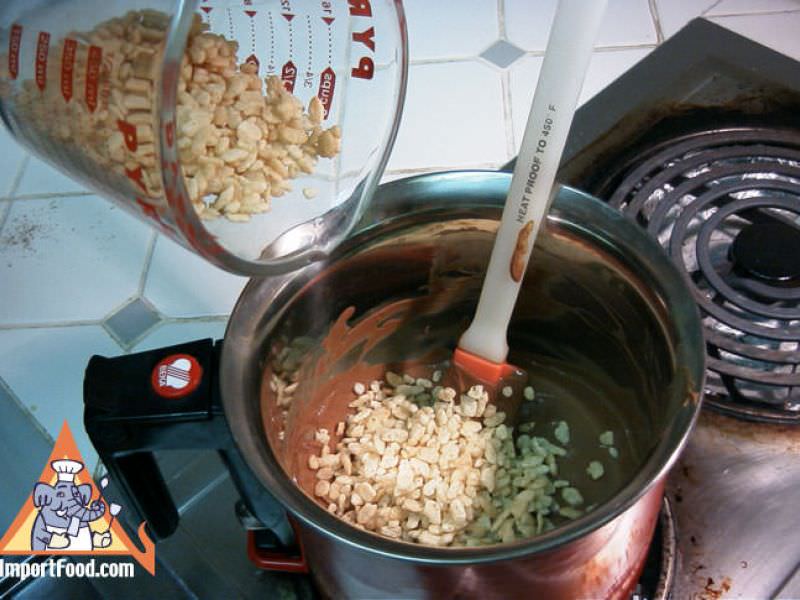 We recently discovered that some executive chefs use Thai Ovaltine in their dessert recipes, notably pastry chef Sherry Yard of Spago in Beverly Hills. Thai Ovaltine is true to the original British formula, unaltered like the American Ovaltine which has been changed over the years to add more sugar. Thai Ovaltine has much richer barley malt flavor. It's also loaded with vitamins, and tastes just like you remember. Packed in a nice tall glass jar, a large quantity that will last. Mix with milk and enjoy hot or cold. We prepared the recipe below from Sherry Yard's book "Desserts by the Yard: From Brooklyn to Beverly Hills", and it was unbelievably good.
Ingredients
For 4 Person(s)
Bars
8

Ounces

Quality Milk Chocolate, chopped (we used Ghirardelli milk chocolate chips)

2

Tablespoons

Vegetable Oil

3/4

Cup

Rice Krispies

Pinch salt
Bavarian Cream
8

Oz

Milk Chocolate, Chopped

2

Cups

Whipping Cream

1/2

Cup Thai Ovaltine
Buy ingredients for this Recipe
Method for Thai Chocolate Rice Krispy Bars with Ovaltine & Chocolate Bavarian Cream
Make the bars: Line an 8-inch square pan with parchment paper. Melt chocolate in a microwave-safe bowl at 50 percent power for 2 to 3 minutes or in a heatproof bowl set over a saucepan of simmering water (we used an old Beka double-boiler, shown above). With a rubber spatula, stir in oil and mix until it's incorporated and the mixture is shiny. Fold in Rice Krispies and salt. Spread mixture evenly in prepared pan. Place in refrigerator.
Make Bavarian cream: Place chocolate in a medium bowl. Bring 1 cup cream to a simmer in a medium saucepan and whisk in 1/3 cup Ovaltine. Whisk vigorously to break up lumps as you bring mixture to a boil. Pour mixture over chocolate. Tap bowl on work surface to settle chocolate into cream and let sit 1 minute, then whisk until smooth. Let cool to room temperature.

Whip remaining 1 cup cream to soft peaks. Fold half of whipped cream into the chocolate mixture to lighten it, then fold in remaining cream. Remove Rice Krispies base from refrigerator and spread Bavarian cream over it in an even layer. Tap pan lightly against your work surface to flatten top. Refrigerate at least 4 hours or overnight.
Warm Cream - Ovaltine Into Chocolate

Reviews