Beef Rendang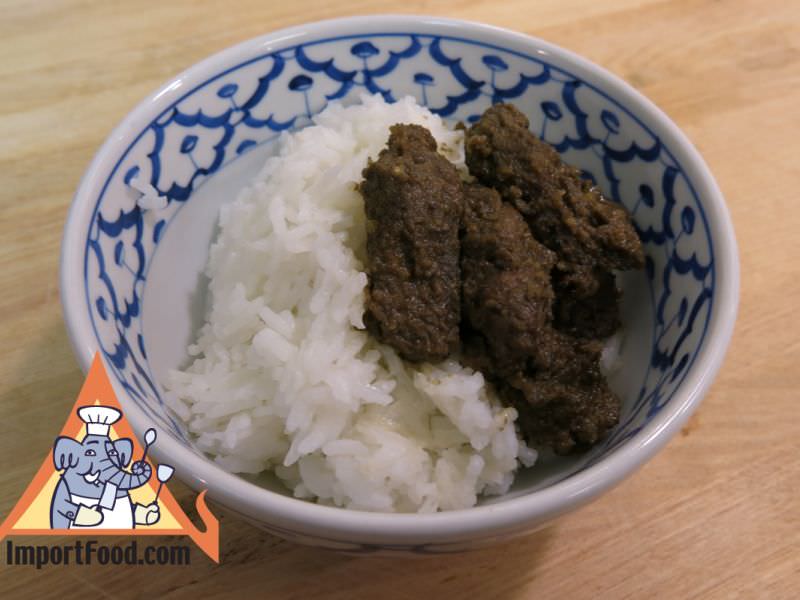 Beef Renang is a dry-braised beef curry recipe that originated in West Sumatra, Indonesia, and it's made with a wide range of fresh and non-fresh spices that ImportFood.com specializes in so we thought it would be a nice addition to our Thai recipe collection. Cubes of beef cooked slowly in Asian spices, prepared slowly to yield pieces of beef loaded with flavor and cured almost like jerky.
Compare this to Thai Sundried Beef, Neua Dad Deo. Serve with jasmine rice or crusty bread. This recipe is based on James Oseland's book "Cradle of Flavor".
Ingredients
For 4 Person(s)
Ingredients
5

Whole Cloves

1/2

Teaspoon

Nutmeg Powder

4

Fresh Thai Chiles Stems and roughly chopped

6

Small Shallots Roughly chopped

5

Candlenuts

3

Cloves Garlic Peeled

1

2in Piece of Fresh Turmeric peeled and roughly chopped or 1.5 teaspoon ground turmeric

1

2in Piece of Fresh Ginger, Peeled and thinly sliced

1

2 Piece of Fresh Galangal, peeled and thinly sliced

2

Pound

Boneless Beef Chuck, cut into 2

7

Fresh Kaffir Lime Leaves

3

Stalks Fresh Lemongrass, trimmed, smashed with a mallet, and tied into knots

2

Sticks Cinnamon

2 1/2

Cups

Coconut Milk
Buy ingredients for this Recipe
Method for Beef Rendang
Pulse cloves and nutmeg in a food processor until fine. Add chiles, shallots, candlenuts, garlic, turmeric, ginger, and galangal; puree until a slightly smooth paste forms, about 2 minutes. Transfer paste to a 12" skillet with beef. Using your hands, mix together. Add fresh kaffir lime leaves, lemongrass knots, cinnamon, coconut milk, and salt; bring to a boil. Reduce heat to low; cook, stirring occasionally to prevent coconut milk from scorching, until the consistency of thick pea soup, about 1.5 hours. Continue to cook, stirring frequently to prevent burning, until sauce and beef turn a dark caramel color and sauce coats the beef, 2.5 - 3 hours. Discard whole spices before serving. Optional: garnish with thinly-sliced fresh kaffir lime leaves.

Reviews