Fried Sticky Rice, 'Kao Neeo Tod'

Fried Sticky Rice, 'Kao Neeo Tod'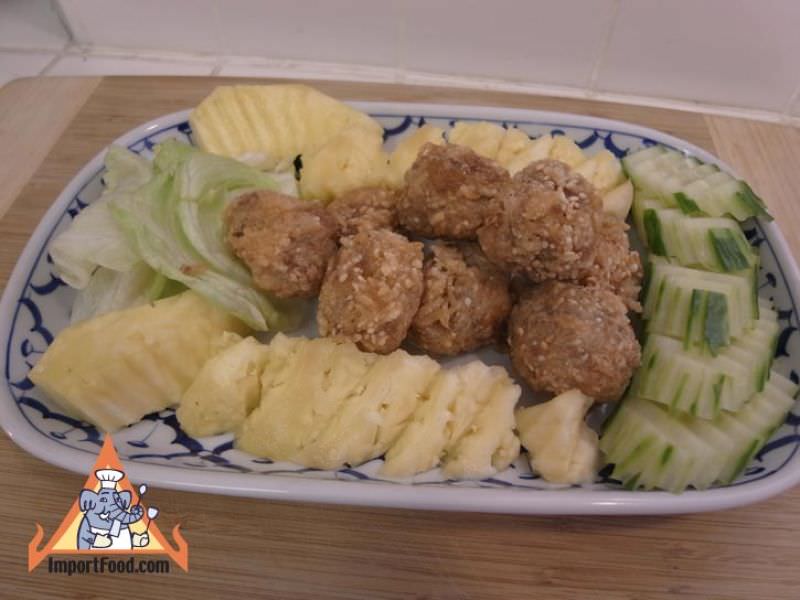 A wonderful, delicious recipe that's easy to prepare. An authentic Thai snack that may seem like a trendy take on sticky rice but Khao Neeo Tod is found in the oldest Thai cookbook we own. It's been enjoyed for years in Thailand but we've never seen it served outside of Thailand.
Method for Fried Sticky Rice, 'Kao Neeo Tod'
Method
Combine the pork, ground pepper, salt, sticky rice and white sesame in a bowl, then mix together until smooth. Form the mixture into bite-sized balls and dip in beaten egg. Deep fry the balls in hot oil over a moderate heat until lightly brown. Remove from the oil with a skimmer and drain well on kitchen papers.
Sauce
Mix together in a small bowl prik pao with a bit of lemon juice to taste, and add a slight amount of sugar to suit your preference
Serving
Transfer the fried sticky rice to a serving plate, garnishing with pineapple and red chilis. Serve with sauce and fresh vegetables: lettuce, green onions, coriander.
Note: this dish goes well with fried dried salted beef. It can be made as follows: cut the beef into 1/2" thick slices, mix with salt and marinate for one hour. Allow to dry on a sieve about 2-3 hours, then fry the beef in hot oil until cooked.
Variant Method
We also prepared this dish with only sticky rice, salt and pepper, formed into balls then dipped in egg and fried. It was wonderful! Try this if you don't want to add meat.
Fried sticky rice khao neeo tod
Ingredients mixed together
Dipping balls into beaten egg

Reviews