Thai Green Curry Shrimp with Noodles

Thai Green Curry Shrimp with Noodles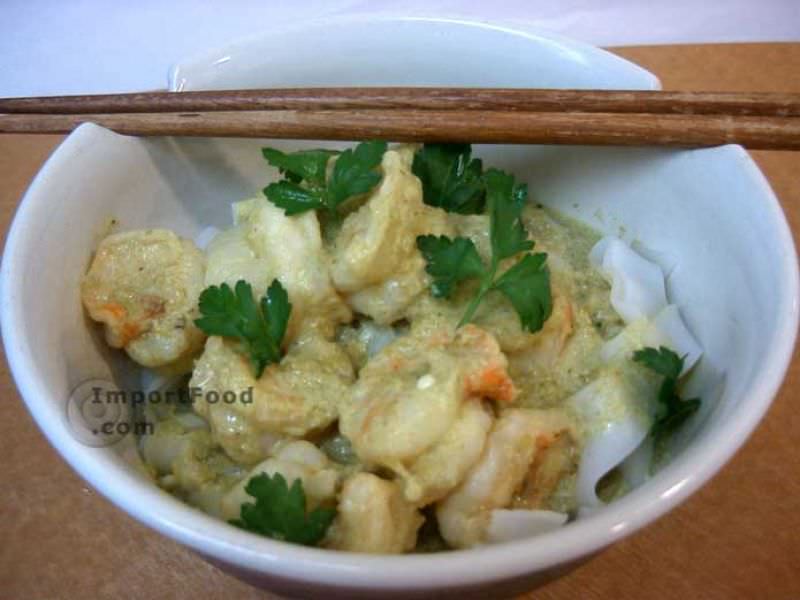 This recipe is positively delicious, the final result has such a wonderful aroma, texture and flavor. See pictures below.
Method for Thai Green Curry Shrimp with Noodles
Puree shallots, lemongrass, garlic, ginger and cilantro stems in blender with curry paste, sugar, salt, turmeric powder, and water until as smooth as possible (about 1 minute). Heat oil in a wide heavy pot over moderate heat until hot but not smoking, then cook curry paste mixture, stirring frequently, until it just begins to stick to bottom of pot (8 to 10 minutes). Add coconut milk and broth and simmer, uncovered, stirring occasionally, until reduced to about 3 2/3 cups (8 to 10 minutes).
While sauce simmers, cook noodles in a pot of boiling salted water, uncovered, stirring occasionally, until tender (4 to 6 minutes). Drain in a colander and rinse under cold water. Drain noodles well and divide among 4 large bowls.
Add shrimp to sauce and simmer, stirring, until just cooked through. Remove from heat and ladle over noodles. Serve and enjoy!
Green curry shrimp with noodles
Add coconut milk & shrimp

Reviews