Thai Five-Spice Soup with Rice Chips, 'Kua Chap'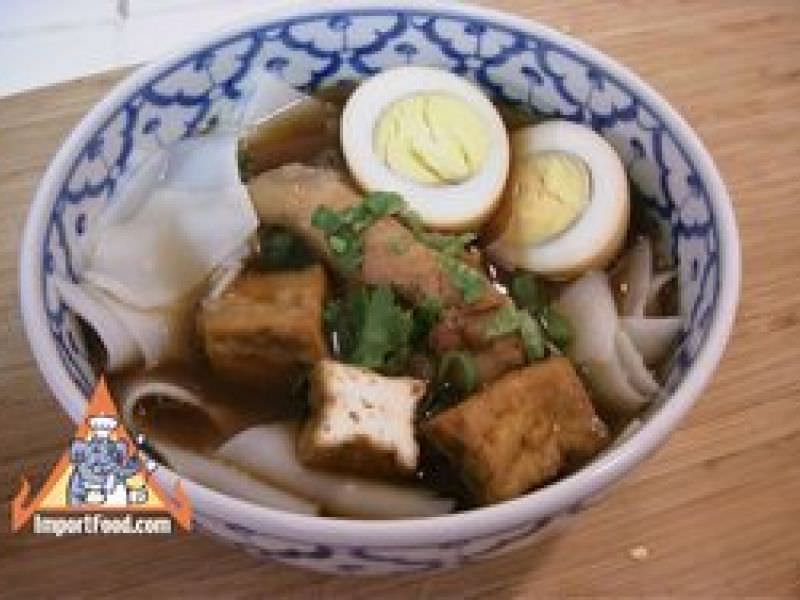 Method for Thai Five-Spice Soup with Rice Chips, 'Kua Chap'
Heat oil in heavy pot, then fry chicken parts until golden brown on both sides. Add water to the pot. In amortar and pestle, pound garlic, corriander seed, and pepper powder, then add this paste to the pot. Add five spice powder, sweet soy sauce, thin soy sauce, sugar, salt and two hard-boiled eggs. Add tofu and stir. Bring to a boil. Turn down heat and simmer for 30 minutes.
To prepare the rice flake: boil water in a large pot, then add bit by bit. Cook for 10 minutes. Transfer to another pot with a slotted spoon, and leave a little bit of water with the rice flake in order to make sure they won't stick together.
To prepare the sauce: in a mortar and pestle pound fresh Thai chiles into a fine paste. Transfer this to a small sauce dish, add vinegar and stir.
To serve: Pour the soup over the cooked rice flake. Serve with the spicy sauce, and fish sauce on the side to season. Top with spring onions and cilantro.
Five spice soup with rice chips kua chap

Reviews