Soy Sauce, Dark Thick, Healthy Boy Brand
Soy Sauce, Dark Thick, Healthy Boy Brand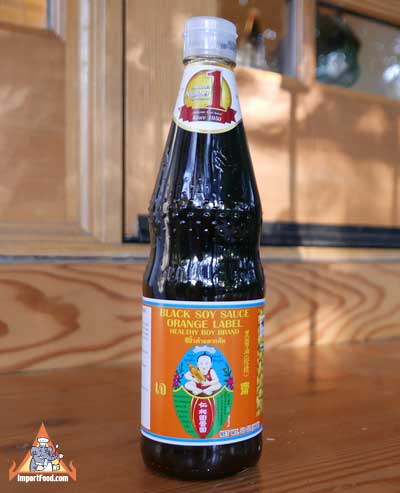 Add to cart
19oz-$6.89

Also known as 'black' soy sauce. Used in a variety of Thai recipes, see some sample links below and:

Street Vendor Videos
Pad Thai made by a street vendor in Thailand using dark thick soy sauce
Radna wide noodles in gravy
Stir fried seafood with Thai basil
Dark soy (in Thai, siu-dahm) is opaque, black, and viscous. The most prominent characteristic is the dark color and the taste of palm sugar molasses (when the sweetness is removed from palm sugar, the remaining molasses is added to this soy sauce to create a very unique, wonderful flavor). Not nearly as sweet as sweet soy.
Dark Thick in our Set of Four Thai Sauces
We are now shipping Healthy Boy brand, Orange Label (preferred by restaurants) as shown. It is packed in a large 19 oz plastic bottle. The best dark thick soy sauce. Made using the natural fermentation method. Please see our feature story on how soy sauce is made.
Ingredients: soya bean, rice starch, sugar, salt, water, sodium benzoate.
Product of Thailand.
We recommend this product in the following ImportFood.com Thai recipes