Thai Chicken with Hot-Sour-Salty-Sweet Sauce

Thai Chicken with Hot-Sour-Salty-Sweet Sauce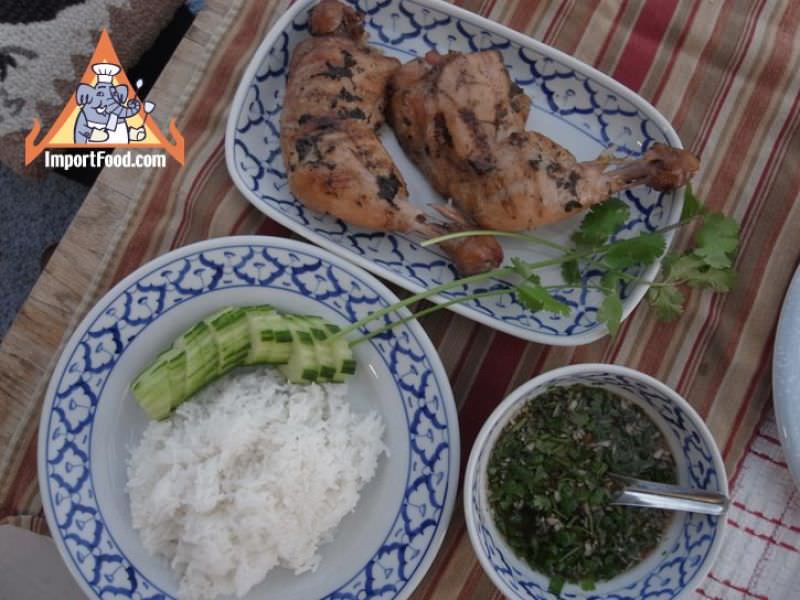 The simple marinade and cooking method here creats chicken that's slightly dry on the outside, perfectly cooked on the inside & ready for the dipping sauce.
We used a charcoal barbecue with a vented lid (made by PK Grill in Arkansas), which allows us to adjust the temperature. We barbecued with lid closed at a medium/low temperature for about 30 minutes, before transferring to the oven. Our method is slightly different than what is suggested in Food & Wine Magazine, where this appeared. They recommend barbecuing the chicken at high heat for 12 minutes only, before transferring to an oven.
Ingredients
For 4 Person(s)
Ingredients for Marinated Chicken
1/4

Cup

Chopped Cilantro

2

Tablespoons Fish Sauce

1 1/2

Teaspoons

Freshly Ground Pepper

4

Whole Chicken Legs, skinned
Ingredients for Dipping Sauce
Buy ingredients for this Recipe
Method for Thai Chicken with Hot-Sour-Salty-Sweet Sauce
Method for Marinated Chicken
In a mortar and pestle, lightly pound the cilantro, fish sauce and pepper together. Coat the chicken with the marinade. Let stand at room temperature for 20 minutes.
Method for Dipping Sauce
In a bowl, combine the dissolved tamarind with the fish sauce, lime, garlic, chile, sugar and water.
Method for Cooking Chicken
Light a grill. Rub the chicken with the oil and rub the grill with an oiled paper towel. Grill the chicken over relatively low heat, turning, until charred, 20-30 minutes. Transfer the chicken to a baking sheet and roast in your oven at 400F for 30 minutes, until cooked.
Just before serving, stir the cilantro into the dipping sauce and serve with the chicken.
An additional dipping sauce to serve would be sweet chile dipping sauce. Also see: Nam Jim Jeaw.
thai chicken with hot sour salty sweet sauce
Chicken coated with marinade

Reviews