Chicken Stir-Fried with Green Curry, 'Gai Pad Khiaowan'

Chicken Stir-Fried with Green Curry, 'Gai Pad Khiaowan'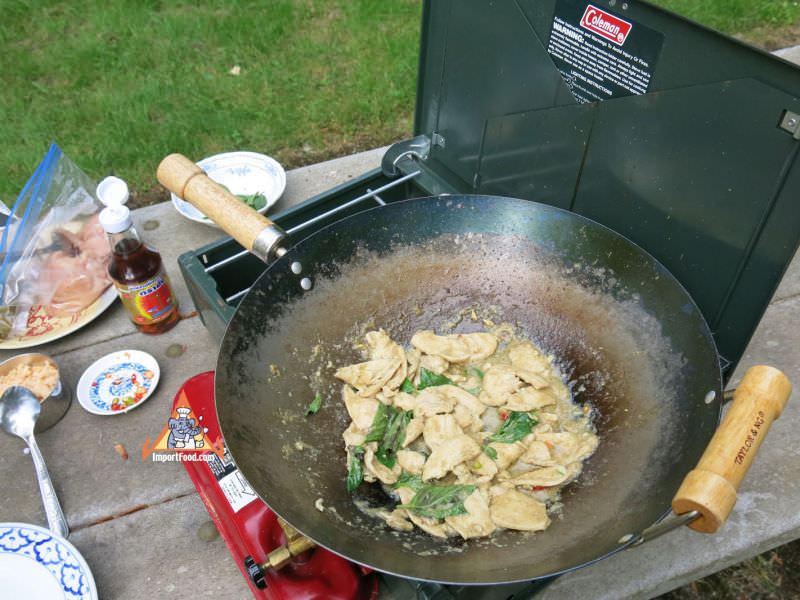 This is an example of the popular 'fried curry' style that produces a dry result. It blends equally well with rice or noodles.
Method for Chicken Stir-Fried with Green Curry, 'Gai Pad Khiaowan'
In a wok or skillet over medium heat, warm the coconut milk and add the curry paste, stirring briskly until it becomes aromatic. Discard any oil film that forms on the surface. Add the chicken and stir fry until it just begins to change color. Add the remaining ingredients, except the basil, and continue to stir fry until the chicken ia almost cooked through. Finally, add half the basil and stir briefly then transfer to a serving platter. Dip half the basil in sweet chili sauce, and then fry it in hot oil until crispy, then use to garnish the curry.
Serve with either Thai jasmine rice or noodles.
On a coleman stove at a state park
Add curry paste then more coconut milk
Add sliced thai chile peppers
Fresh thai basil at the end

Reviews