Thai Ginger Steamed Fish, Pla Nung Khing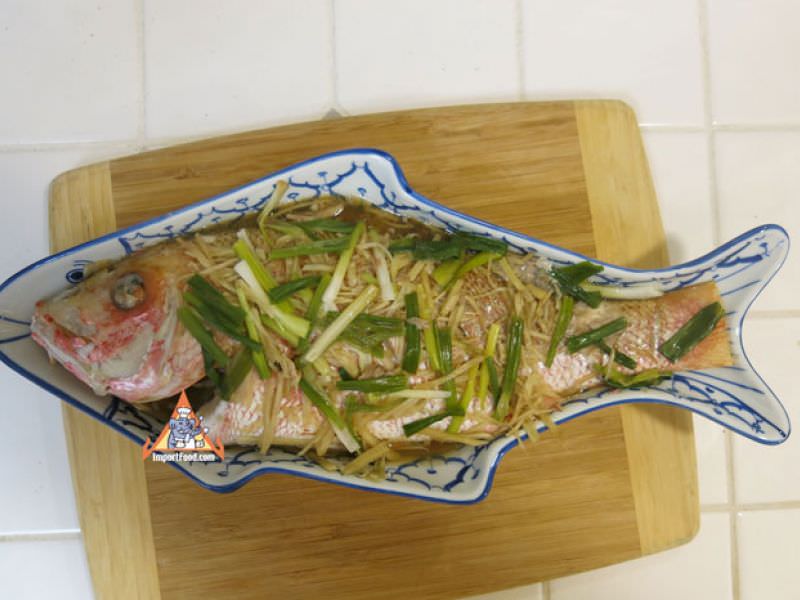 This is a simple, common dish that you find throughout Thailand. Many local neighborhood markets sell whole fish like this, then they are taken home and steamed with ginger.
Method for Thai Ginger Steamed Fish, Pla Nung Khing
We used Red Snapper, likely a farmed red snapper, from a local market that cleaned it. Use any fish you like and if you can use white fish filets as well, such as halibut or cod.
Wash your fish. Clip away any large fins using kitchen shears. Score the fish twice on each side, as shown. Put it on a plate.
Wipe each side of the fish with salt, sugar, oyster sauce, and Golden Mountain Sauce. Rub these four seasonings gently into the fish by hand.
Open the fish and stuff the inside with 3/4 cup ginger.
Sprinkle the rest of the ginger all over the fish.
Slice each 1 inch piece of green onion into smaller shavings and put it on top of the fish.
Place a steaming rack into your wok and set the platter with the fish, on the rack. Put about two inches of water into the wok and bring it to a boil. Cover the wok with a lid and let it steam for about 20 minutes, until the fish is cooked.
Top With Ginger And Onion
Cover And Steam 20 Minutes
Enjoy Steamed Ginger Fish

Reviews