Thai Oyster sauce, Maekrua brand, 11.8 oz bottle
Thai Oyster sauce, Maekrua brand, 11.8 oz bottle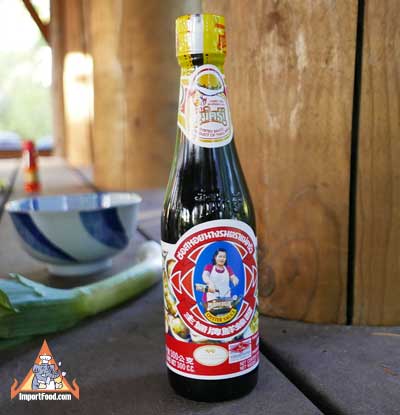 Add to cart
11.8oz-$6.89

Use this bottle for generous use on your stir-fry (see recipes using oyster sauce below). One of our favorite non-Thai recipes that uses oyster sauce is pan-fried butter steak, as oyster sauce really enhances natural beef.
Here's a Thai Street Vendor Video demonstraing the use of oyster sauce also.
A common seasoning for many Asian stir fry dishes. Ideal for all seasoning purposes. This is a truly premium brand, the manufacturer has decades of experience producing Thailand's finest oyster sauce.
Maekrua is the most familiar brand of oyster sauce, having a near monopoly in every household, and for good reason. The flavor is just excellent. You can find cheaper brands on some street vendor carts in Thailand, but Mae Krua is the gold standard for taste and quality.
Maekrua Oyster Sauce in our Set of Four Thai Sauces
We love to marinate steak with plenty of oyster sauce, a handful of crushed garlic cloves and a little bit of fish sauce.
NEW: We now offer Megachef brand oyster sauce
NEW: We now offer Healthy Boy brand gluten free oyster sauce
Ingredients: oyster extract, sugar, salt, soybean, wheat flour, corn starch, sodium benzoate. Glass bottle is 11.8 fluid ounces.
Product of Thailand.
We also offer a vegetarian oyster sauce alternative.
---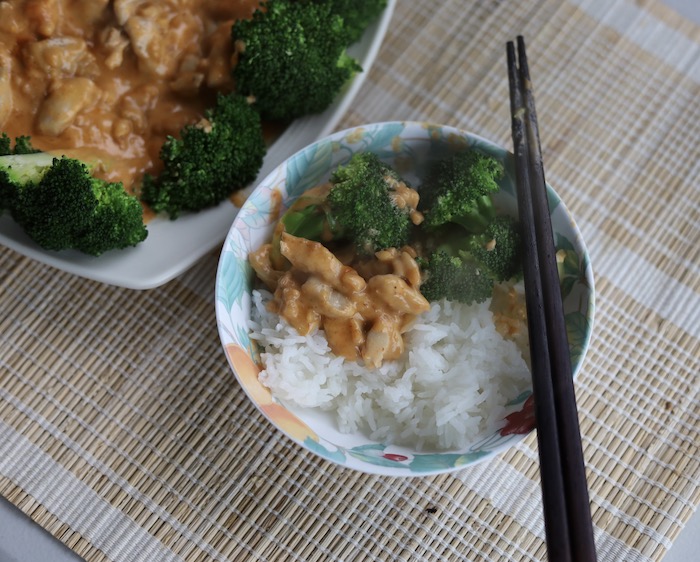 Thai Rama Chicken, 'Praram Long Song'
This dish dates to the time of King Rama 5, about 140 years ago. Originally it was made with beef, but nowadays pork and chicken are often used. Praram is a name for the God Rama, or King Rama, in The Ramkian. The Ramakian is the Thai version of an Indian Hundu epic written 2000 years ago. Long Song translates as 'take a shower'.
Praram Long Song is a popular dish in American Thai restaurants, but not often found in Thailand. Americans are fond of the peanut sauce, and in our recipe it's quite delicious. Sometimes called Swimming Rama, you can use broccoli, spinach, or other greens of your choice.
---
---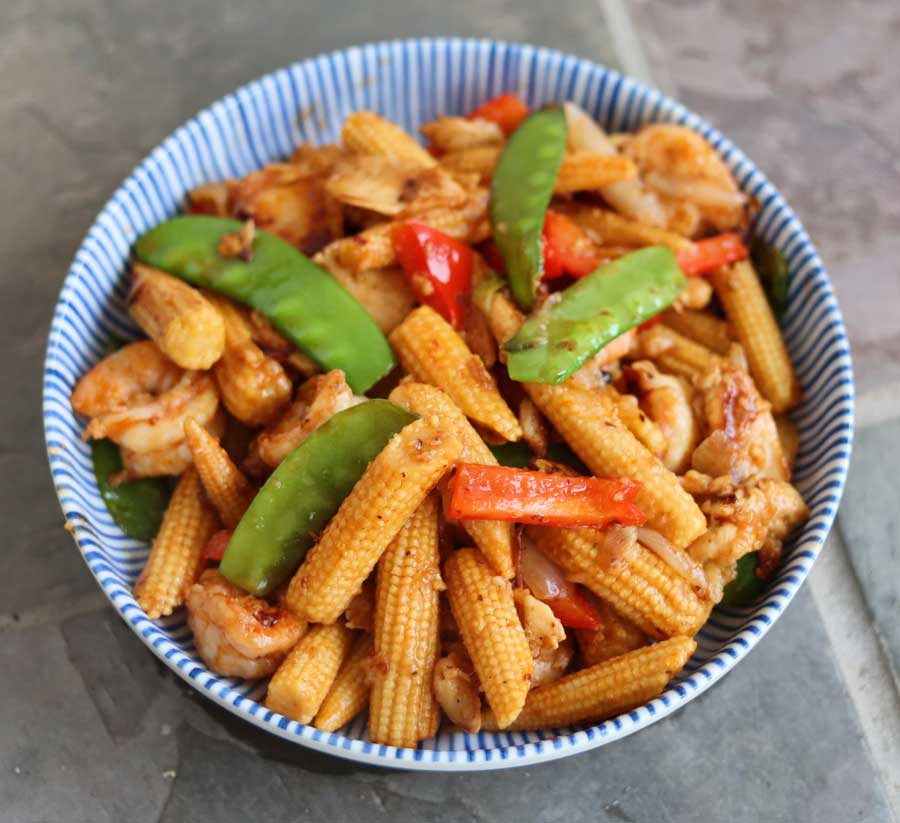 Thai Baby Corn Stir Fry
Our Thai baby corn is crisp, full of flavor, and perfect for stir fry with meat and seafood. In this recipe we share the important simple tricks so you can do it all in your own kitchen quickly. Adding tapioca starch at the end ties the flavors together and gives it an elegant finish glaze.
---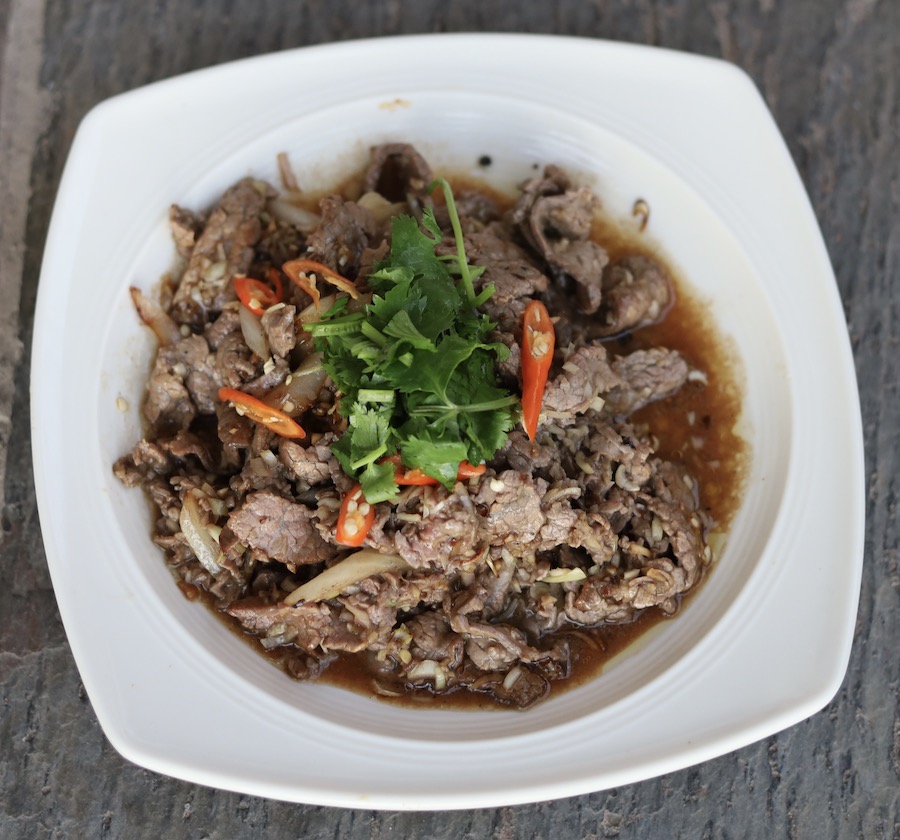 Lemongrass Beef
Prepare fresh lemongrass beef in minutes; a healthy recipe with a nice aroma and lovely citrus flavor. Chop your lemongrass finely as shown, and cook it quickly over medium/high heat.
---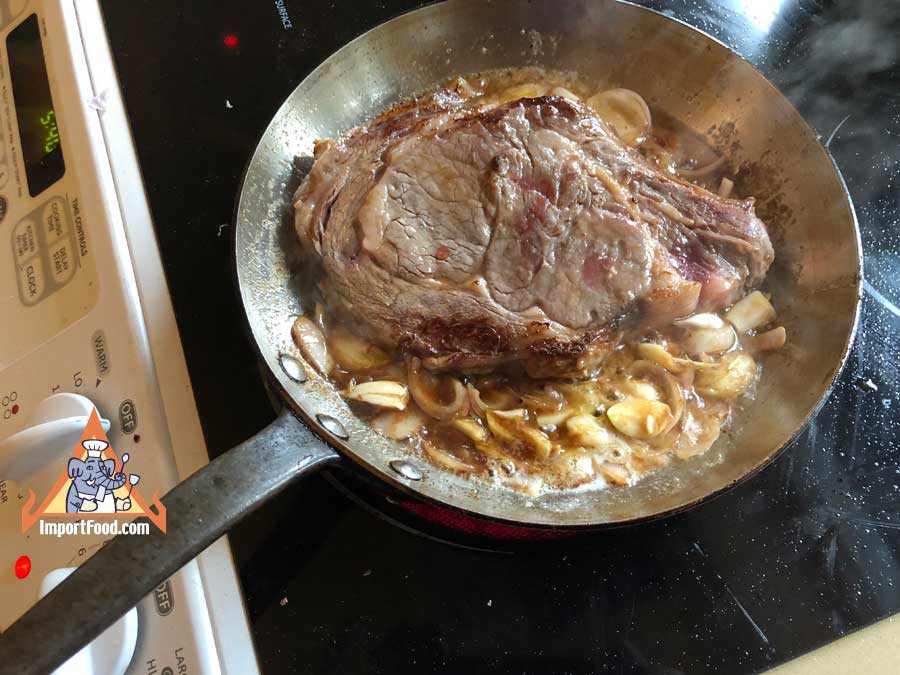 Thai Pan-Fried Butter Steak
We learned how to make this steak from a local chef with a very keen sense of taste.
Cooking steak with butter is not new but becoming quite popular.
Oyster sauce and fish sauce are key ingredients but the finished steak doesn't have a hint of Asian flavors -- just a lovely slight sweet garlic glaze and the rich flavor of beef.
Temperature is important in this recipe, so follow along. With practice, this makes the best steak ever.
---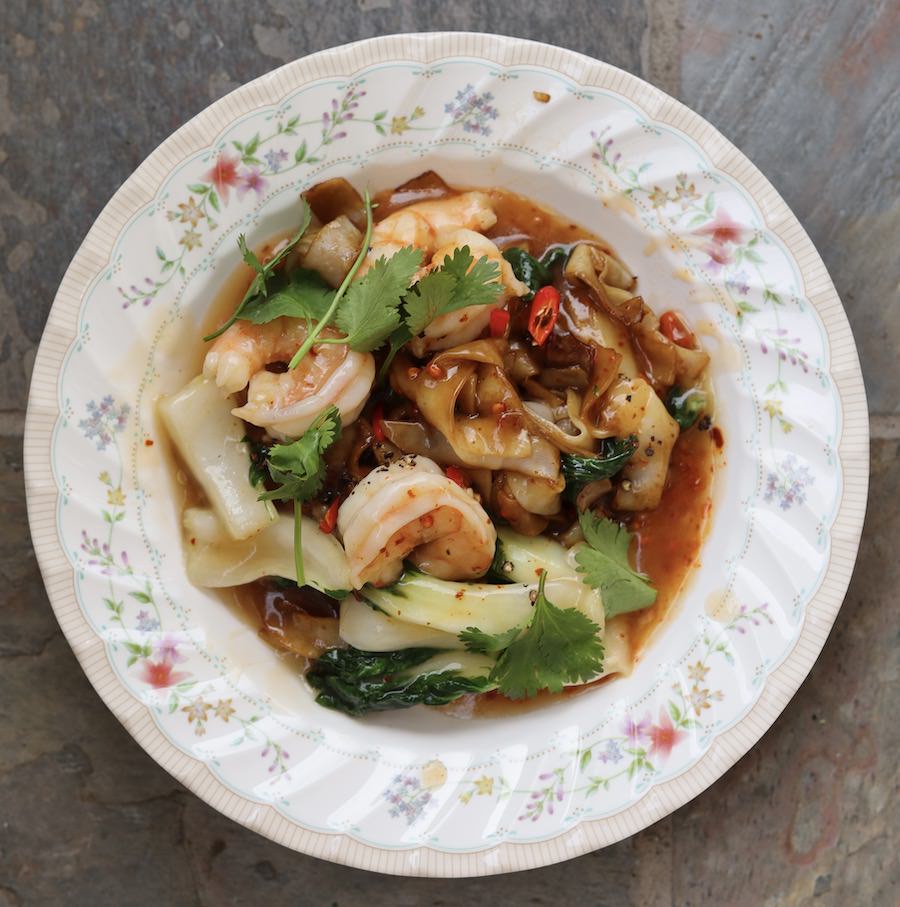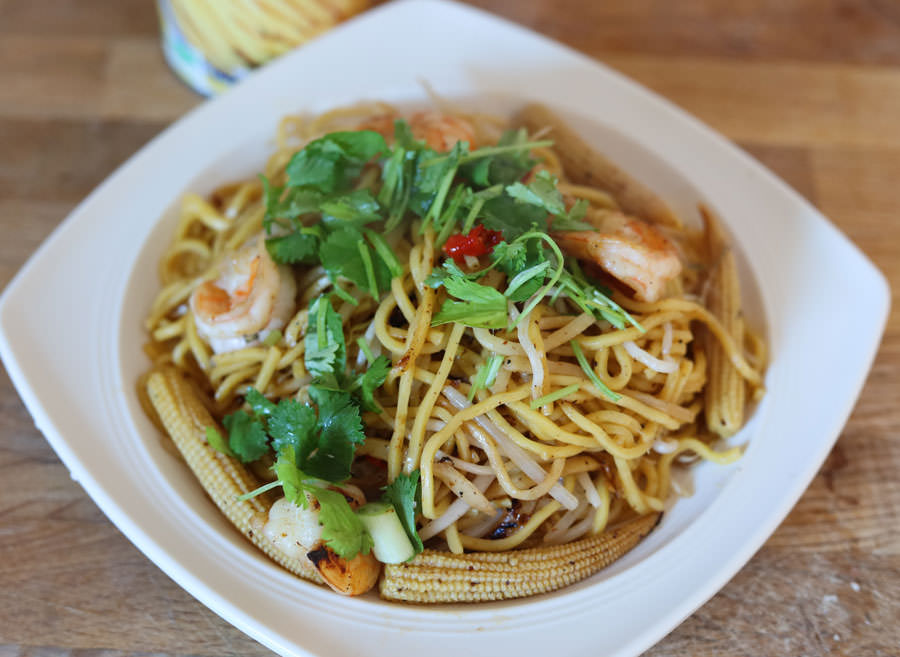 Thai Noodle Bamboo Shoot Stir Fry
This recipe combines the unique flavor and crispy texture of matchstick bamboo shoots, baby corn and noodles in a stir-fry with oyster sauce. Essential Asian dish you may not have thought you could create at home.
---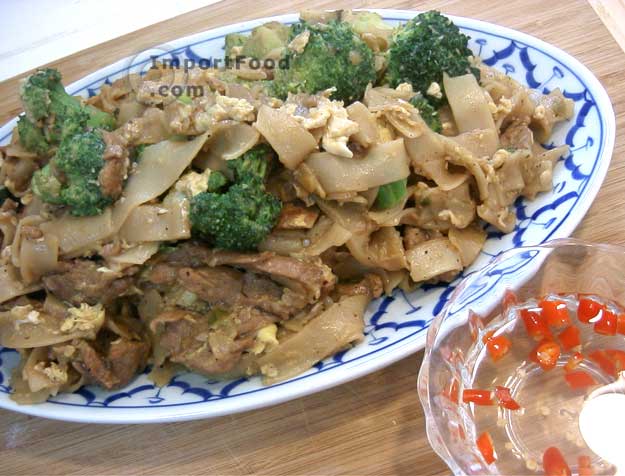 Thai Stir-Fried Wide Rice Noodles, 'Pad Si-iew'
Siew means soy sauce in Thai. This recipe is very tasty and savory but takes a long time to prepare. We now offer a convenient instant pad siew sauce although if you learn how to make the real thing from scratch, as described below, it should be worth the effort.
---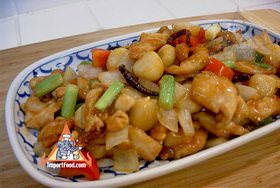 Thai Cashew Chicken, 'Gai Pad Med Mamuang Himaphan'
One of the more popular dishes on the menu in Thai restaurants in America but also Thailand. This recipe is time-consuming but the result is spot-on perfect.
The finest cashews in the world are grown in Thailand, mainly on the island of Phuket. Mamuang himaphan means cashew nut but there is an interesting translation. Himaphan's original meaning refers to the Garden of Eden, and the cashew nut looks like a small mango. The resulting pun can mean "mango of paradise", suggesting culinary heaven. We use regular refined white sugar for simplicity but you may use palm sugarfor a more succulent flavor.
---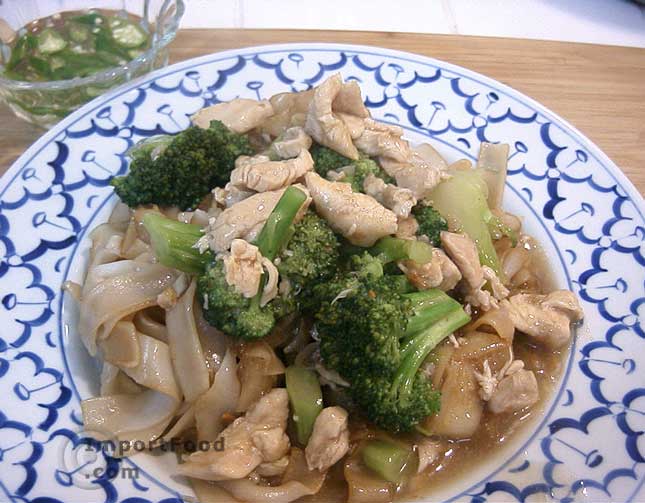 Thai-Style Wide Noodles In Thick Sauce, 'Kuaytiao Lad Na'
Lad Na is prepared in a two-step recipe that involves first frying wide rice noodles until they're just starting to get crispy. Then a sauce is quickly made and poured over the noodles. The translation of Ladna in English is "Pour on the Face".
Lad Na is served all over Thailand, so it can be considered a national Thai dish, see a sidewalk version here that's over 40 years old. It's typically served not spicy, with Thai condiments on the side to "fix the taste" and make it more spicy if that's desired. In Thailand, broccoli or "pak kanaa" is typically used. It's very good with asparagus as well.
---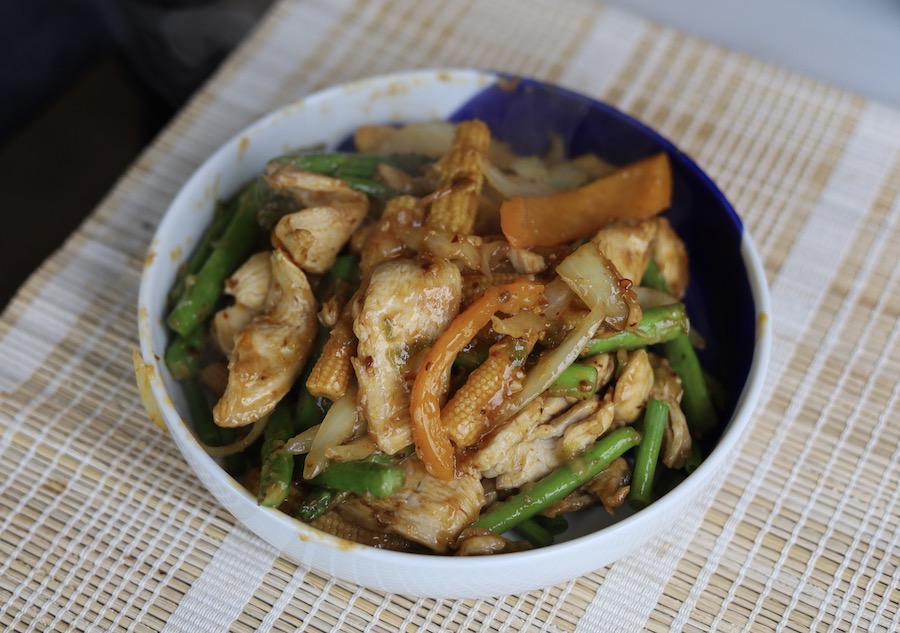 Thai Spicy Chicken With Vegetables
This recipe is simple to prepare and has the nice punch of chilli from Thai Fried Chilli Paste. MSG is optional but here we show you how to use just a touch for added flavor.
---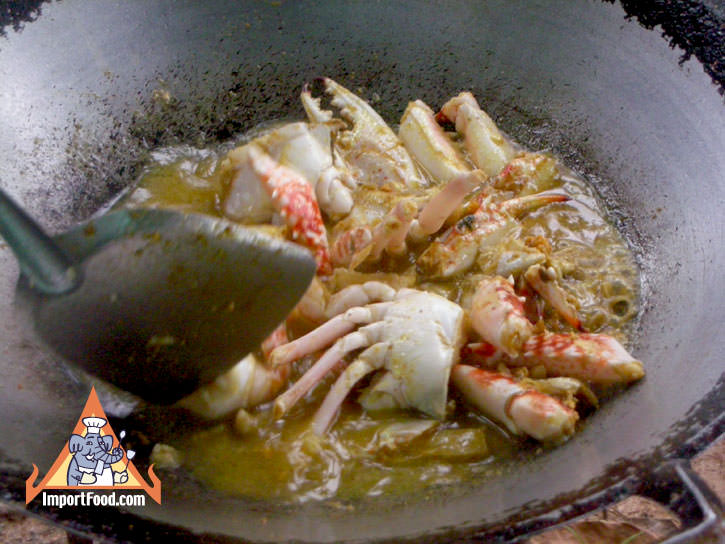 Cracked Crab Thai Curry, 'Bu Pad Pong Kari'
Bu Pad Pong Kari is a simple recipe with a delicious unique flavor that many people in Thailand love so much that it's an addiction. If you like Thai food, and you like crab, you must try it. Just be sure to use good fresh crab, and crack the shells before cooking (as shown in the video at link below). Thai curry powder is the main flavoring, so that must be used. Below left is our video filmed in Thailand of a sidewalk chef preparing this authentic version.
As with any Thai recipe there are many variations. Here is our version which is fairly simple. Using coconut milk instead of fresh milk is another option.
---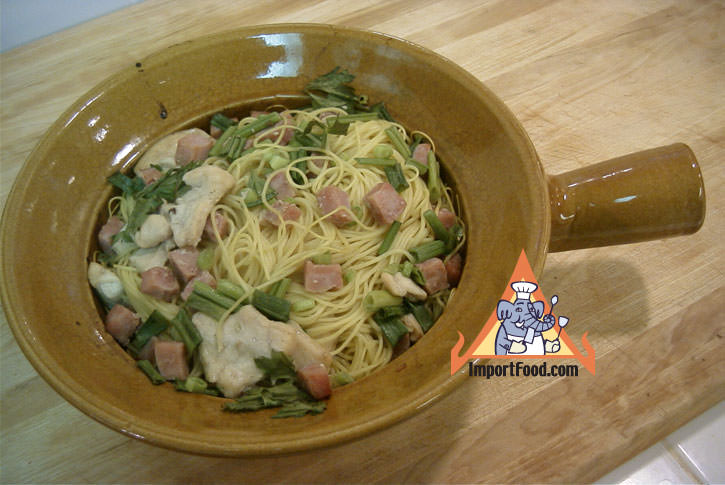 Thai-Style Noodles Baked in Clay Pot, 'Bamee Gai Op Mor Din'
Baking these noodles in an authentic Thai clay pot gives everything a nice flavor and beautiful presentation. Use a bit less ginger if you prefer but don't leave it out entirely. We like making this with less chicken and ham, and the noodles can be anything of your choice such as bean thread noodles or rice vermicelli.
---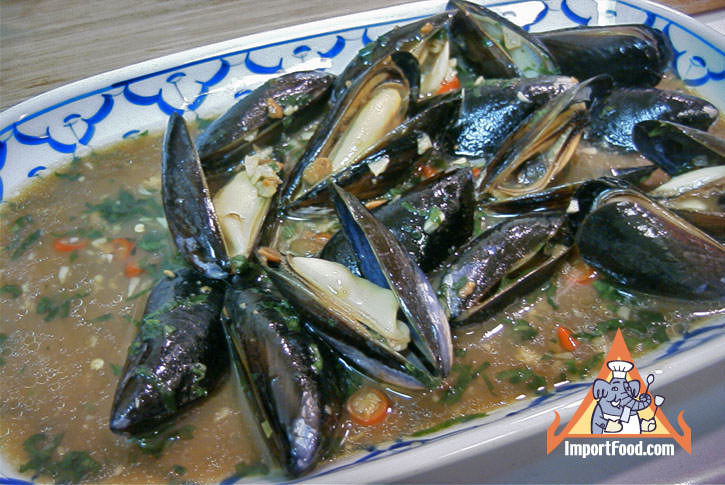 Baked Mussels in Soybean Sauce
Mussels complement Thai flavors very well. In Washington State we can buy 5 lbs of fresh Penn Cove mussels for about $12, and we're always experimenting with them to create tasty Thai recipes. This one is adopted from a cookbook created by the family that owns Healthy Boy brand soy sauce.
---