Thai Green Papaya Salad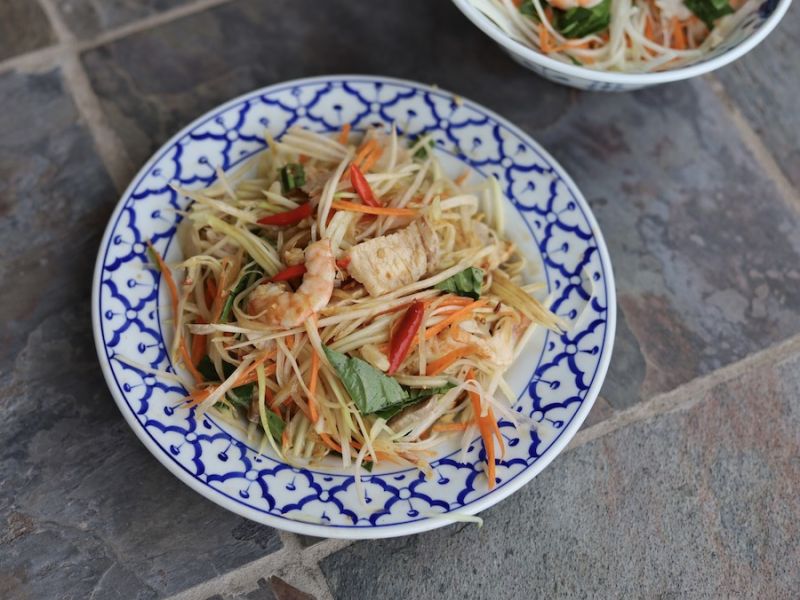 Method for Thai Green Papaya Salad
Start by boiling a piece of side pork for about 15 minutes over medium heat. Remove and set aside.
Over low heat in a pan, gently cook your prawns until done. Remove and set aside.
Peel the outer layer of your green papaya using a knife or our mango peeler, then shred about 2 cups using our Pro Peeler. Do the same with one medium carrot. Place your shredded papaya and carrot into a bowl with water, then soak with 2 teaspoon vinegar, a dash of salt and 2 teaspoon sugar. After 5 minutes of soaking, remove and set in a bowl.
We used a tamarind cutting board, and sliced cooked pork into thin pieces, and sliced the prawns in half lengthwise, and sliced yellow onion as shown.
In a dry skillet, heat over medium heat some peanuts until they get lightly browned, then crush them in a mortar and pestle. Peanuts are an essential part of this salad and add a special layer of flavor so try not to leave them out.
If you are going to make the version with our Som Tum Sauce with Fermented Fish, that sauce should be cooked with onion and garlic first. Heat a bit of vegetable oil in a skillet then add about two cloves of garlic and about one tablespoon of sliced onion. As it starts to cook and get fragrant, add about 3 tablespoons of som tum sauce. Heat until it boils then turn down and simmer for a few minutes. Remove from pan and set to cool.
Place shredded papaya and carrots on a plate, top with crushed peanuts and assorted meats, top with lime juice and greens of your choice (such as mint leaves) and enjoy this healthy natural salad.
For the version with sauce, mix your sauce into the papaya and carrot, then serve the same way.
If you like, serve it with jasmine rice. Enjoy!

Reviews