Fresh Red Thai Chile Peppers
Fresh Red Thai Chile Peppers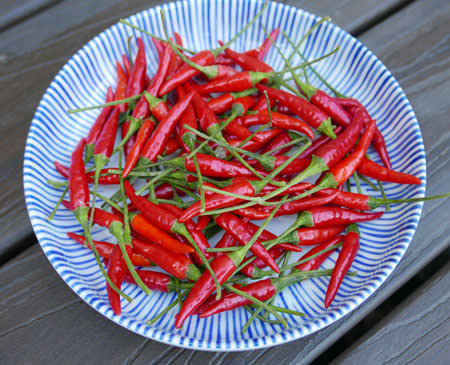 Add to cart

---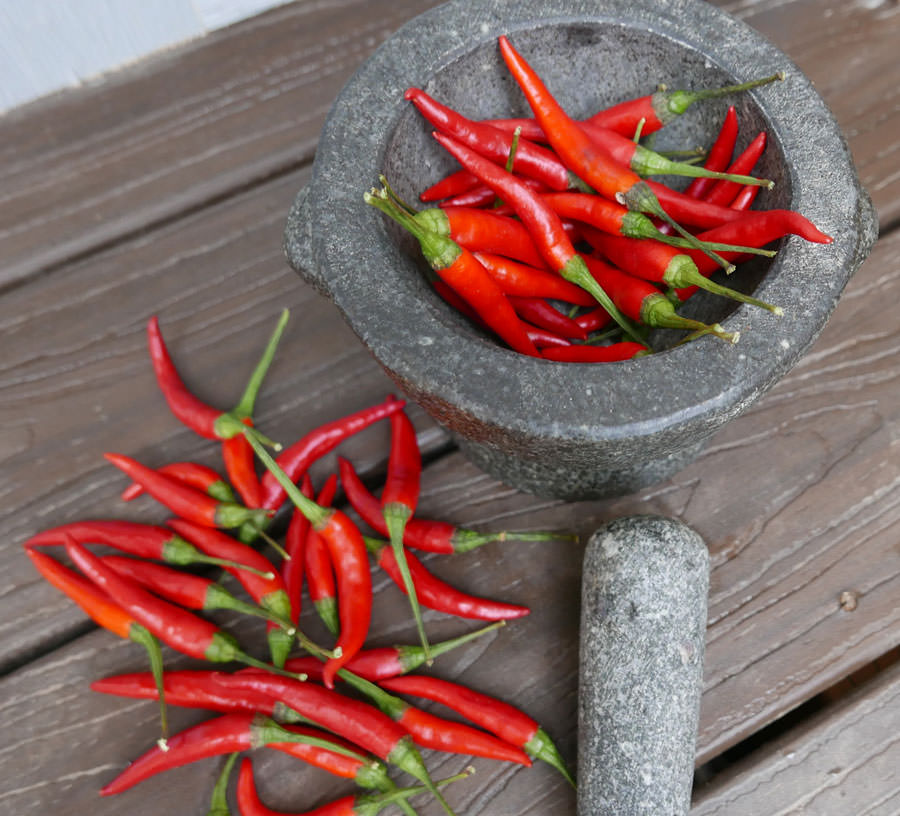 Fresh Thai Chilli Garlic Peanut Sauce
This delicious, spicy sauce is very easy to make if you have the right equipment, mainly the granite mortar and pestle which does all the work for you.
In just a few minutes you can pound these together and serve generously with sliced beef, as we did here. Also great with spring rolls.
Try to use mostly red chilli peppers.
---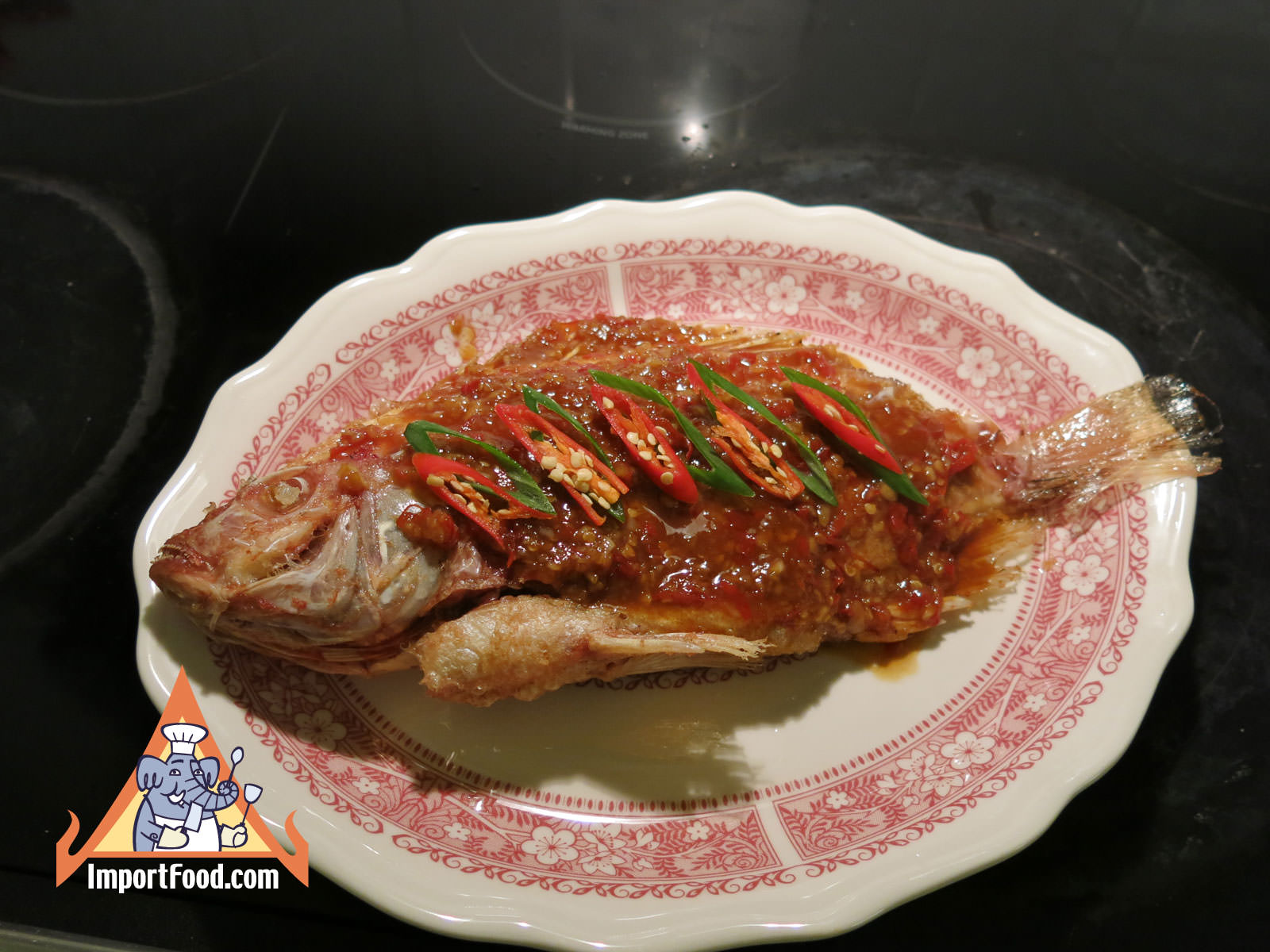 Thai Crispy Fish Topped with Chili Sauce, 'Pla Rad Prik'
This is a very spicy crispy fish that's surprisingly simple to make using just a few ingredients. It's best to use fresh red Thai chile peppers. Regarding the fish, here we used tilapia you can use any fish such as cod, catfish, trout, salmon, etc. We had the fish cleaned and gutted but left the head on. You may prefer to remove the head, or even use fish fillets -- it doesn't matter.
Note that when you've finished frying your fish, put it in the oven at 350F for 10 minutes or so as you prepare the sauce, as this will make it even more crispy.
---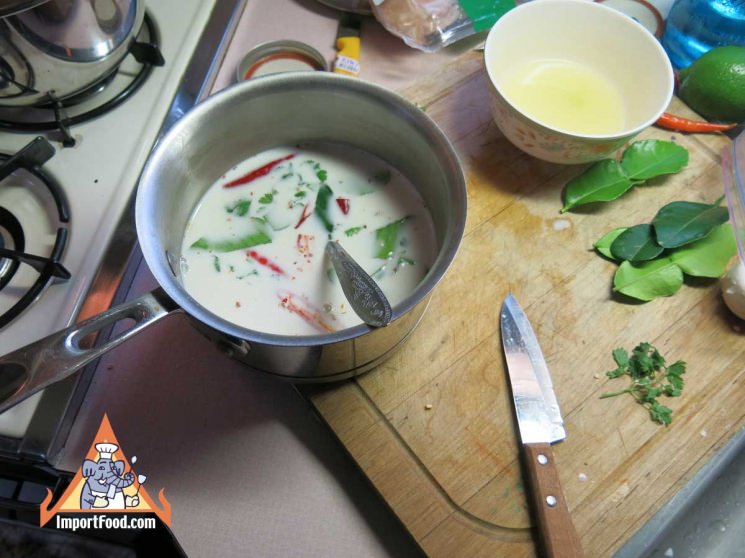 Thai Chicken Soup with Coconut Milk, 'Tom Kha Gai'
This is a mild but spicy chicken soup (it can also be made with shrimp, pork, beef or mushrooms), flavored with the unique flavor of galangal ('kha' in Thai) which creates a heavenly taste when combined with hot chile peppers, coconut milk, lime leaves and lemongrass.
We famously started manufacturing Amazing Elephant All-natural Tom Kha with authentic flavor so be sure to get a few pouches to compare with what you make at home.
---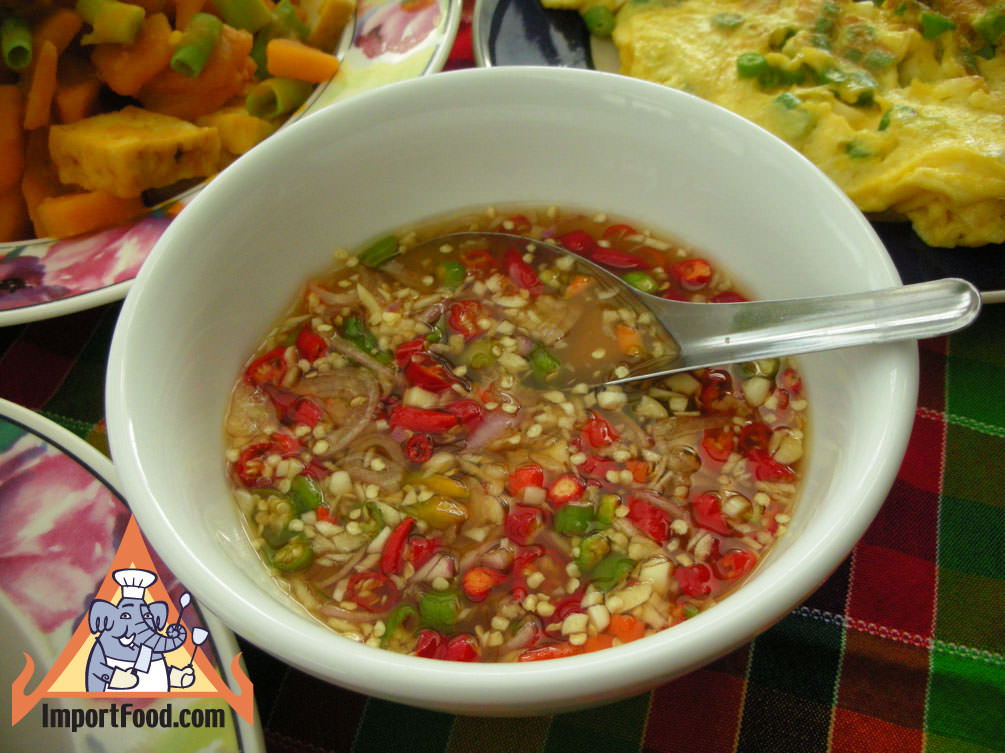 Assorted Thai Table Condiments
In Thailand the first two condiments below (Nam pla prik and Prik dong) are likely be on every household's table together with a separate small dish of plain white sugar and a separate small dish of ground chili powder. Spoonfulls of each are added to suit individual taste. We suggest you make a portion of Nam pla prik and Prik dong and keep in a jar (non refrigerated) for serving as a condiment in this manner. These condiments keep very well.
Prik Si-iew wan, kratiem dong and Khing Ki mao are less common and usually served for particular dishes.
Our Thai Condiment Caddy is a nice way to serve these.
---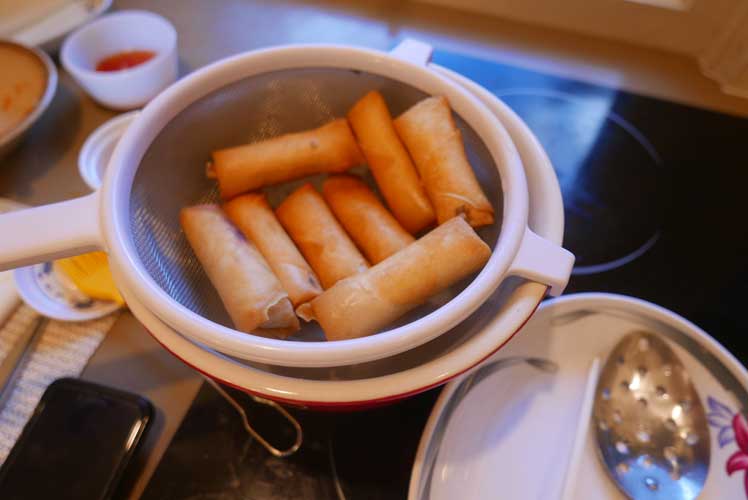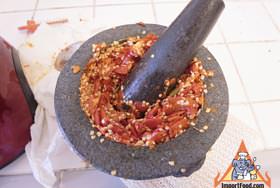 Home Made Sriracha Sauce
Make your own all natural hot sauce that's free of preservatives using the best fresh ingredients!
On a seasonal basis, usually May - September, we have beautiful fresh red chile peppers that are loaded with a mature, strong heat but also some notes of fruity sweetness. These are perfect for making your ownsriracha sauce.
This is a lot of fun to make, because you can adjust the flavors at the end to suit your preference. The hot sauce starts out very, very hot, so be careful. If you prefer a milder sauce, use 50% red bell peppers, jalapeno, or a more mild fresh pepper.
---