Kaffir Lime Leaf Powder, 1/2 oz pack
Kaffir Lime Leaf Powder, 1/2 oz pack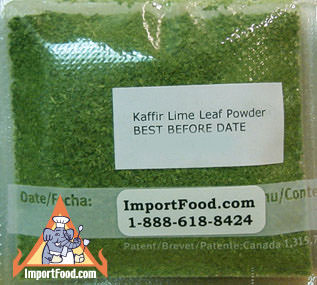 Add to cart
1/2oz - $5.29

Anyone familiar with Thai cooking knows that kaffir lime is an essential ingredient in so many recipes. We've offered fresh kaffir lime leaves for years, and now for the first time we can offer kaffir lime leaf powder. This is fresh harvest, just picked and dried a few weeks ago. The powder retains all of the aroma and flavor of the fresh leaves.
We only ship fresh new stock, chosen and packed just for us.
We discovered that kaffir lime leaf powder adds wonderful flavor to all sorts of non-Thai recipes, such as bread, pasta, meatballs, it's even a very popular way of flavoring vodka.
Our customers have developed the recipes below using kaffir lime leaf powder. We'd love to know what recipes you can develop also. Our 1/2 oz package is a large amount (about 2 heaping tablespoons). Just a dash of this goes a long way. Product of USA.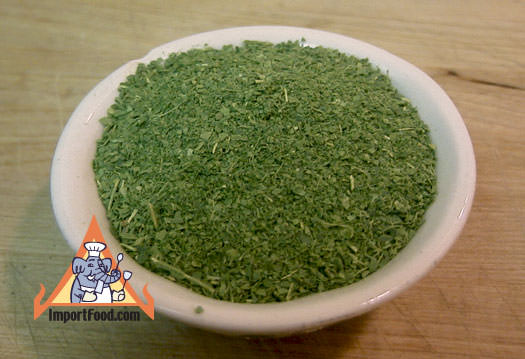 ---
Recipes Submitted By Customers (Thank You!)
Poached Pears, by Jennifer York
Easy Fried Rice with Kaffir Lime Powder, by Suparp Harding
Lime Leaf Angel Food Cake, by Linda Bourdeau
Curried Turkey Meatballs, by Heidi Leslie
Kaffir Scrambled Eggs, by Jerry Hueckstaedt
Thai Salad and Dressing with Kaffir Lime Powder, by Jerry Hueckstaedt
Jalapeno-Lime Corn Bread, by Erika Pitera
Spicy Thai Fish Cakes, by Veronica Moffat
Thai One On Martini, by Peter Hartjens
Thai Shrimp Cakes "Tod Mun Goong" Street Vendor Video Included
---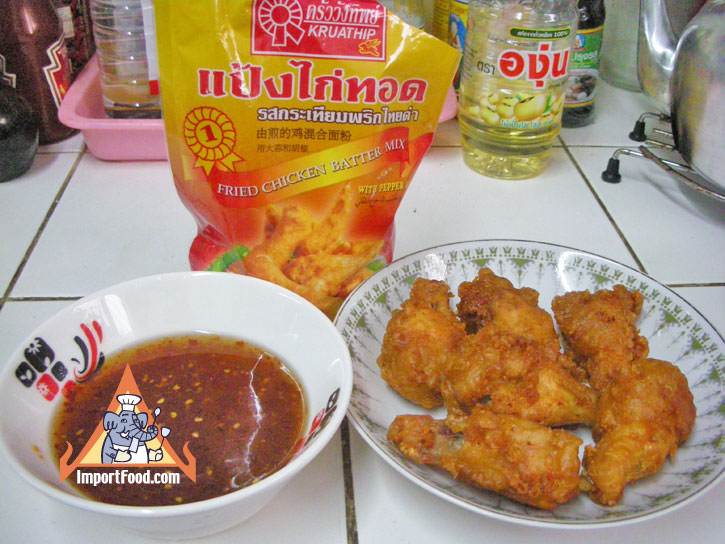 Thai-Style Fried Chicken
Leave it to the Thais to create the best fried chicken in the world. This batter perfectly coats your chicken (or vegetables, as we made fried mushrooms and onions that turned out excellent). Simply mix it with water and sugar (see mix below). You really can't go wrong, and it's just excellent batter. We fried drumsticks and breast slices, then used world-famous Thai sweet chile sauce as a dip.
Serve in our Handpainted Ceramic Big Boat.
We also prepared this with some added spices to create a "Tom Yum" flavor, which is very delicious, see variant method below.
---