Maesri Panang Curry Paste
Maesri Panang Curry Paste
Add to cart
4oz - $2.89

Panang curry from Maesri is similar to our other brands of panang curry paste.
For a quick delicious Thai dish using this product, stir fry one can with 2 tablespoons of vegetable oil. Slowly add 1 1/4 cups of coconut milk, and keep stirring until it boils. Add meat of your choice and stir thoroughly. Slowly add another 1 1/4 cups coconut milk, and keep stirring until meat is cooked. Garnish with fresh Thai chiles and minced kaffir lime leaves. Serve with jasmine rice.
Ingredients: dried red chilies, garlic, shallot, lemongrass, sugar, salt, kaffir lime, galangal, spices (corriander seed, cumin, cardamom, bay leaves). Product of Thailand.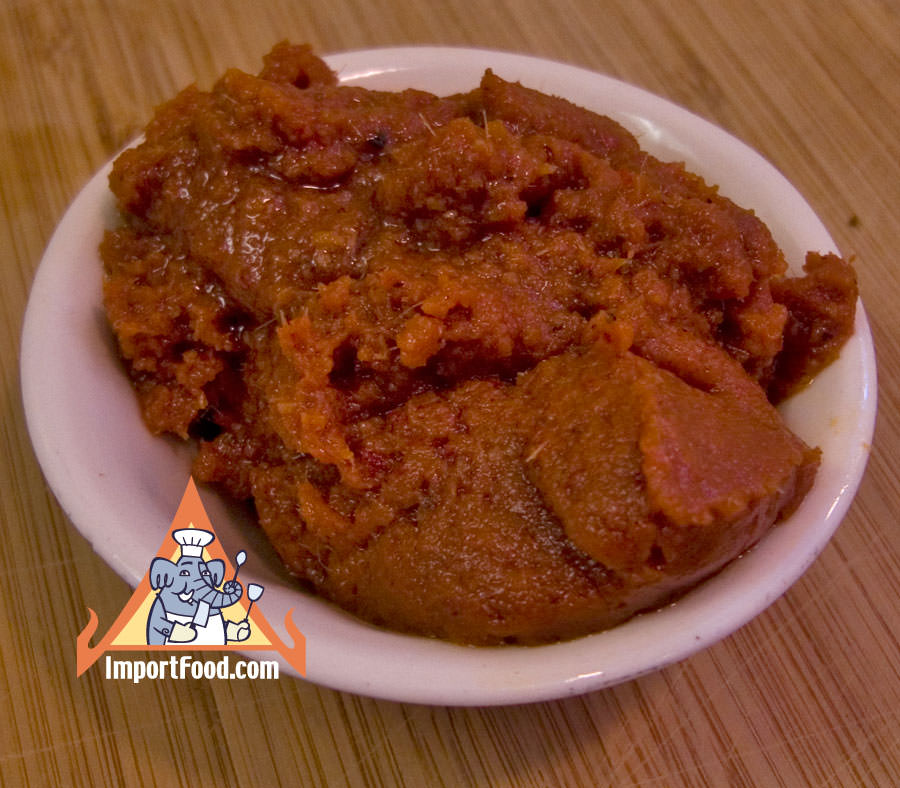 Maesri Brand is recognized in Thailand as a high quality export product with rich taste and authentic flavor. The convenient and inexpensive 4 oz can is enough for 6 large servings, and we ship this in case quantity to many restaurants who depend on Maesri to make their restaurant Thai meals. Chances are good that your local Thai restaurant uses Maesri as the base for their panang curry.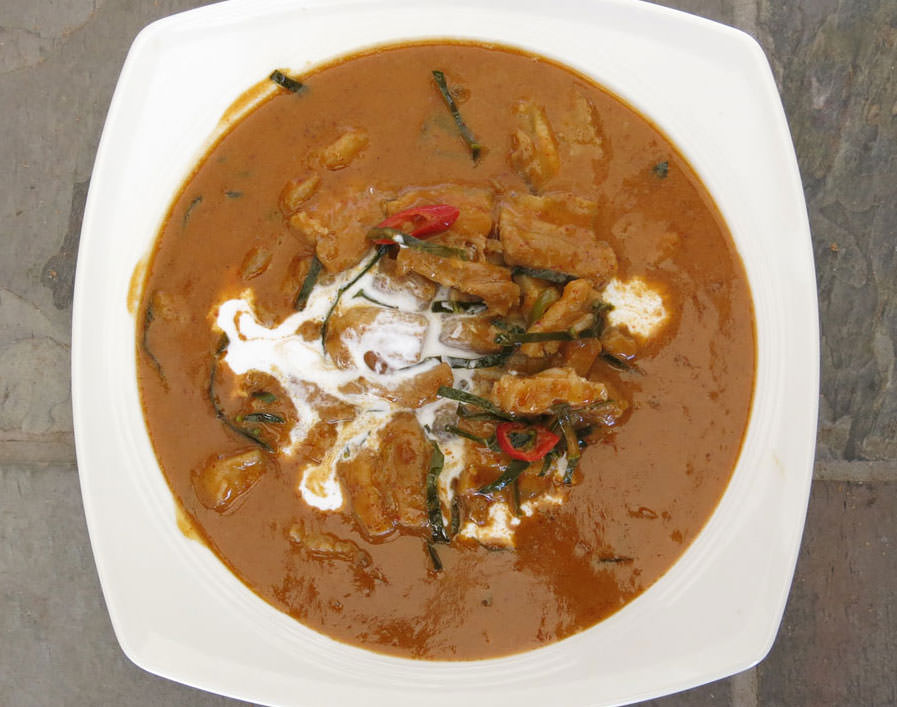 Thai Panang Pork - Mae Pranom
We made this using some pork belly we got at a local grocery store. We sliced it as shown in photo below. Prepared slowly with our new, premium, all-natural panang curry paste from Mae Pranom and the best coconut milk and palm sugar.
---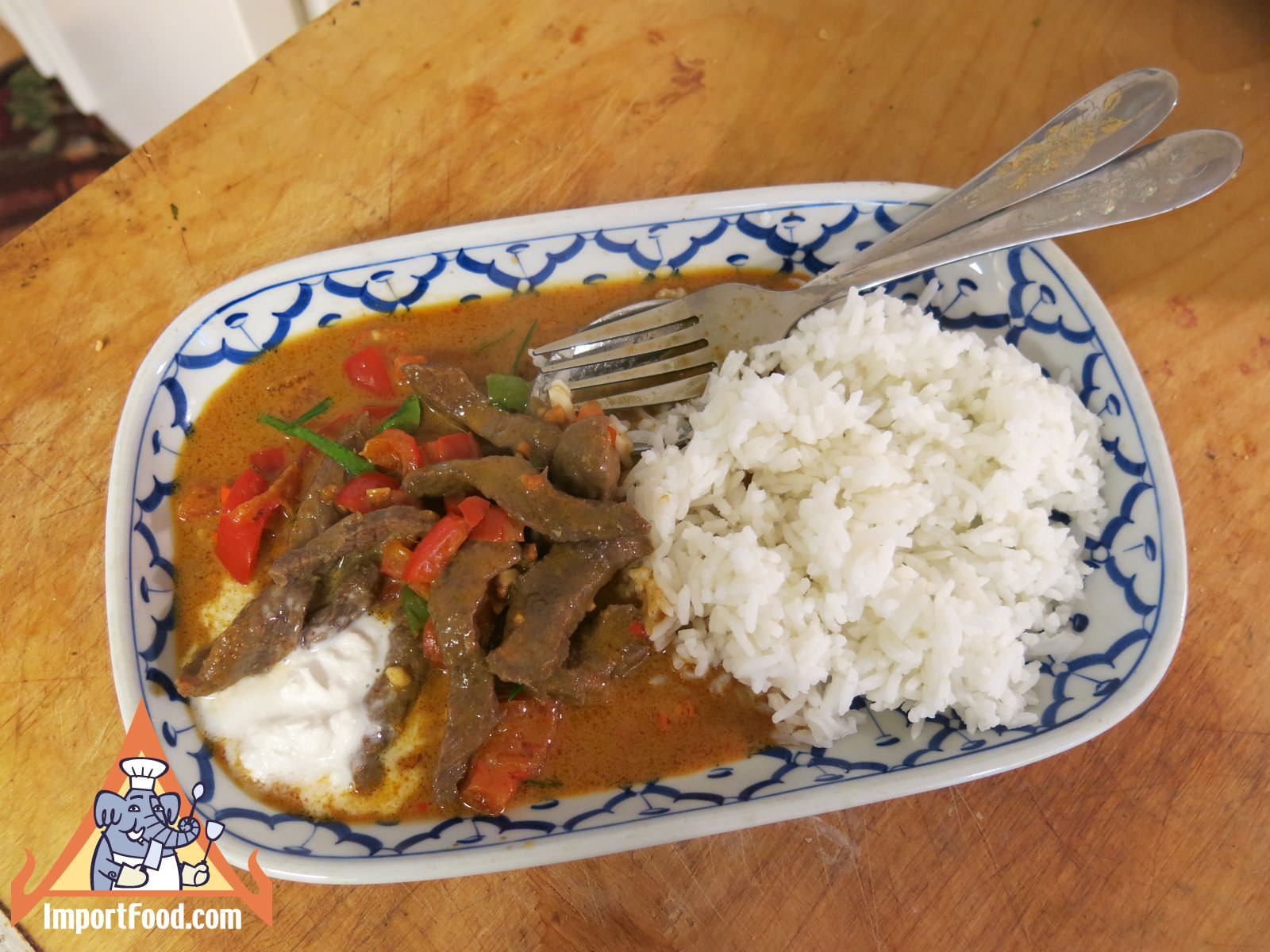 Thai Panang Beef
Panang beef is one of those recipes that everyone loves, whether it's kids or grandparents, college students or anyone else from any country in the world. Rich herbal flavors inspired by Indian influence in Thailand, and adapted to give it a unique Thai flavor.
Unlike some Thai recipes that take a great deal of time to prepare, a delicious panang can be made in minutes using a handful of key ingredients. Here we've prepared a simple recipe that's sure to be a popular favorite. It's best prepared with the highest quality coconut milk with higher fat, such as our 100% pure Chaokoh coconut cream.
We also have a recipe for panang chicken but beef is probably the best way to enjoy panang. In photos below, notice we demonstrate making panang beef on two different occasions, the second time we usedchee fah chile peppers in addition to red bell.
---
We offer the following premium quality Maesri products