Stainless Steel Mug with Lid, Zebra
Stainless Steel Mug with Lid, Zebra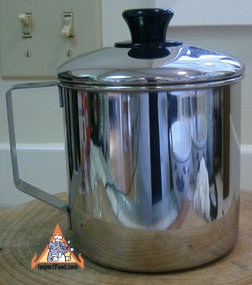 This design is so common in Thailand, found in households throughout the country. The large mug is made of a relatively thick, durable stainless steel. Try packing it with ice on a hot day with the lid on, then drink as the ice melts. You might keep this around your office full of drinking water, the lid keeps it clean and you won't use disposable cups.
You'll find plenty of uses in and out of the kitchen. Espresso brewers use a similar stainless cup to steam milk. Some of our customers have remarked that when visiting Thailand they notice this mug and wanted to buy one but didn't know where.
The mug has a large, strong handle for ease of grip. It's larger than a typical mug, and we now have two sizes. The lid has a high quallity bakelite knob with the distinctive Zebra Thailand logo.
10 cm size is approx 4" wide, 4" tall, and has a 3.5 cup capacity.
12 cm size is approx 5" wide, 4.5" tall, 4.5 cup capacity
Made in Thailand.