Tra Chang Fish Sauce, Gold Label, 7 oz bottle
Tra Chang Fish Sauce, Gold Label, 7 oz bottle
Add to cart
7oz - $4.59

We are now shipping "the best of the best" Tra Chang Gold Label. This has been aged two years in the finest conditions, unlike standard high quality fish sauce which is aged 8-12 months. We are certain that this is the finest fish sauce you'll find anywhere. You will enjoy the relatively mild aroma, beautiful amber color, rich taste and crystal clear--total absence of any sediment in the bottle.>
Tra Chang is known as having the best quality, using premium fish and method of production. See our photo tour of Tra Chang's facility, and learn how fish sauce is made.
All Natural. We recommend the 7 oz glass bottle. Store at room temperature in a cabinet away from sunlight.
Ingredients: 70% anchovy fish, 29% salt, 1% sugar. Product of Thailand.>
Tra Chang was featured by Martha Stewart Living as their best choice, and they recommended ImportFood.com. We also offer a few other brands of fish sauce here.
We also offer Tra Chang brand premium quality shrimp paste.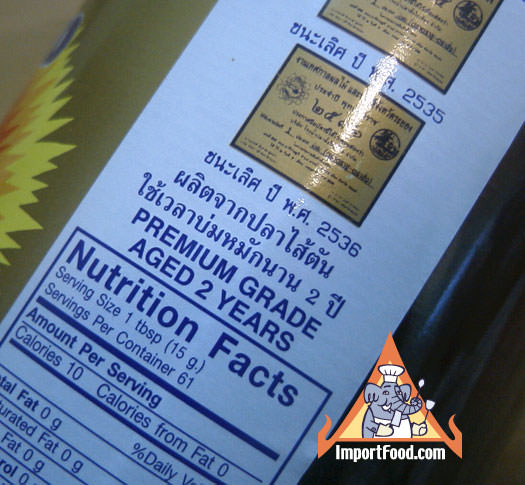 ---
Here are some popular Thai recipes using fish sauce
<Photo Tour: How Fish Sauce is Made
---
---
Here are some other fish sauces available at ImportFood.com