Thai Panang Beef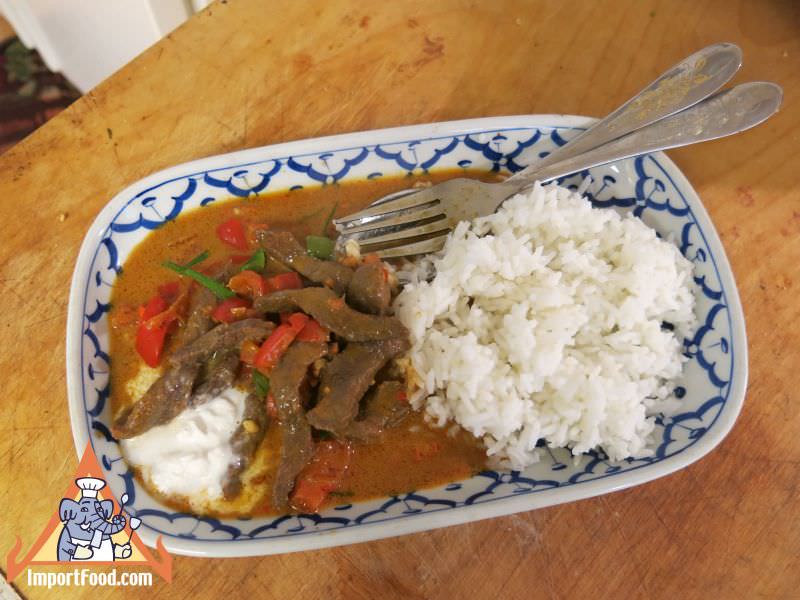 Panang beef is one of those recipes that everyone loves, whether it's kids or grandparents, college students or anyone else from any country in the world. Rich herbal flavors inspired by Indian influence in Thailand, and adapted to give it a unique Thai flavor.
Unlike some Thai recipes that take a great deal of time to prepare, a delicious panang can be made in minutes using a handful of key ingredients. Here we've prepared a simple recipe that's sure to be a popular favorite. It's best prepared with the highest quality coconut milk with higher fat, such as our 100% pure Chaokoh coconut cream.
We also have a recipe for panang chicken but beef is probably the best way to enjoy panang. In photos below, notice we demonstrate making panang beef on two different occasions, the second time we usedchee fah chile peppers in addition to red bell.
Method for Thai Panang Beef
Crush the peanuts in a mortar and pestle. Set aside about 3 tablespoons of the coconut millk.
Heat the coconut milk, except for the 3 tablespoons set aside, in a wok or skillet until the oil comes to the surface. Add panang curry paste, and fry until it becomes aromatic. Add meat and cook until the meat is nearly done, then add bell peppers. Add fish sauce and palm sugar. Let it simmer for a few minutes.
Remove from heat. Top with 3 tablespoons coconut milk, slivered lime leaves, peanuts, and fresh Thai chilli peppers. Mix this up, serve with freshly steamed jasmine rice. For an elegant touch just before serving, dab a spoonful of thick coconut cream. Enjoy!

Reviews