Salmon & Green Salad Fresh Spring Rolls, Thai-American Style

Salmon & Green Salad Fresh Spring Rolls, Thai-American Style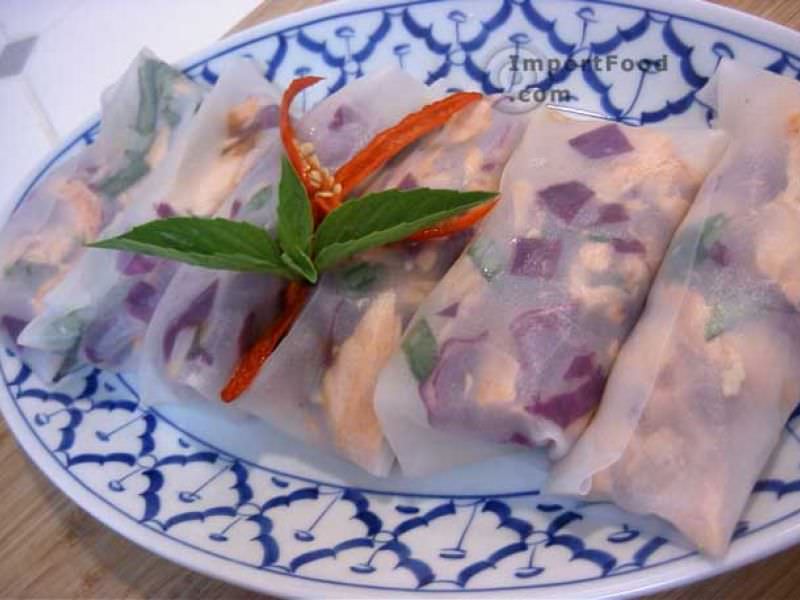 This recipe is from our "Thai-American" section, which contains dishes that would not typically be found in Thailand. This one is definitely a crowd-pleaser. It works best if you use a smaller-sized spring roll wrapper(approximately 6-8 inch diameter) same as what we offer. We prefer wild salmon for this recipe, which can be steamed (as we did in photo below) or simply baked for 15 minutes or so, we like to use a small toaster oven to bake salmon.
Ingredients
For 4 Person(s)
Ingredients
1

Pound

Fresh Fish Filet, cooked and flaked (can use any fish, we suggest salmon)

1

Cup

Chopped Red Cabbage or radicchio

1

Cup

Chopped Green Leaves Such as Thai basil and/or fresh spinach

3

Teaspoons

Olive Oil

2

Teaspoons Fresh Lime Juice
Buy ingredients for this Recipe
Method for Salmon & Green Salad Fresh Spring Rolls, Thai-American Style
Combine the cooked fish, cabbage, greens, olive oil and lime juice. Season with a bit of salt and pepper. Fill a glass pie plate with hot (not quite boiling) water. Working one at a time, dip a spring roll wrapper in hot water until softened (about 10 seconds). Gently blot dry. Place softened wrapper on a clean work surface. Spread 1 tsp hoisin sauce and 1/4 tsp sri racha sauce over the wrapper. Spoon desired amount of salmon filling near one end, leaving a 1/2" border. Fold sides of wrapper over the filling and roll tightly. Cover with a damp paper towel to keep moist. Serve and enjoy.
Salmon in spiced tamarind soup tom som pla salmon

Reviews