Beef Wasabi with Hoisin Green Salad & Five-Spice Sweet Potato

Beef Wasabi with Hoisin Green Salad & Five-Spice Sweet Potato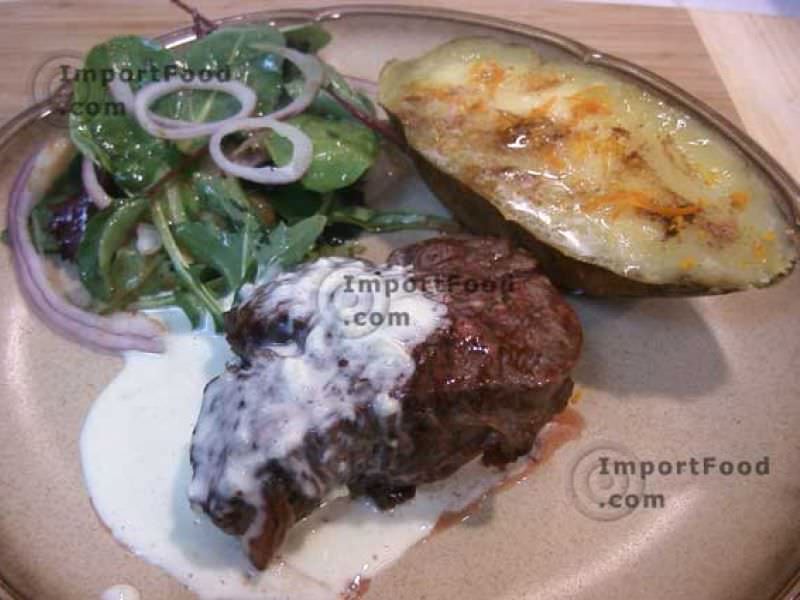 This Asian-inspired recipe blends together so well it could be found on the menu of the finest restaurant you've ever been to. We loved making this one. The tenderloin beef and wasabi sauce elegantly match the citrusy sweet potato and hoisin salad, the result is true perfection especially if you're a beef lover.
Ingredients
For 4 Person(s)
Ingredients Roast Beef Tenderloin with Wasabi Garl
1 1/2

Cups

Whipping Cream

2

Large Cloves Garlic, pressed

1

Tablespoon

Prepared Wasabi Paste

3

Pound

Beef Tenderloin, Tied

2

Tablespoons

Olive Oil

1

Tablespoon

Salt

1

Tablespoon

Sugar
Ingredients Winter Salad with Hoisin Vinaigrette
Ingredients Five Spice Sweet Potato
6

Sweet Potatoes

Salted Butter
Buy ingredients for this Recipe
Method for Beef Wasabi with Hoisin Green Salad & Five-Spice Sweet Potato
Method For Roast Beef Tenderloin with Wasabi-Garlic Cream
Preheat oven to 425 degrees F. Combine whipping cream and garlic in saucepan and cook over medium-high until reduced to 1 cup, stirring frequently, about 15 minutes. Whisk in wasabi paste, and cook 1 minute. Remove sauce from heat, season with a bit of salt. Place beef tenderloin on rimmed baking sheet, pour olive oil over the beef and roll to coat. Mix salt and sugar then rub over top and sides (not bottom) of beef. Roast until thermometer inserted into center registers 120 degrees F for rare. Remove from oven, let rest 10 minutes. Sprinkle with salt and pepper. Remove strings. Reheat sauce over medium heat. Cut beef into thick slices; serve with sauce.
Method For Winter Salad with Hoisin Vinaigrette
Place hoisin sauce and vinegar in a small bowl. Slowly whisk in grapeseed oil and sesame oil. Place salad mix and water chestnuts in large bowl and toss with dressing, enough to coat. Top with red onion.
Method For Five Spice Sweet Potato
Roast potatoes at 425 degrees F until soft, about 50 minutes. Split in half lengthwise, and dot with salted butter. Sprinkle with Five Spice Powder and freshly grated orange peel.
Serve together as shown below. Enjoy!
Beef wasabi with hoisin green salad & five spice sweet potato
Tenderloin with salt sugar rub

Reviews