Tom Yum Soup, Aroy-D 14 oz can
Tom Yum Soup, Aroy-D 14 oz can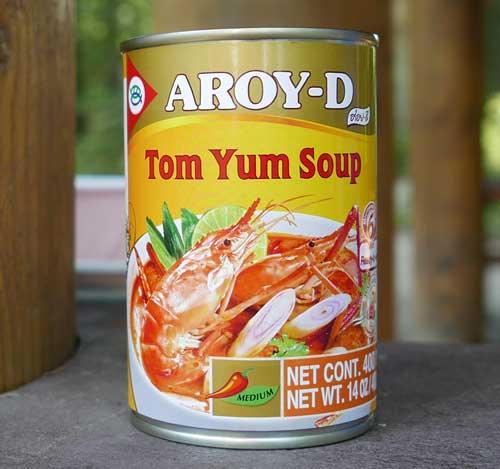 Add to cart
One 14oz Can - $6.39 

This tom yum soup is made with an authentic 'Thai Taste', a strong blend of both sour and spicy. It is restaurant quality. The mushrooms are high-end "het nangfah" variety, nangfah means angel. Het nangfah mushrooms are sarjor-caju in English, we love them. Each can has a few of the mushrooms, kaffir lime leaf, whole red chile, and sliced galangal.
See our recipe for tom yum soup, made from scratch.
All you do is heat it over a stovetop, add prawns (or meat of choice), or add nothing at all. Cook and serve with jasmine rice.
Add a bit of coconut milk after heating, if you like--we usually enjoy a teaspoon of coconut milk in our tom yum.
To improve the taste, we fried a bit of finely-chopped fresh lemongrass in a pan with onion and vegetable oil, then added the prawn to cook. Then we added that back into the Tom Yum and served with fresh Thai basil. See picture below.
Ingredients: water, mushroom, lemongrass, soybean oil, sugar, shallot, galangal, chile, salt, coriander, red chile, kaffir lime leaves, citric acid, lime.
Product of Thailand.
Part of our Essential Thai Pantry Set

You might also like these canned Thai soups
---