Coconut Cream Powder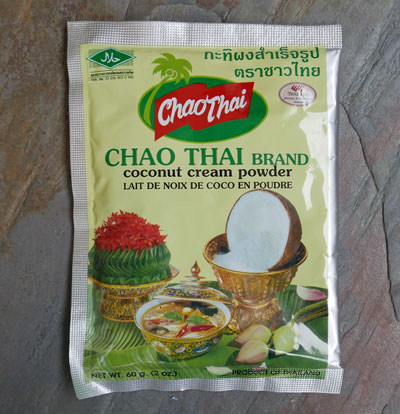 Add to cart
2oz - $1.89

Coconut cream powder from Thailand's finest producer--Chao Thai brand. Packed in a high quality sealed foil packet.
This is an instant coconut milk, popular for so many of our regular customers--even backpackers seeking high calories in powdered form that just need water.
To make an excellent, creamy, fragrant coconut milk is very simple. Mix one 2 oz packet of coconut cream powder, with 1 cup warm water. Mix well. This makes exactly 1 cup of rich coconut milk. One 2 oz packet yields about 1 1/3 cups of coconut milk.
Looking for a few good recipes: try green chicken curry, coconut cornflake cookies, and coconut ice cream.
This product is hygienically prepared from fresh coconut. It's a quick, easy way to cook. Just add warm water and you'll get rich cream that's ideal for curries, desserts, cocktails, confectionery, fillings for waffles, doughnuts, puddings and yogurt.
We visited the factory and found the overall operation to be quite impressive (see story below). Aside from coconut cream powder, they pack various products in international brands, such as nondairy creamer and hot chocolate mix, using coconut cream powder as the base. This coconut cream powder is a great substitute for milk in coffee.
Ingredients: Fresh coconut cream 85.2%, glucose syrup 11.8%, sodium caseinate 2%, silicon dioxide 0.5%, dipotassium phosphate 0.5%, no preservatives. We also offer a good quality coconut milk.
Product of Thailand
---
We recommend this product in the following ImportFood.com Thai recipes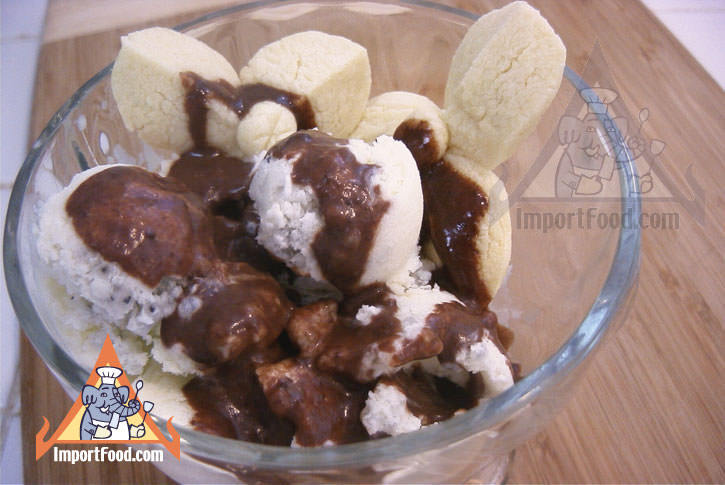 Thai Ice Cream with Basil Seeds & Chocolate-Ginger Ganache
Ice cream is served throughout Thailand just as it is in many countries. Often served by bicycle vendors or via motorized carts, as shown in pictures below. Here is a basic ice-cream recipe using coconut, the most common ice-cream flavor, producing a rich, creamy ice-cream we know you'll enjoy. We've enhanced it with sweet basil seeds, giving an interesting texture & subtle fruit flavor. We highly recommend that you make this recipe just as described, served with the chocolate-ginger ganache and fragrant Thai cookies. It's an unbelievably perfect balance of flavors, the type of dessert found in the most prestigious, not just Thai, restaurants. This dessert really spans the international spectrum of culinary appeal, people will rave about it for weeks after trying it.
Idea: Dairy Queen in Thailand offers Thai ice-cream topped with pandan sticky rice.
---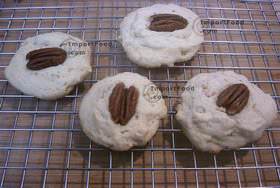 Thai Coconut & Cornflake Cookies
This is a unique coconut cookie recipe with a Thai-style influence. The coconut flavor is mild, and Thais often pair corn with sweet coconut treats. These cookies are easy to make and we suggest you also consider our fragrant cookies
---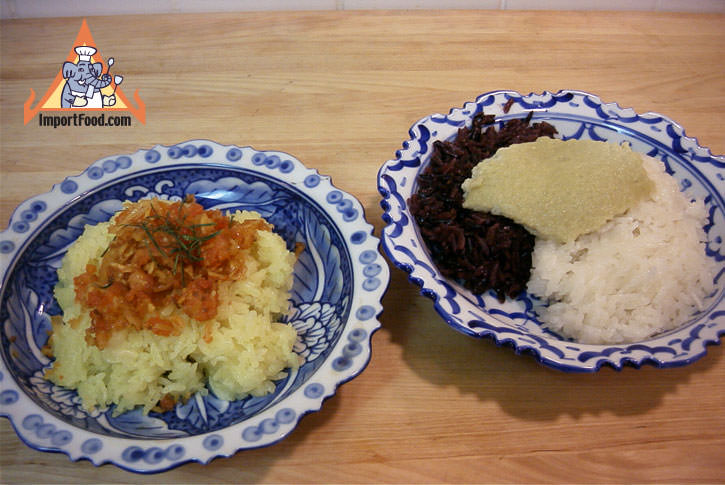 Thai Sticky Rice Steeped in Coconut Milk, 'Khao Neeo Moon'
Khao neeo moon is a truly authentic Thai recipe. Mixing sweet dessert rice with a sugary seafood topping might seem like a bizarre combination that Food Network might sensationalize on one of their celebrity shows. Yet this is a favorite of Thailand found throughout the country, made interesting by a variety of toppings. Here we demonstrate how to make the rice, and two of the more common toppings.
We prepared the rice in three colors. White, black (using black rice), and yellow (white rice colored with turmeric). In Thai tradition, the shrimp topping should go on the yellow rice.
---
---
More about Coconut Cream Powder. Making coconut cream powder starts with mature coconut, the kind with brown outer color (as opposed to young coconut which is green). Mature coconut is harvested year-round in Thailand, although the harvest slows three months during the year. Provinces producing the best coconut are Chumpon, Sri Thammarat, and Prachuab Kiri-Khan. The tree should be at least 5 years old. The peak productivity for a coconut tree is between the ages of 25-50 years old. At that time the trees produce the best quality coconut (meat with high fat). After the tree is 50 years old, productivity declines, and after 70 years old the tree will produce no useable fruit.
Each coconut used to make Chao Thai is 1 year old. First the hard outer skin is removed, then a machine crushes the coconut with great force in order to get the cream out. From this stage, a bit of water is added to the mix, glucose, and a small amount of sodium caseinate is added in order to assist the coconut cream to emulsify with the water. Other processing aides provide anti-caking of the coconut cream.
The coconut mix is then heated to just above 150 degrees celcius and sterilized via pasteurization. The warm mixture is then sprayed into a large stainless tank which promptly turns the mixture into a dry powder with less than 2% liquid content. Using modern, state-of-the-art packaging equipment, this powder is then packed into very high quality sealed foil packages and sold to ImportFood.com for your enjoyment. The same manufacturer of our coconut milk uses the product to produce non-dairy creamer and other beverage mixes for several very famous international companies. We have visited the facility in person and are very happy with the overall operation, and note the sophisticated laboratory they have for research and development.
Coconut cream powder can be added to coffee, along with a bit of sugar, as a delicious non-dairy creamer. It is also a great source of natural fat used by some in the bodybuilding world. Backpackers have reported widely on the success of this product also, as it is lightweight and with a bit of water you have instant coconut milk to use in the preparation of gourmet campsite meals.
Customer Testimonial: "My Chao Thai coconut cream powder arrived in plenty of time (as advertised) for me to get my food ready for my backpacking trip. This powder tastes amazing in hot or cold breakfast cereals, moose goo, coffee, hot chocolate and many lightweight dinners. I wouldn't backpack without it and highly recommend ordering from ImportFood Thai Supermarket. I'm a very happy customer!"