Thai garlic, pickled (whole), 16 oz jar
Thai garlic, pickled (whole), 16 oz jar
Add to cart
$6.89

Thai garlic picked in a 16 oz jar, there are approximately 12-15 whole garlic per jar.

Pickled garlic is used in various Thai recipes (see below), and you can use for any type of non-Thai recipe as well.

The garlic is very clean, and tastes great. Excellent qualty.

Packed in a glass jar. Ingredients: garlic 57%, water 16%, sugar 15%, vinegar, salt, sodium benzoate as preservative, sodium metabisulphite.
Product of Thailand.



---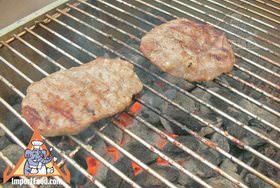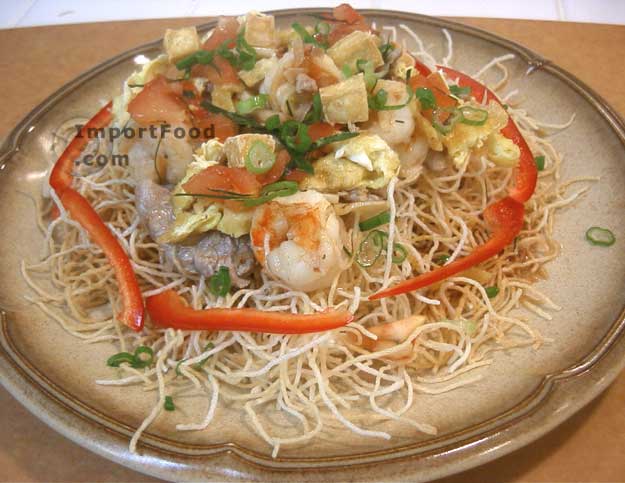 Thai Crispy Stir-Fried Noodle, 'Mee Krob'
Mee krob is a fun dish to present to friends, as the crispy noodles are very unique and unlike anything you find in traditional American food. It's fairly time-consuming to prepare but well worth it.
The authentic sweet/sour sauce offers wonderful, exotic flavor. It can be served without the pork and shrimp for vegetarians.
In Thailand this is prepared in a wok but we used a pot to fry the noodles which worked well, and a skillet to fry the other ingredients. See pictures below, also read about Mee Krob as part of our sidewalk guide of good eats in Bangkok.
---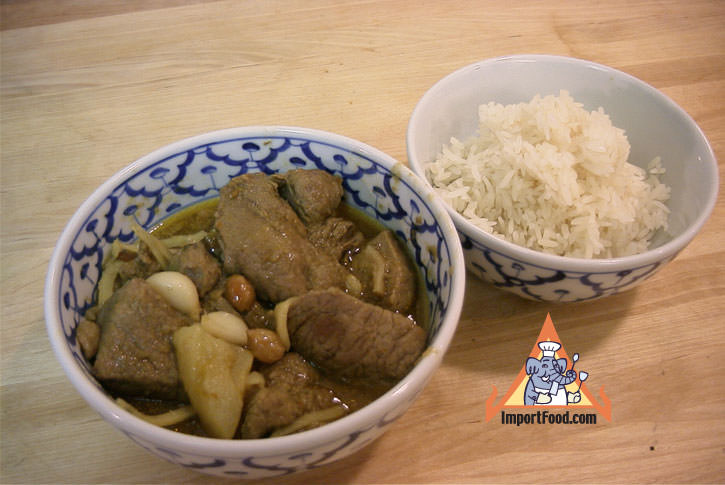 Northern Thai Pork Curry, 'Gaeng Hanglay'
In our continuing effort to present regional Thai recipes, here is an authentic version of Gaeng Hanglay, a northern Thai curry made with pork (or beef). Similar to massaman but without the coconut milk. The main ingredient is pork, and you can use a fatty belly pork or other cut of your choice. Other distinctive ingredients are ginger and pickled garlic.
Thanks to our distinctive Hunglay Paste from Thailand you can make a real masterpiece.
Some recipes call for Santol fruit (wild mangosteen) or pineapple cut into large cubes. We used fresh pineapple with good results. This dish originated from Burma, and in Burma this is usually served with Khai bananas (small bananas). You will usually find gaeng hanglay served in Khantok-style Thai dinners as one of the main dishes, together with sticky rice.
---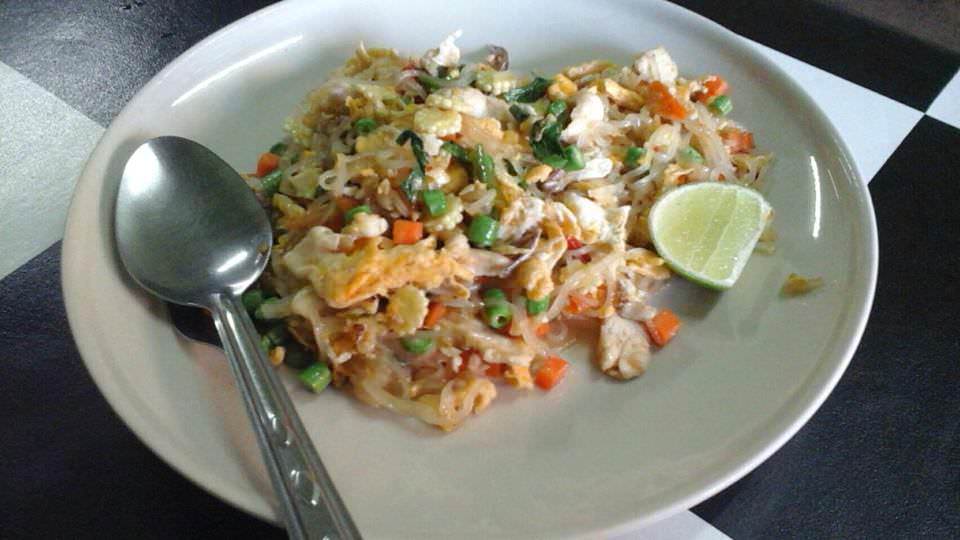 Drunken Noodles and Chicken with Tofu, 'Gai Pad Kee Mao'
Kee mao dishes in Thailand are widely served as bar snacks in much the same way that Spanish bars serve tapas (and serve to make you thirsty, when used for this purpose).
---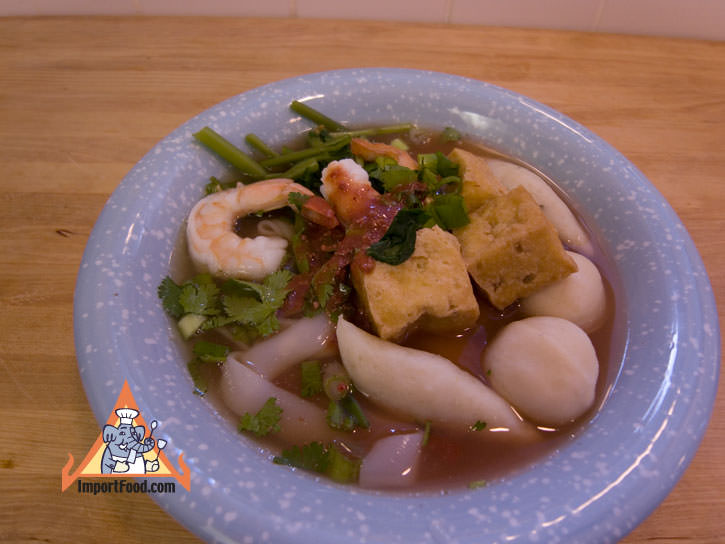 Yentafo
Yentafo takes time to prepare, but it's worth the wait especially if you like Thai/Chinese noodle dishes. We offer a premade yentafo sauce to speed things up, and here we demonstrate how to make authentic yentafo from scratch. Yentafo has a unique flavor and distinctive red color.
We used frozen fish balls and shrimp, but you can use other seafood of your choice. Small pieces of squid are often used. Try egg noodle instead of rice stick, for something different. As with any recipe, this one has changed with the times. Feel free to experiment.
---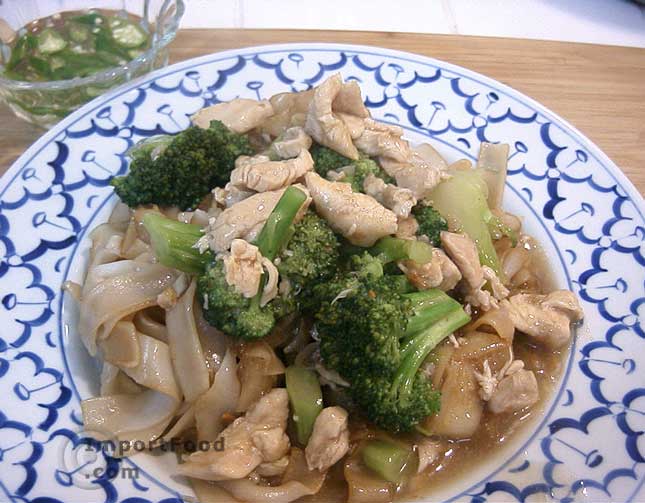 Thai-Style Wide Noodles In Thick Sauce, 'Kuaytiao Lad Na'
Lad Na is prepared in a two-step recipe that involves first frying wide rice noodles until they're just starting to get crispy. Then a sauce is quickly made and poured over the noodles. The translation of Ladna in English is "Pour on the Face".
Lad Na is served all over Thailand, so it can be considered a national Thai dish, see a sidewalk version here that's over 40 years old. It's typically served not spicy, with Thai condiments on the side to "fix the taste" and make it more spicy if that's desired. In Thailand, broccoli or "pak kanaa" is typically used. It's very good with asparagus as well.
---