Drunken Noodles and Chicken with Tofu, 'Gai Pad Kee Mao'

Drunken Noodles and Chicken with Tofu, 'Gai Pad Kee Mao'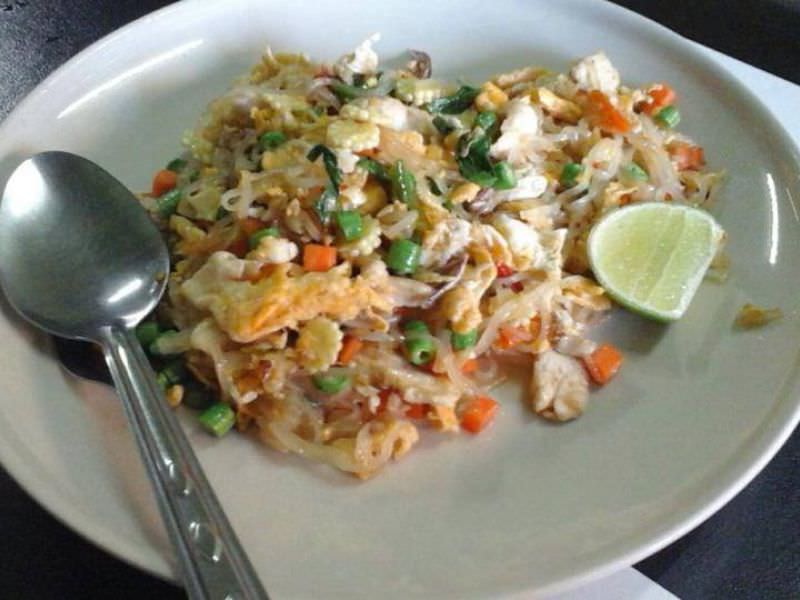 Kee mao dishes in Thailand are widely served as bar snacks in much the same way that Spanish bars serve tapas (and serve to make you thirsty, when used for this purpose).
Method for Drunken Noodles and Chicken with Tofu, 'Gai Pad Kee Mao'
Soak the noodles in water for about 15 minutes; take about a third of them and cut the ribbons into short pices (about 2" long). The remaining two thirds of the noodles should be plunged into boiling water, and cooked until 'toothy' then removed and placed on the serving plate.
If desired the tofu can be marinated in some dark soy to which a couple of sliced chilis are added.
The third of the noodles that have been chopped are fried in hot oil until crispy.
The remaining ingredients, except the pickled garlic, are stir fried in a medium hot wok until cooked through (if you want the sauce thickened add a little rice flour) and then poured over the boiled noodles. Add the green peppercorn near the end of the cooking process, as they don't require a great deal of cooking. The fried noodles and the pickled garlic are then added as a garnish.
Drunkard noodles pad kee mao
Start with garlic and chile
Add the other ingredients

Reviews