Thai Massaman Curry Paste - Aroy-D - Mae Ploy
Thai Massaman Curry Paste - Aroy-D - Mae Ploy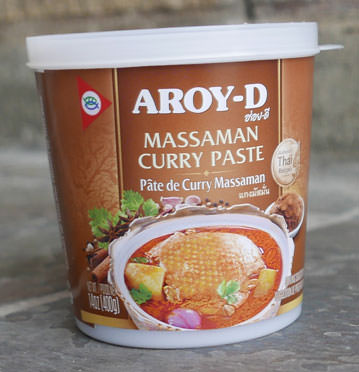 See our detailed report on how to make Thai curry paste, and the health benefits.
Massaman (matsaman) Curry Paste, Aroy-D Brand, 14 oz
Massaman curry from Thailand has a mix of Malay, India, and muslim nation flavors, and it's often served with potato (see recipes below, massaman is also a wonderful part of Thai peanut sauce).
Aroy-D is a more expensive curry paste with a greater concentration of rich spices and the flavor is not harsh in any way. It's likely better than anything you can make at home using a mortar and pestle (see video below on how it's made).
With our premium Aroy-d, you get one 14 oz package, enough Thai curry to prepare dozens of meals. We like the rich, fresh flavor, we can really taste the difference between this brand and Mae Ploy and Maesri massaman curry paste. Taste is complex and heavier to the natural herbs, as only the best all natural ingredients are used.
Ingredients: dried red chile, garlic, shallot, salt, lemongrass, cumin seed, coriander seed, cinnamon, galangal, cardamom. Product of Thailand.
ImportFood.com's curry paste is recommended by Mark Bittman (New York Times).
Massaman (matsaman), Mae Ploy brand, 14 oz
We also offer massaman curry paste in the well-known Mae Ploy brand, recognized in Thailand as a high quality export product with rich taste and authentic flavor. Many Thai restaurants use Mae Ploy, a mass-produced curry paste with consistent flavor. It's packed in a convenient plastic tub with tighly sealed lid, and the price is very affordable.
Ingredients: dried red chile, shallot, garlic, lemongrass, salt, galanga, shrimp paste, coriander seed, cumin, star anise, cardamon, cinnamon. Product of Thailand.
---
Find Massaman curry paste in the following ImportFood.com Thai recipes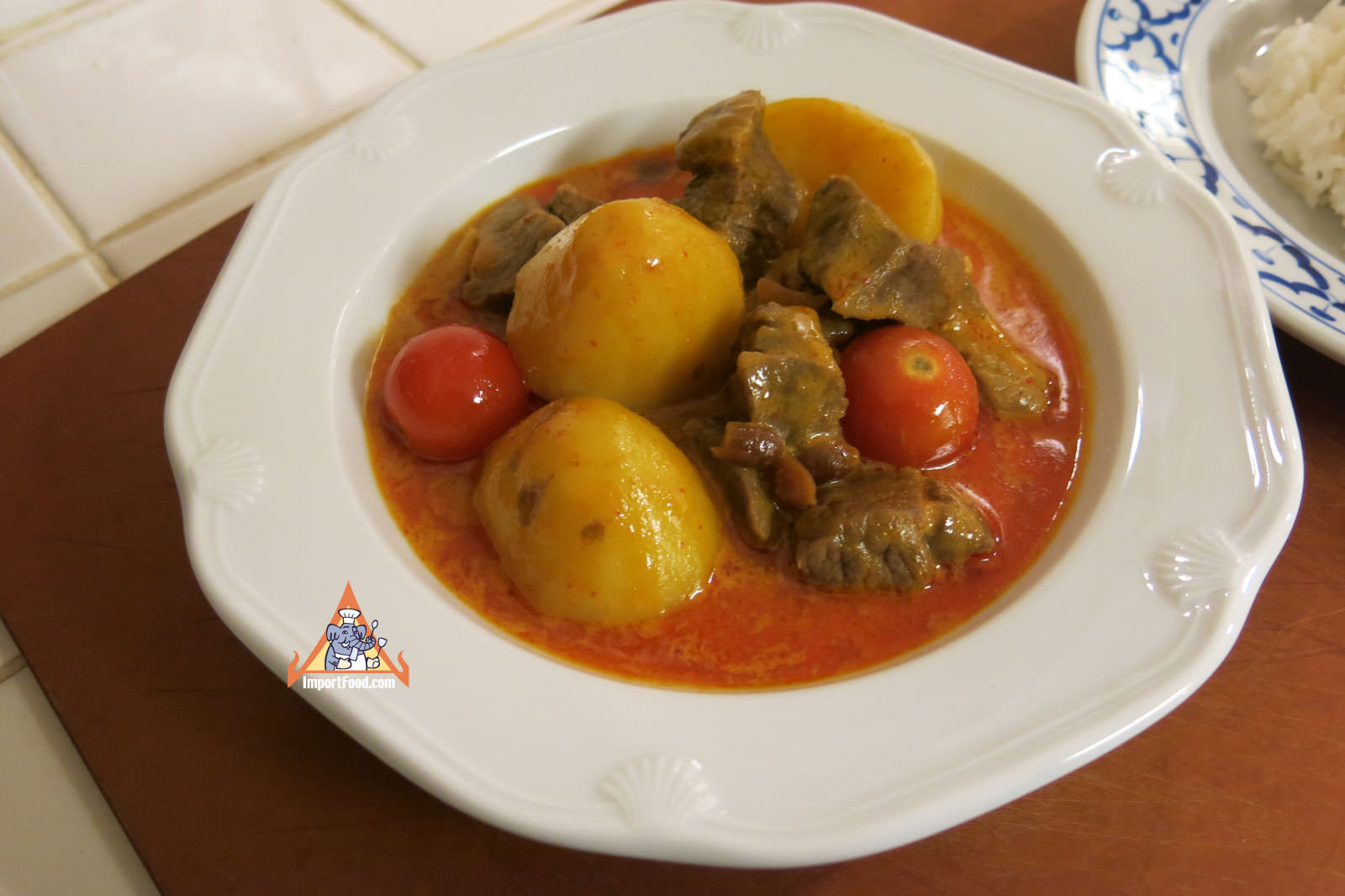 Massaman Beef - Classic Thai Style
Massaman cooked slowly with tender beef is one of our personal favorites, and many people who call us to order mention that they love massaman beef. Here's a masterpiece recipe that is easy to make and you just can't go wrong. We like to use tri tip steaks, and the small yellow "baby" potatoes. You might also be interested in our instant massaman which is easy to make and tastes very good.
---
---
NEW: Ready-made Thai Matsaman Curry Soup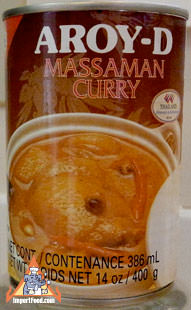 We usually don't recommend the premade Thai curry soup found in some stores, but this premade Thai curry from Aroy-D is quite good if you don't have a lot of time.
---
NEW: Hand Brand Instant Matsaman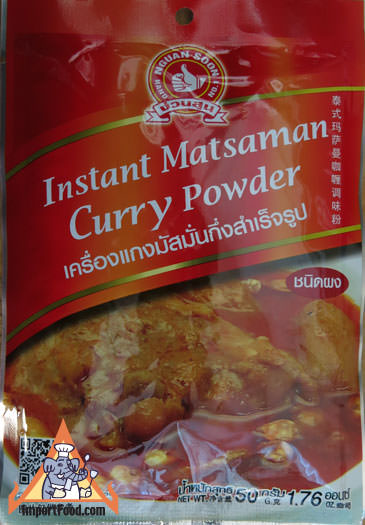 Hand Brand has recently created a new line of very high quality mix packets that allow you to create delicious instant authentic Thai recipes. Most notably is the Kao Praram Longsong mix, our favorite.
We are pleased to introduce Instant Matsaman Curry Powder. On the back of the package are detailed instructions, and we have feature photos below.
See: Authentic Matsaman Recipe, from scratch
Start by adding 1/2 cup water to the included package of coconut milk powder. Add two tablespoons vegetable oil and simmer. Add the matsaman curry powder and 1 teaspoon crushed roasted peanuts. Add more water, boiled potato, onion (we loved it with pearl onions, see below), 1 tablespoon whole roasted peanut, simmer until thickens and serve. Delicious!
Ingredients: sugar, coconut milk powder, chilli, soy sauce powder, fish sauce powder, coriander seeds, cardamom, garlic, shallot, cumin, bay leaves. Product of Thailand.
Add to Cart - 25gm Packet - $1.89
Pearl Onions and Boiled Potatoes
---
We also offer these other types of Thai Curry Paste