Mama brand, instant pad Thai
Mama brand, instant pad Thai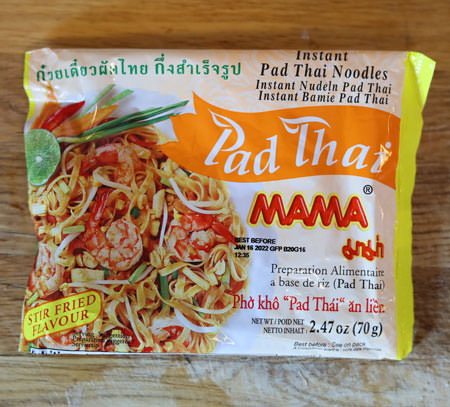 Add to cart
6 Packs $6.85

This is the original instant Pad Thai from Mama that requires only boiling water to prepare (if you don't have time to prepare Pad Thai from scratch). It's still very delicious and requires very little effort.
Add fresh shrimp as we did (see below) or dried shrimp if you'd like.
The noodles cook in three minutes, just drop them in hot water, cover and let sit. We then fried a bit of oil in a pan, added just a touch of onion, added the noodle, and stir fried this with the spice packets included. Garnish with shrimp, sliced green onion, fresh lime, peanuts and coarsely ground black pepper.
2.1 oz dry weight per package.
Ingredients: flour, sugar, palm oil, salt, artificial shrimp flavor, fried shallot, chile powder, chile sauce, citric acid, dried leek, msg, disodium 5 inosinate/guanylate.
Product of Thailand.
Please also consider our larger pack instant Pad Thai