Thai Galangal Powder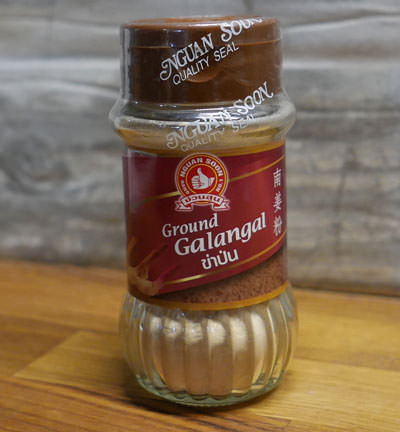 Add to cart
Temporarily Out of Stock

A useful ingredient in various Southeast Asian dishes, in premium Hand Brand from Nguan Soon (the very best Thai spices).
Galangal is an erect annual plant with aromatic, ginger-like rhizomes.
More about galangal at this link
It takes a lot of galangal to yield this powder, so it's a great deal and you won't be disappointed with the quality. We also recommend you try our Thai Pepper Powder from the same brand.
See it in our new recipe below: Tom Yum Fried Chicken.
Product of Thailand.
Packed in glass jar.
We also offer dried galangal and fresh galangal.
Galangal Powder: Another "Secret Ingredient" For BBQ Pros?
Recently the owner of a Lebanese restaurant specializing in lamb kebabs ordered our galangal powder. He mentioned that this powder is a "secret ingredient" that give his kebab skewers fantastic flavor. We've tested this out with great results. Galangal powder adds a nice hint of exotic gingery mustard flavor to meats, and it's perfect for the barbeque.
---
---
We offer the following Hand Brand spices from Thailand