Thai Pepper Powder, Hand Brand
Thai Pepper Powder, Hand Brand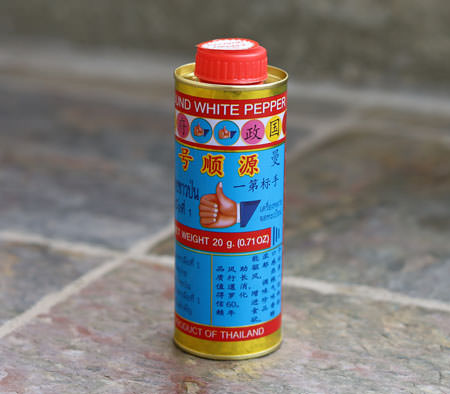 Add to cart
20 gm can - $5.89

An essential ingredient for Thai dishes, many people in Thailand put this on almost everything.
We are currently shipping this in the classic gold tin can as shown. You get 20 grams, which is about 2.5 tablespoons.
Use generously to add flavor and a unique fragrance. This is a pure, all-natural, finely ground white pepper made at the highest standards from only the very best whole Thai peppercorn.
Thai peppercorn is a special variety, distince from other white peppercorns found in neighboring countries. This product adds fragrant aroma, and the white pepper is a gentle spice that does not overwhelm the food.
Hand Brand Prik Thai has the prestigious Shell Shuan Shim award.
Typically added to fried rice, soup, any any other Thai foods you prefer.
Pounded together with coriander seed powder and garlic, is called a natural "Thai MSG" by the Prime Minister of Thailand, and can be used in just about every Thai dish.
Below are many authentic Thai recipes from our recipe section that call for Thai pepper powder.
For something unique try it in Thai-style sundried beef jerky.
Here are some of our favorites:
Khao Tom Koong
Gai Yang Takrai
Ba Mee Haeng
Thai Congee
Gai Pad Med Mamuang Himaphan
We also recommend you try our galanga powder or lemongrass powder of the same brand.
Product of Thailand.
Part of our Essential Thai Pantry Set

---
See Prik Thai in the following ImportFood.com Thai recipes