Wasabi Ginger Lime Ahi Tuna Burgers

Wasabi Ginger Lime Ahi Tuna Burgers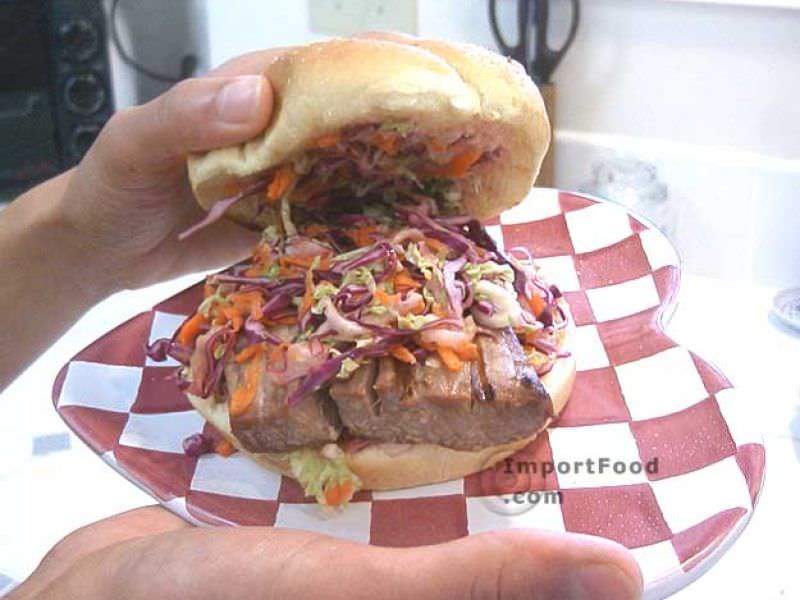 The final result of this recipe is the most heavenly burger you've ever tasted. Gently-marinaded fish, barbequed, combined with ginger wasabi mayonnaise and fresh shredded veggies on a good bun. There is no better burger! We are pleased to present step-by-step instructions as well as detailed photographs. Makes 4 servings.
Method for Wasabi Ginger Lime Ahi Tuna Burgers
Blend mayonnaise, 2 tablespoons lime juice, ginger, 1 tablespoon soy sauce, wasabi paste, and sesame oil in processor until smooth. Season to taste with salt and pepper. (Can be made 1 day ahead. Transfer to bowl, cover, and chill.)
Mix red cabbage, Napa cabbage, and carrots in medium bowl. Add 4 tablespoons lime juice; toss. Season with salt and pepper. Place tuna on plate. Pour 1/4 cup soy sauce over; turn to coat. Let tuna and cabbage stand at least 15 minutes and up to 1 hour, tossing cabbage and turning tuna occasionally.
Prepare barbecue (medium-high heat). Spread cut sides of rolls with butter. Grill, buttered side down, until golden. Transfer rolls to 4 plates. Spread cut sides with wasabi mayonnaise.
Mound 1/4 cup cabbage slaw on each roll bottom. Grill tuna until cooked to desired doneness, 1 to 2 minutes per side for medium-rare. Place tuna on cabbage atop rolls. Top with another 1/4 cup cabbage slaw, then roll tops.

Reviews