Yellow Pepper Soup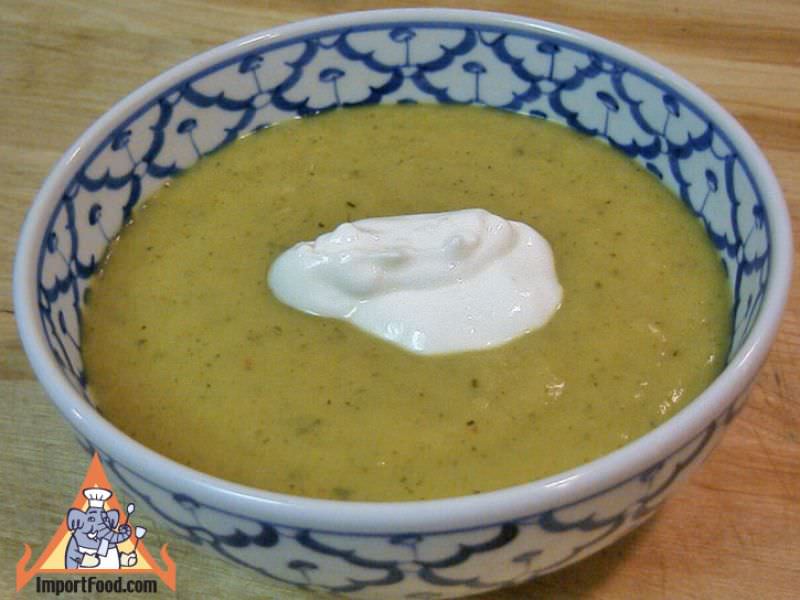 A local doctor from Kirkland Washington called us to inquire about kaffir lime leaves and Thai holy basil, because he likes making this soup and needed the ingredients. It's an elegant, healthy soup full of flavor and nutrition. We were really happy that he faxed us a copy from his personal recipe file, and we're happy to share it with you.
We used regular plain yogurt, which turned out fine, but the recipe calls for Greek yogurt which probably tastes better in this recipe. We also used a fairly large sweet potato rather than a medium size, so the end result was several servings.
Ingredients
For 4 Person(s)
Ingredients
2

Yellow Bell Peppers

1

Tablespoon

Butter

1/2

Large Yellow Onion, Finely Chopped

1

Clove Garlic, Pressed

1/4

Teaspoon

Thai red curry paste

14

Ounces

Chicken Broth

1

Sweet Potato (or yam) cut into 1

Greek Yogurt
Buy ingredients for this Recipe
Method for Yellow Pepper Soup
Roast the peppers over an open gas burner until mostly blackened. This can also be done by placing the peppers under a broiler (toaster oven works fine). Place blackened pepper in a ziplock or paper bag for 10 minutes to cool. Remove the burned skin, but the flesh away from the stem and seeds. Coarsely chop the flesh and set aside.
Remove 1-2" from the woody end of the lemongrass stalk, then cut up from there to get one 4-5" piece, discarding the rest. Whack the lemongrass with a cleaver, cut into 1" pieces, and set aside.
Melt butter in a medium saucepan; cook the onion and garlic over medium heat, stirring, for 2-3 minutes. Stir in the red curry paste and continue another 2-3 minutes. Add the broth and then the sweet potato, lime and basil leaves, and lemongrass. Cover and cook over low-medium heat until soft, about 20 minutes. Remove from heat, add pepper flesh. Blend in the pan using an immersion blender until all is smooth, or transfer to a blender to do this job. Transfer to a nonreactive (glass, etc) container and refrigerate overnight to meld flavors.
Reheat slowly to just simmering. Divide into bowls, add a dollop of yogurt to each as garnish. Enjoy!

Reviews