Thai Chicken and Rice, 'Khao Mun Gai'

Thai Chicken and Rice, 'Khao Mun Gai'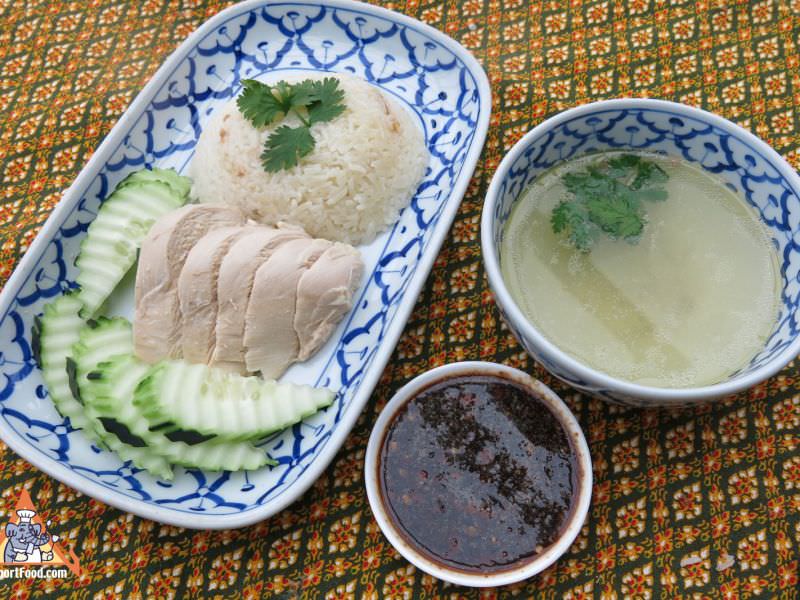 Khao Mun is a more "high end" street vendor dish because it's more complicated to make, and requires a fairly sophisticated cart and tools. Khao = rice, Mun = fat. So this is "Fat Rice" or, in other words, rice cooked in chicken fat.
A kind gentleman in Bangkok with a superbly maintained kitchen cart served Khao Mun Gai we loved for many years.
We also fondly recall the Khao Man vendor at Sukhumvit Road 38, who drove a pickup truck every night to the street corner and spent a half-hour setting up his tables and pots. Always served with a bowl of chicken soup, fresh cucumbers and a side dish of a unique sauce as we prepare in this recipe.
Be sure to use yellow bean sauce (do not substitute) as well as cucumber.
Method for Thai Chicken and Rice, 'Khao Mun Gai'
Rinse your chicken and pull some of the skin off, especially the skin around the neck which you can cut off with scissors. Also remove fatty skin around the tail. You should get about 1/2 cup of skin and fat from the chicken.
Cut your onion in half and stuff inside the chicken. Put three slices of ginger inside chicken also. Next, rub the chicken with 1 tablespoon salt.
In a large pot, add four quarts of water, add chicken to water, bring to a boil and cook uncovered at a high simmer for an hour.
Rinse the jasmine rice and sticky rice together, drain and set aside.
In a dry wok, add the chicken skin that was set aside, and cook over low heat to brown the skin. Chicken fat will accumulate, while the skin becomes crispy. After about 15 minutes, remove the skin (we gave it to our dog).
Add chopped garlic to the chicken fat, until it starts to brown (but do not over-cook it, the color of your garlic should be light gold). Turn off the wok heat. Put the rinsed rice into your wok, and mix the garlic oil into the rice. Add one teaspoon of salt, and mix together. Transfer the rice mixture into a rice cooker.
Add enough chicken stock so it's about 1/2" above the rice. Turn on rice cooker and cook. Next, prepare your dipping sauce.
Dipping sauce: In a mortar and pestle, pound together fresh Thai chiles, garlic, cilantro and fresh ginger. Stir in yellow bean sauce, lime juice, and dark sweet soy sauce. Mix well and taste, then add more lime juice to adjust taste to your preference.
Serve with cooked sliced chicken, a bed of the steamed rice on the side, garnished with parsley, and accompanied by a good supply of sliced cucumber. Also serve with a cup of the chicken broth, and a generous dish of the sauce. Enjoy!

Reviews