Steamed Buns, Salapao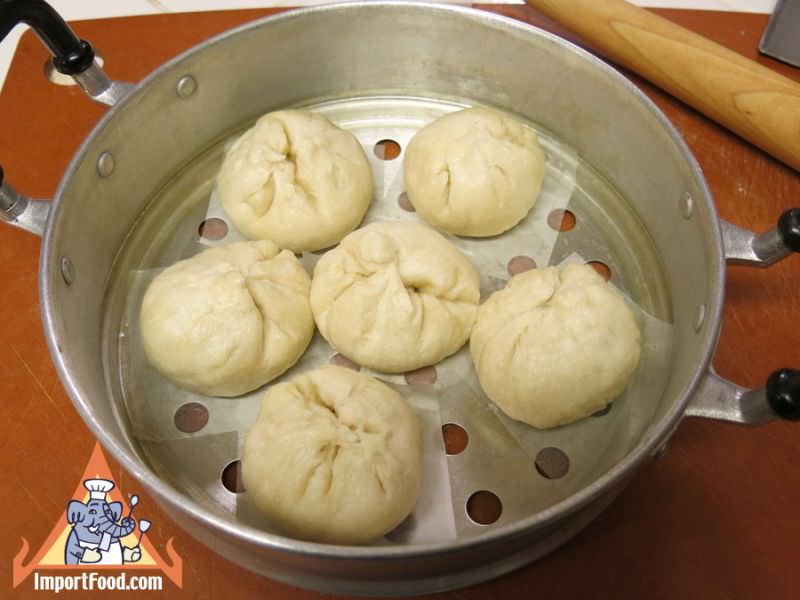 Here we demonstrate how simple it is to make those delicious, meat-filled steamed buns that you may have never imagined yourself creating. Follow the steps and checkout our video filmed in Thailand, add some of your own ideas to make a unique filling, and perhaps you can start a new career in the field of steamed buns and dumplings.
The version featured in our street vendor video is made with bamboo, dried shrimp and various Thai spices. The recipe below is how we prepared it, with pork. You might also like our recipe for steamed dumplings.
Ingredients
For 4 Person(s)
Ingredients for the meat filling
Ingredients for the dough
1

16 Ounces

Bag Mixed flour for steamed bun

1

Cup

Millk

4

Tablespoon

Sugar

1

Tablespoon

Vegetable Oil
Buy ingredients for this Recipe
Method for Steamed Buns, Salapao
If you have a kitchen scale, weigh the dough into 40 gram (1.4 oz) pieces. Otherwise roll out your dough and section it into 20 pieces. Next, roll a piece of your dough into a circle, trying to make the center thicker than the outer edge. Place a teaspoon portion of the meat mix into your dough, then lift and turn the dough to form the steamed bun (as shown in video).
We also prepared hard boiled eggs and cut them into 8 equal portions, then put a portion (with yolk part down) on top of the meat mix before sealing up the dough.
We also served our buns with E-San Thai Meat Sauce and this tasted fantastic.
Place your buns on a square of wax paper then place into a stacked steamer, cook for about 10 minutes and that's all it takes to make these delicious steamed buns -- Enjoy!

Reviews