Thai Iced Tea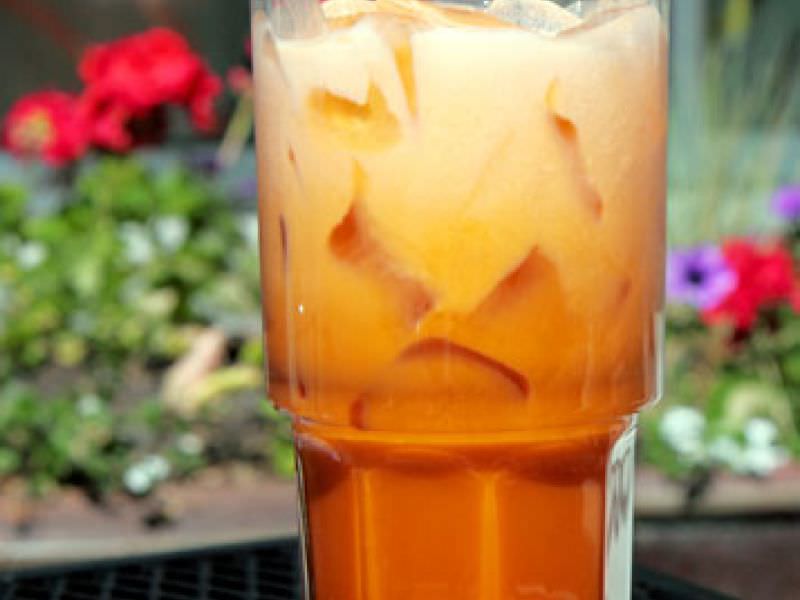 Thai tea has become very popular in the United States as people find pleasure sipping this delicious, unique tea. Tasting it in hot summer months, sitting around a swimming pool or on the beach, is like a dream.
We've been importing Thai tea from Thailand for over 10 years, from an excellent quality manufacturer (the BEST brand!) that supplies street vendors in Thailand, and restaurants around the world. A combination of Thai tea leaves and spices. The flavor is just right, it could not be more authentic.
If you're thinking of Thai iced tea on your summer picnic, want to make Thai ice tea popsicles, create a Thai ice tea cake frosting, etc, we're offering a great deal on the real thing, in Por Kwan brand.
Method for Thai Iced Tea
Boil 8 cups water. Place 8-10 heaping tablespoons tea mix in a large pitcher or pot. Pour boiling water over the tea and let steep for 5 minutes. Use a strainer to strain the tea into a second pitcher (this removes most of the loose tea), then use a coffee filter or the stainless/muslin filter offered below to filter it back into the (rinsed) first pitcher. Add sugar to taste (recommend at least 1 cup, as Thai icetea should be very sweet), stir and let cool then put in the fridge. Pour chilled tea over ice (prefer crushed ice) and top with evaporated milk. Let the milk float on the ice and slowly sink into the tea.
Variant Method
Let the wonderful fragrance of Thai icetea fill your home, and enjoy a stronger-tasting tea. In medium pot boil 8 cups water and add 8-10 heaping tablespoons of Thai tea mix (note, it's much more convenient if you put the tea mix inside the filter pictured below then place in the boiling water). Reduce heat and let simmer uncovered for 1 hour. Add water to re-fill pot to original level, and let simmer for additional 1 hour. Add water once again and bring to a boil. Remove from heat. Strain, cool and serve as per above method. This method yields a stronger tea and is the more common way of preparation in Thailand. We also offer instant Thai tea mix.

Reviews