Kanom Dok Jok, Thai Flower Cookie

Kanom Dok Jok, Thai Flower Cookie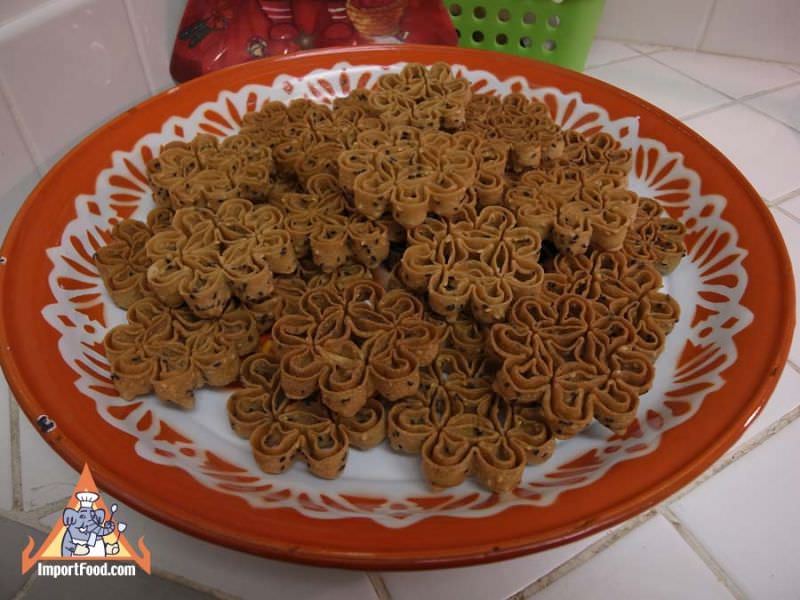 A special brass flower shaped mold is used to create Thai cookies that are lovely in appearance and fun to eat. The cookies have a relatively plain flavor, accented by sesame, a touch of sugar sweetness, and mysterious crispiness derived from the slaked lime water.
Important : Soak your new brass mold in vegetable oil for at least 2 days before using it, this will prevent batter from sticking to it.
Limestone water: Prepare limestone water by mixing one tablespoon limestone paste with 2.5 cups water. Stir well and leave until the lime crystals sink to the bottom. Then pour 2/3 cups of this clear liquid into another container. Discard the rest.
Method for Kanom Dok Jok, Thai Flower Cookie
Sift the rice flour, all-purpose flour and tapioca flour together and transfer into a bowl for mixing. Add clear lime stone water and stir. Add egg yolk, vegetable oil, salt, sugar and sesame. Mix thoroughly.
Heat about 2 inches of vegetable oil a cooking pot on your stove at med/low heat. Immerse the flower shaped mold into the hot oil, and let it sit for awhile to make it hot. Raise the mold up out of the oil and shake off the excess, then immerse your hot mold into the flour mixture. IMPORTANT: dip your mold into the flour mixture so the mixture only comes up about 3/4 of the mold. Do not let the flour mixture rise over the top of the mold, as this will prevent the cookies from releasing off the mold.
Next, dip your mold into the hot oil, but again don't dunk the mold all the way into the oil. Only dip it far enough so that the oil covers the cookie mix. Wait for about one minute, now you can use a spoon or chopstick to push the flower cookie off of the mold (after you've made a few cookies, they will start to fall off the mold by gently shaking the mold, but first you'll need to help the cookies off the mold by using a utensil as shown).
Flip your cookie over, let it cook briefly, then remove from oil and place on a paper towel. It is suggested that you place the cookie on a little dish so it's raised off the towel.
This recipe makes about 32 cookies. Enjoy!
The beautiful crispy cookie
Immerse 3 4 into the dough
Gently push cookie away from mold
Fry briefly at med low heat
Flip and cook the other side

Reviews