How to Peel and Slice Fresh Pineapple

How to Peel and Slice Fresh Pineapple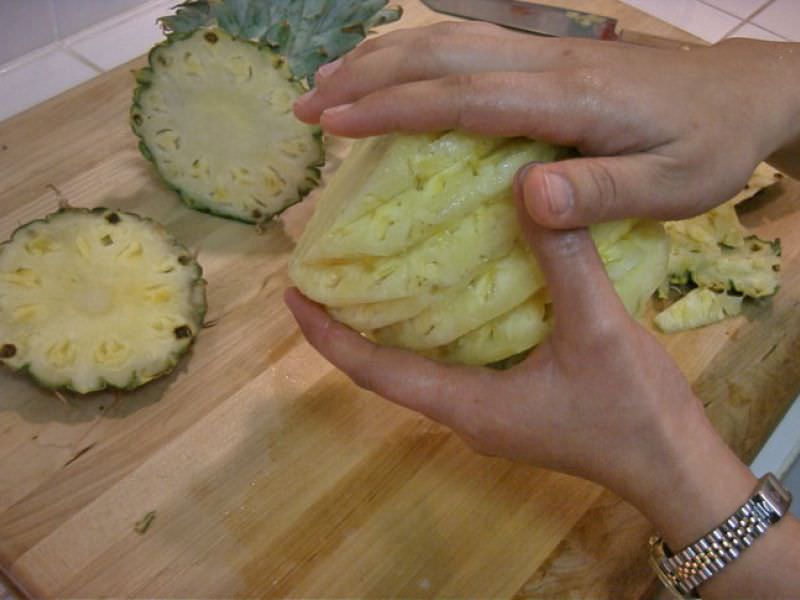 It's very simple and takes just a few minutes. With a good knife, remove the top and the bottom, then slice down the sides to remove the thin outer peel of the fruit. Don't slice it thick, you want to leave the "eyes" of the pineapple intact. Then start at the top and move down in a diagonal circular pattern, cutting in on both sides to remove the eyes.
Method for How to Peel and Slice Fresh Pineapple
Fresh pineapples are grown throughout Thailand, and sold year-round in every market. A particularly fragrant pineapple we like is the Phuket variety, grown in the south.
In Thailand you'll always find plenty of street vendors selling pineapples such as this hawker who converted a bicycle into a fresh fruit showcase. Visitors often note the unique, efficient way that Thais peel and slice pineapple. This method looks great, and minimizes waste. Here we demonstrate the technique using a fresh Hawaiian pineapple which is quite inexpensive, and very juicy.
Use the pictures below as a guide. When that's done, you'll have an attractive piece of fruit ready for the next stage.
After a brief rinse in cold water, put 1/2 teaspoon of sea salt in the palm of each hand and rub the pineapple. Salt helps remove a sour bite the pineapple may impart, and we really recommend it. Next, slice from top to bottom around the hard center core. Discard the core, and slice the pineapple into smaller chunks. Enjoy!
Set upright and slice downward to remove outer peel cut thin leaving the eyes
Remove eyes as shown from top to bottom in a diagonal pattern
With some salt the palm of each hand rub.
Avoiding the center core slice downward
Slice a few more times then discard the core
Cut into smaller pieces enjoy

Reviews