Thai-Style Fried Chicken Wings

Thai-Style Fried Chicken Wings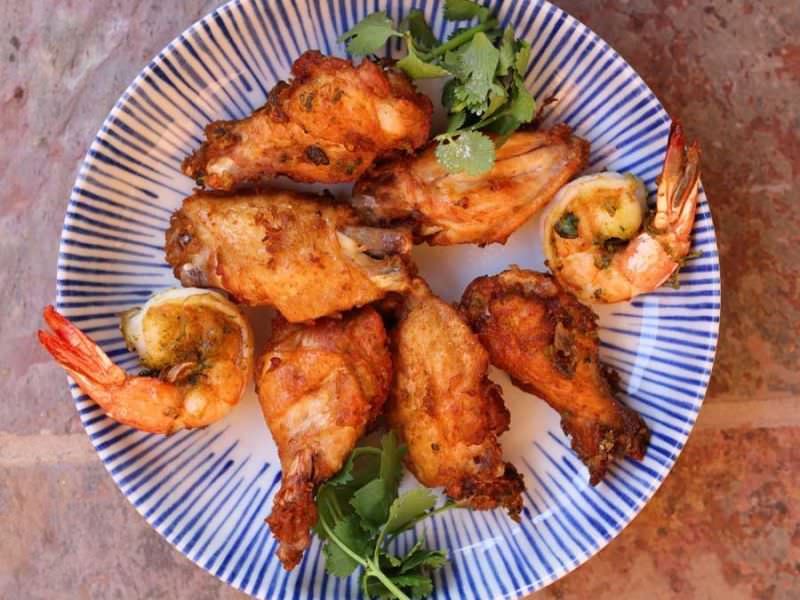 After hearing from experienced chefs in Las Vegas and Austin Texas about this Thai chicken batter, we created delicious fried chicken and know you'll enjoy this recipe. Eat alone or with Thai sweet chile sauce as a dip.
Serve in our Handpainted Ceramic Big Boat.
Method for Thai-Style Fried Chicken Wings
We got a 1.5 pound pack of 'party wings' as shown. Rinsed them well, pat dry and set aside.
Mix equal parts water and chicken batter mix and stir well.
In a mortar and pestle, pound about 1/2 bundle (or less) fresh coriander which has been rinsed well and only the lower stems cut off. Add this to the batter mix. Next, cut up a small piece of fresh turmeric, pulverize in your mortar and add to the mix.
Pour your chicken batter into a large ziplock bag or simply leave it in a bowl, then mix your chicken into it, and leave in the fridge overnight to marinate.
We used our very convenient Indian Pan from Zebra-Thailand to heat 2 cups of vegetable oil. Over medium heat (be careful temp is not too high) cook several pieces of chicken at a time for about 5 minutes.
For fun we also added a few prawns which cooked for only a minute or so.
The finished fried chicken is absolutely delicious!

Reviews