Thai-Style Fried Chicken Wings

Thai-Style Fried Chicken Wings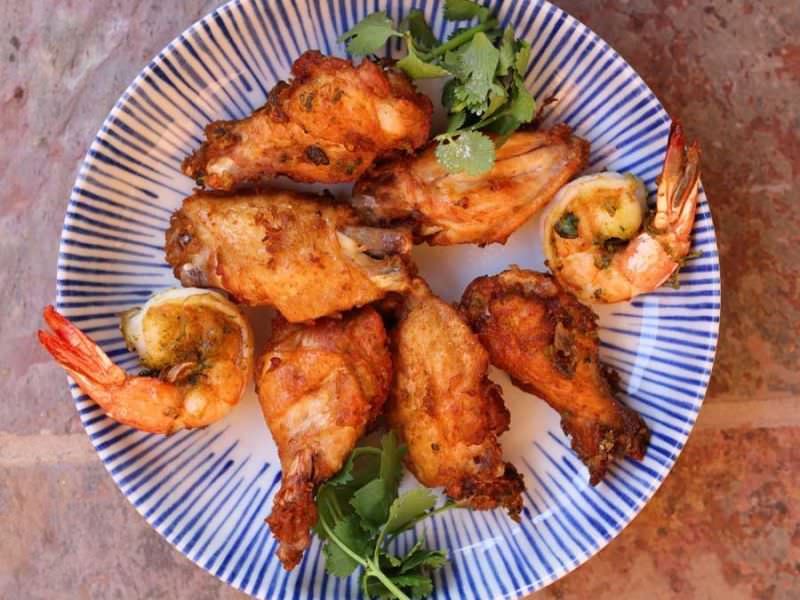 Method for Thai-Style Fried Chicken Wings
We got a 1.5 pound pack of 'party wings' as shown. Rinsed them well, pat dry and set aside.
Mix equal parts water and chicken batter mix and stir well.
In a mortar and pestle, pound about 1/2 bundle (or less) fresh coriander which has been rinsed well and only the lower stems cut off. Add this to the batter mix. Next, cut up a small piece of fresh turmeric, pulverize in your mortar and add to the mix.
Pour your chicken batter into a large ziplock bag or simply leave it in a bowl, then mix your chicken into it, and leave in the fridge overnight to marinate.
We used our very convenient Indian Pan from Zebra-Thailand to heat 2 cups of vegetable oil. Over medium heat (be careful temp is not too high) cook several pieces of chicken at a time for about 5 minutes.
For fun we also added a few prawns which cooked for only a minute or so.
The finished fried chicken is absolutely delicious!

Reviews