Thai Crispy Fried Bananas Over Ice Cream

Thai Crispy Fried Bananas Over Ice Cream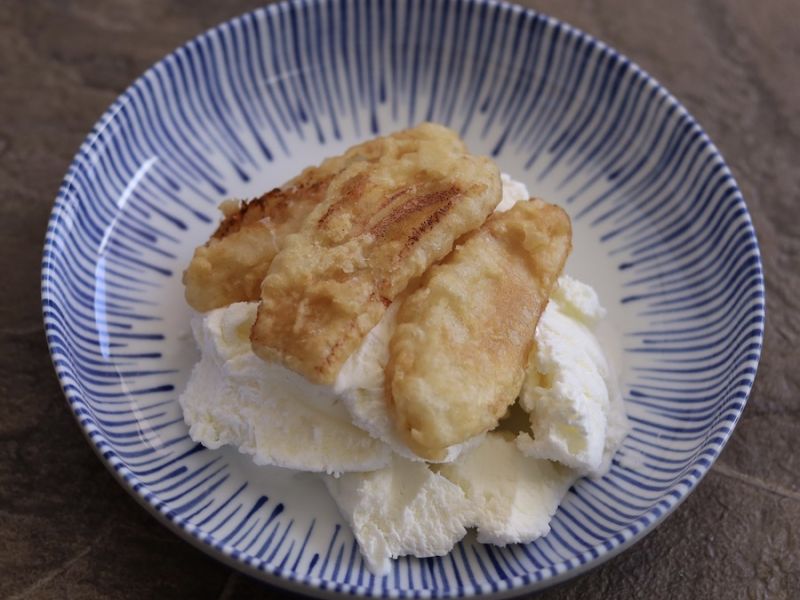 These fried bananas were a smash it at a recent weekend get-together; everyone wanted to know the recipe.
Method for Thai Crispy Fried Bananas Over Ice Cream
We used the smaller 'apple banana' variety from Hawaii which are recommended but may not be available so feel free to use other varieties as available to you.
Slice lengthwise as shown, each banana slice into 3 or 4 pieces.
With about a half package of Gogi powder in your bowl, start by adding 2 tablespoons of coconut milk while stirring the powder, then slowly add water while until the consistency looks right for coating your bananas; similar to a pancake batter.
Optional: you can stir in a bit of honey.
Heat vegetable oil (we used basic Crisco brand canola oil) in a pan as shown and bring to a medium/low heat (our stove has heat level 1-10 and we used 4).
Place 2-3 slices in your pan and let cook until slightly golden on one side, then flip and repeat for the other side.
Remove from pan, set on a paper towel then serve hot, on top of ice cream.
You'll love these crispy fried bananas.

Reviews