Gai Muang Nung Kreung Gaeng Nua, Steamed Chicken Chiang Mai

Gai Muang Nung Kreung Gaeng Nua, Steamed Chicken Chiang Mai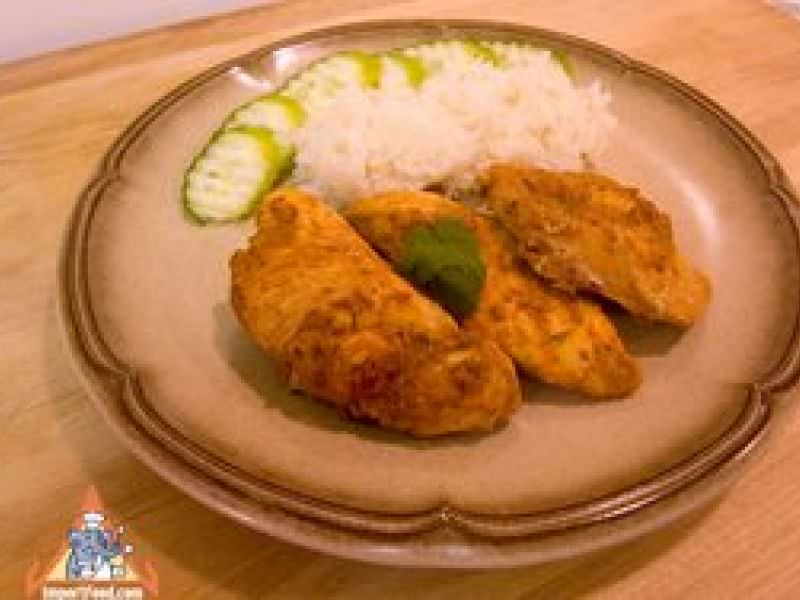 In English you could call this "chicken in northern style chile paste". The Chiang Mai (northern Thai) chile paste has mild flavor (not spicy), made with turmeric, using local Thai chicken which are tasty and chewy. For best results, use the finest quality chicken you can find. We used organic free-range chicken breasts cut up into large chunks, with excellent results.
Traditionally, to prepare northern style steamed chicken, the chicken cavity would be stuffed with the chile paste. This recipe is prepared using the traditional turmeric chile paste but cooked a different way. Inspired by a chef focused on recipes of the old Chiang Mai culture.
Ingredients
For 4 Person(s)
Ingredients for Chicken
2

Large Boneless Skinless chicken breasts

1/4

Cup

Chicken Stock

2

Tablespoon Fish Sauce

1/4

Teaspoon

Salt

1

Tablespoon

Sliced Green Onion

1

Tablespoon

Cilantro
Ingredients for Chiang Mai Style Curry Paste
Buy ingredients for this Recipe
Method for Gai Muang Nung Kreung Gaeng Nua, Steamed Chicken Chiang Mai
Method For Curry Paste
Remove seeds from the chile peppers, cut them into smaller pieces, and soak until soft (about 10 minutes). Drain, and gently squeeze the chiles to remove water, then put into a mortar and pestle. Add remaning curry paste ingredients to mortar, and pound until it's a smooth paste. Set aside.
Method for Chicken
Cut each breast into three large pieces, and put into a bowl. Spoon the curry paste over the chicken, and combine. Next, add chicken stock, fish sauce, and salt. Mix well, and set to marinade for at least 1 hour.
Bring water to a boil in a stacked steamer, putting chicken on two levels. Add chicken to the stacked steamer, cover, and cook for 30 minutes. This should be served with sticky rice.
Gai muang nung kreung gaeng nua
Mild new mexico peppers on right
Good quality chicken breast
Chiang mai steamed chicken
Chiang mai steamed chicken

Reviews