Thai Sour Fish Soup, 'Kaeng Som Phak Bung Phrik Sod Kab Pla'

Thai Sour Fish Soup, 'Kaeng Som Phak Bung Phrik Sod Kab Pla'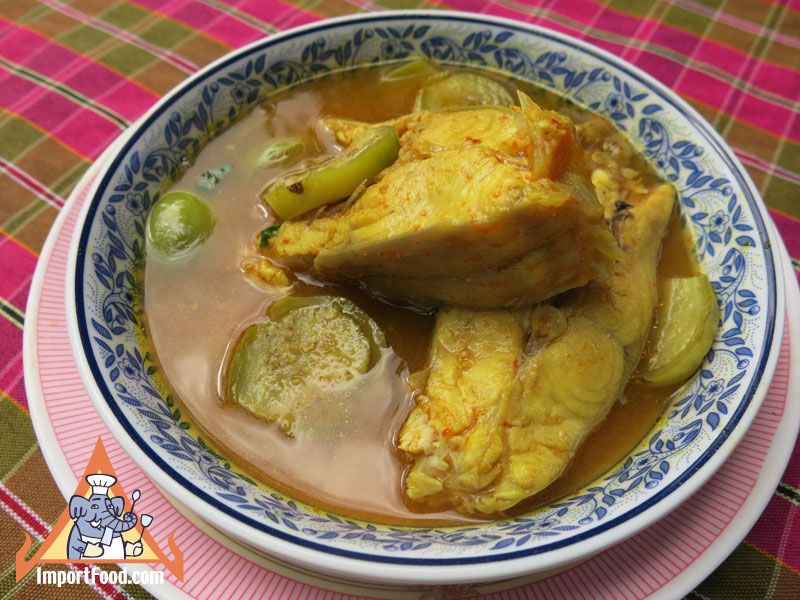 This is a simple hot and sour soup, made with the fish of your choice. In Thailand the vegetable is generally cabbage, kale, or even broccoli can be used. Here we used fresh Thai eggplant.
Method for Thai Sour Fish Soup, 'Kaeng Som Phak Bung Phrik Sod Kab Pla'
Wash and dice the fish. Place the fish in a bowl, add the lime juice, fish sauce, tamarind sauce, chili sauce and sour curry paste, and leave to marinade for at least an hour.
Bring two cups of water to a boil in a medium saucepan or wok and add the liquid from the marinading fish, then add the vegetables and boil for about two minutes. Adjust the flavor to taste (it should be a little salty and a little sour, and as hot as you desire it at this stage). Add the tomato and bring back to the boil. Add the remaining ingredients, return to the boil, and stir occasionally until the fish is cooked.

Reviews
People in this conversation