Thai Spicy Ground Chicken and Toasted Rice, 'Larb Gai'

Thai Spicy Ground Chicken and Toasted Rice, 'Larb Gai'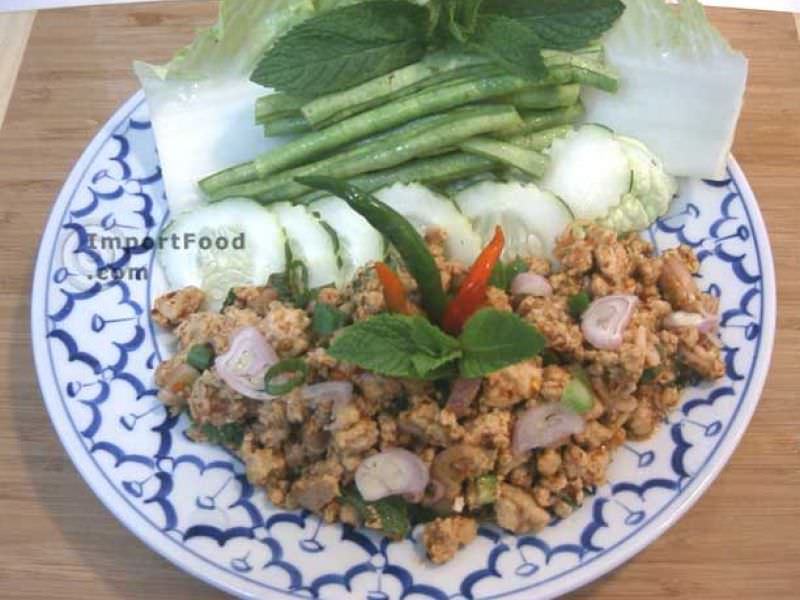 This is one of our all-time favorite Thai dishes, and it is a very common dish served throughout Thailand as well as Laos. It's quick to make and often extremely spicy, but the lime juice and mint leaves make for an exotic and splendid combination.
It can be found on Thai restaurant menus in America as "chicken salad Thai style", which might be the best description for this dish.
Larb is pronounced "lawb" and that means salad. It can be made with beef (lawb nuea) or pork (lawb muu) instead of chicken.
Method for Thai Spicy Ground Chicken and Toasted Rice, 'Larb Gai'
You can make a more fancy lawb by adding beanthread noodles (see our recipe for larb woonsen). The spice mix is fairly simple but we have a ready-made larb spice package-- Click here if you're interested in our instant larb mix.
On a recent trip to Bangkok we enjoyed it at a modern restaurant (shown below served with various sauces and over fish). The recipes are innovative and traditional at the same time.
You can use ground chicken from the supermarket, or chicken ground in your food processor. Cook the chicken with 2 tablespoons lime juice in a pan over moderate heat. Stir until done. Transfer cooked chicken into medium mixing bowl. Add the remaining ingredients, and mix well. Taste and season as desired. You might want more or less ground chile and/or fish sauce, etc. Serve with fresh vegetables (as shown) and warm, freshly-steamed sticky rice (or if you prefer you can use Thai jasmine rice).
Note: if you like chicken giblets, cut them up into small pieces and cook in boiling water. Drain then add to cooked ground chicken before you add the other ingredients.
The usual way to eat this is to get a small ball of sticky rice in the fingers and use it to pick up a little lawb, then eat it with the raw veggies. You can also use a fork and spoon as a lot of Thais do.
Garnish
Always serve with a good portion of fresh cabbage, and add green beans, parsley, sliced radish, cucumber, & coriander leaves if you like.
Spicy ground chicken and toasted rice larb gai

Reviews