Fried Red Curry Asparagus and Prawns - Mae Pranom

Fried Red Curry Asparagus and Prawns - Mae Pranom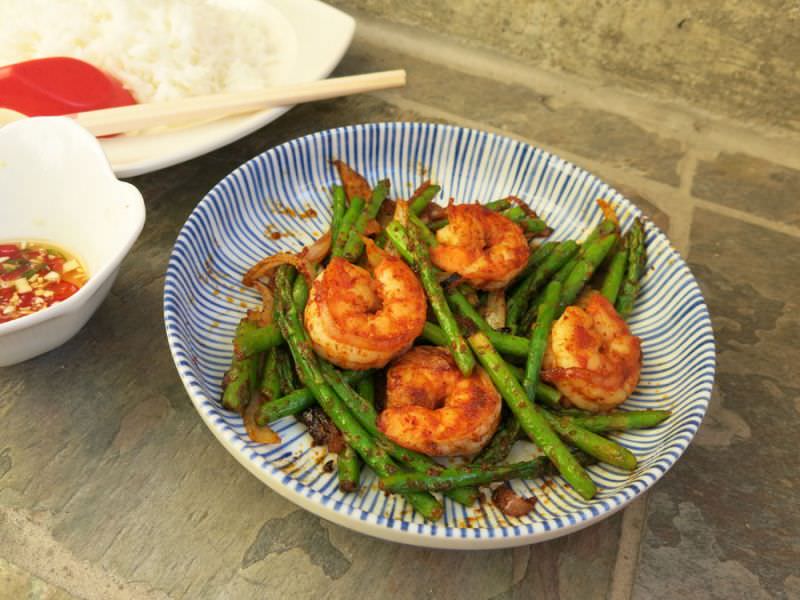 We used the very best quality Mae Pranom red curry paste and nice thin fresh asparagus to make this recipe, which was ready in under 5 minutes.
Method for Fried Red Curry Asparagus and Prawns - Mae Pranom
Start by bringing water to a boil in your pan then blanch the asparagus for just 20 seconds then drain and set aside.
Put about 2 tablespoons vegetable oil in the pan, heat, add shallot and red curry paste, and stir-fry. Add prawns and cook for a minute or so then add the aparagus and palm sugar, continue to fry for a minute. Toward the end add some sliced onion or shallot and mix momentarily before removing from the pan.
For the dipping sauce: Slice fresh Thai chilli peppers and place in a dish, add a bit of chopped fresh garlic, some fish sauce, and a bit of lime juice. This is a nice, salty sauce that goes well lightly splashed over the asparagus.
Serve with Thai Jasmine Rice.

Reviews