Thai Ice Cream with Basil Seeds & Chocolate-Ginger Ganache

Thai Ice Cream with Basil Seeds & Chocolate-Ginger Ganache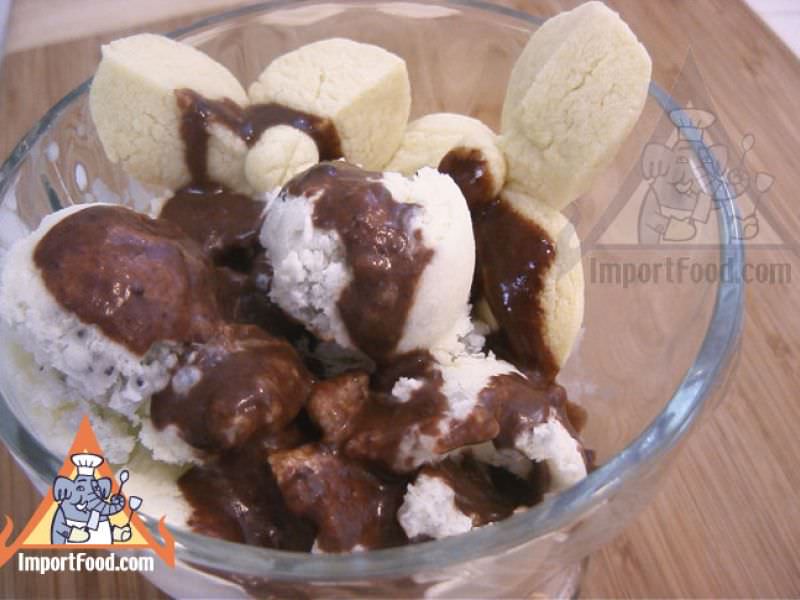 Ice cream is served throughout Thailand just as it is in many countries. Often served by bicycle vendors or via motorized carts, as shown in pictures below. Here is a basic ice-cream recipe using coconut, the most common ice-cream flavor, producing a rich, creamy ice-cream we know you'll enjoy. We've enhanced it with sweet basil seeds, giving an interesting texture & subtle fruit flavor. We highly recommend that you make this recipe just as described, served with the chocolate-ginger ganache and fragrant Thai cookies. It's an unbelievably perfect balance of flavors, the type of dessert found in the most prestigious, not just Thai, restaurants. This dessert really spans the international spectrum of culinary appeal, people will rave about it for weeks after trying it.
Idea: Dairy Queen in Thailand offers Thai ice-cream topped with pandan sticky rice.
Method for Thai Ice Cream with Basil Seeds & Chocolate-Ginger Ganache
In a saucepan bring the coconut milk, cream and sugar to a boil. Remove from heat and let it cool down a bit. In a separate bowl, beat the eggs well. Now, gradually beat the coconut mixture into the eggs. Do it slowly by ladling a bit of coconut milk into the bowl first, making sure the coconut milk is not too hot, otherwise it will cook the eggs. Gradually add more and more coconut milk until everything is mixed together well. Let it cool completely, and chill in the fridge.
Pour the cold mixture into a small loaf pan, cover it with cling wrap and remove any air between the wrap and the mixture. Freeze for about two hours, until it starts to get firm throughout. Remove from freezer and mix with a spoon, then place the mixture into a food processor or blender and beat until smooth. Pour it back into the pan.
Separately, add 1/2 tablespoon sweet basil seeds to 1/2 cup water. Stir it up and within a minute or so, the seeds expand as shown. Gently fold the basil seeds into the icecream, and stir it up well. Place cling wrap back over the pan, again removing any air, and freeze several hours.
Method (chocolate-ginger ganache)
Combine coconut milk, palm sugar and ginger powder in saucepan. Bring to a simmer over medium heat, stirring until the palm sugar dissolves. Remove from heat. Add chocolate and whisk until mixture is melted and smooth. Makes 2 1/2 cups.
Serving
Spoon the icecream into a dish and add Thai fragrant cookies to the dish as shown. The smoky aroma of the Thai cookies really ties this dessert together, but you can omit the cookies if you'd like. Drizzle warm ganache over the iceream and cookies, enjoy!
Ice cream with basil seeds & chocolate ginger ganache
Sweet basil seeds in water

Reviews