Bone Soup With Rice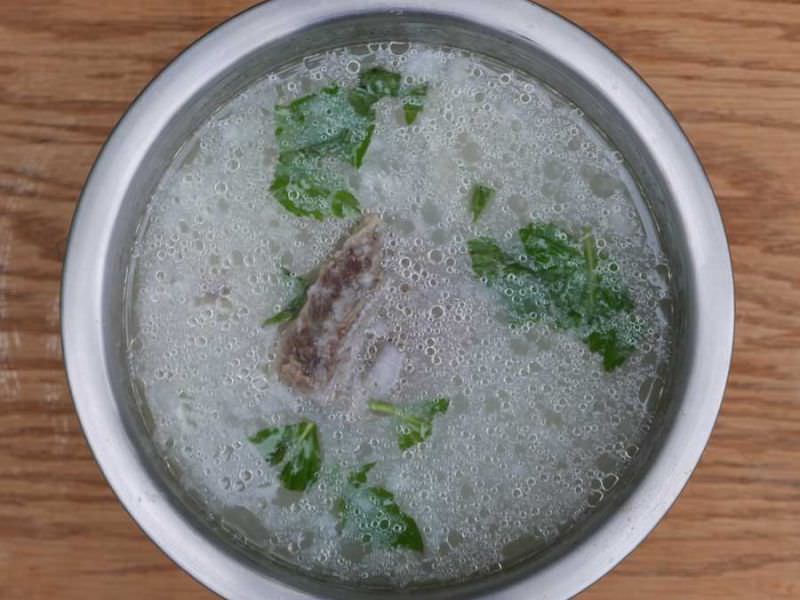 Bone soup is very healthy and becoming more popular. We made this rich, delicious soup using a very high quality short rib from a local farmer's market.
Method for Bone Soup With Rice
Bring your bone to a boil for about 30 seconds then reduce heat and skim off any crud that comes to the surface. As we used a very high quality bone, there was not much. You can also drain the water after it's boiled for 30 seconds, rinse your bone in cold water, then bring to a boil again -- this 'cleans' the bone and makes your soup more clear.
Simmer for about 1/2 hour, then add a bit of onion (optional) and salt.
You can also add two tablespoons of sugar, a teaspoon of salt, and a tablespoon of fish sauce. These three together add a lot of flavor but it's not necessary.
Next, add uncooked jasmine rice and stir a bit.
Keep over low heat for at least another 1/2 hour. Add a bit of fresh greens and serve. We also like to add Healthy Boy sriracha sauce, quantity depending on your desires but that sauce is perfect to add beause it combines a slightly sour vinegar with high heat red chilli peppers.

Reviews