Bean Vermicelli Soup with Pork, 'Tom Jude Woonsen'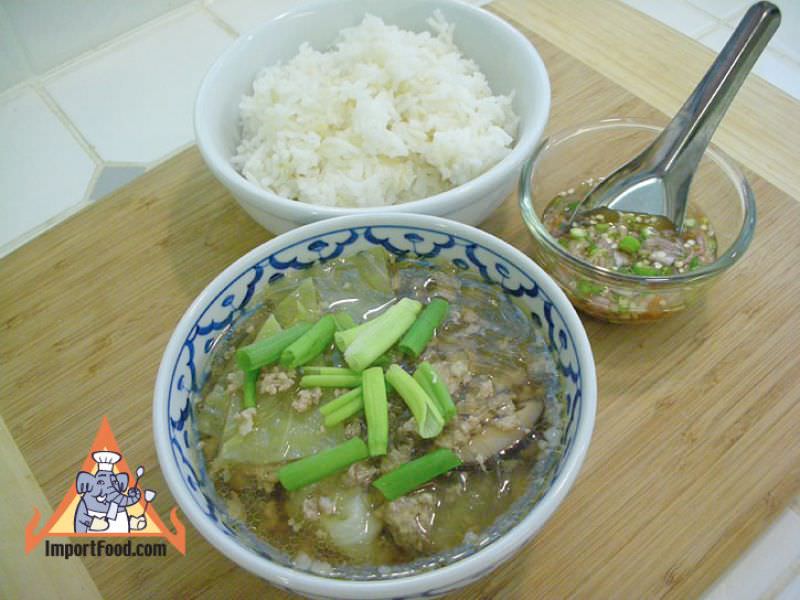 The leading ingredient in this recipe is the bean thread vermicelli, also called glass noodles. Made from ground mungbean flour, these clear noodles soak up the flavor of the broth. The soup is mild, rich and unique. Good for the whole family, as it does not have any chile heat unless you add nampla prik separately (read below). We love it with real chicken stock.
Method for Bean Vermicelli Soup with Pork, 'Tom Jude Woonsen'
Soak bean thread in water for at least 5 minutes, then use scissors to cut it a few times into 2-3 inch pieces (see picture). Soak 5 dried shiitake mushrooms in 1/2 cup warm water until they get plump (about 5 minutes), remove from water and slice each mushroom into 4-5 strips. Keep the liquid used to soak the mushrooms, this will be used later.
In a mortar & pestle, pound corriander seed powder, Thai pepper powder and garlic into a paste. In a medium-sized pot, heat vegetable oil over medium heat, then saute the garlic paste mixture. Add ground pork. After the pork starts to cook, add fish sauce and the water used to soak shiitake mushrooms. Drain bean thread noodles, and add to the pot. Add shiitake mushrooms, cabbage, and toss together for a few minutes. Pour in the soup stock. Cover and let it boil.
Taste the soup and add soy sauce as you desire. Serve in a bowl, topped with spring onion. Serve with jasmine rice, and we recommend serving with a separate small dish of nampla prik (mixture of fish sauce, lime juice, and chopped Thai chile peppers). We also like adding a little bit of sliced garlic and shallot to the nampla prik.
Bean vermicelli soup with pork tom jude woonsen

Reviews