Krong Kraeng Krop Recipe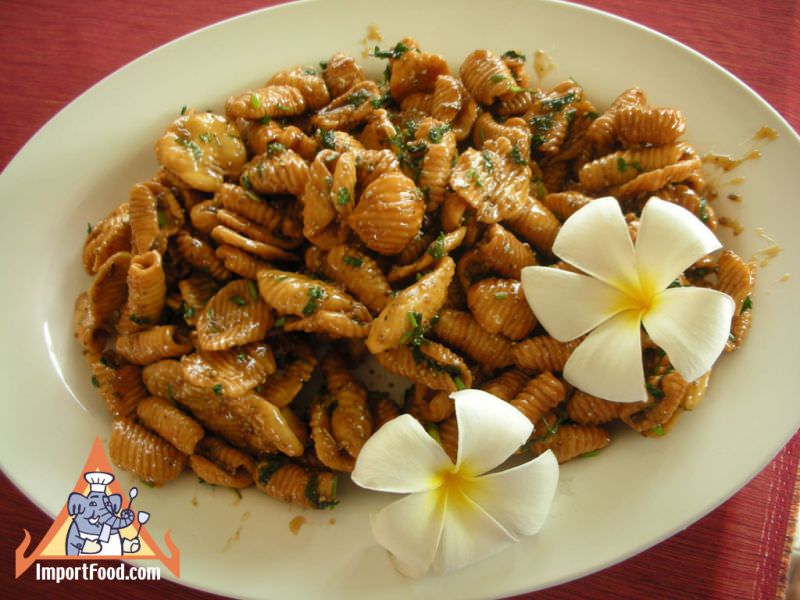 A crispy sweet and spicy Thai snack known as "Crispy Shells" in English. Try making these in your own kitchen, and delight your friends & family.
Method for Krong Kraeng Krop Recipe
Prepare slaked lime water by mixing one tablespoons limestone paste with 2.5 cups water. Stir well and leave until the lime crystals sink to the bottom. Then pour 2/3 cups of this clear liquid into another container. Discard the rest.
Using a fork, mix together eggs, vegetable oil, coconut cream, and 1/2 cup slaked lime water.
In a separate bowl, mix flour, sugar and salt. Add egg mixture to the flour mix, and knead until smooth. Test the dough as shown in the video. The dough is done when it stops sticking to your fingers. You'll need to knead it at least 10 minutes or so. Wrap the dough in plastic and keep it in your fridge overnight.
Shape the dough into little shells using the krong kraeng pressure mold (as shown in pictures and video). Fry in a brass wok until crispy, set aside.
In a granite mortar and pestle pound together coriander seed, whole peppercorn, and garlic. Pound it into a nice fine paste.
In the brass wok, in just a bit of oil left over from frying the krong kraeng, fry this spice paste for a few seconds them add all of the palm sugar. Let it dissolve while stirring. In a small dish mix 1/2 teaspoon salt with a few tablespoons water. Add this mix to the wok and stir. Now add the crispy krong kraeng to the wok, stir to coat, sprinkle with cilantro, serve on a dish and enjoy!
Shaping the dough into shells
Coriander seed peppercorn and garlic pounded into a paste
Shells palm sugar grounded paste and cilantro mixed together

Reviews