Vietnamese-Style Beef Noodle Soup

Vietnamese-Style Beef Noodle Soup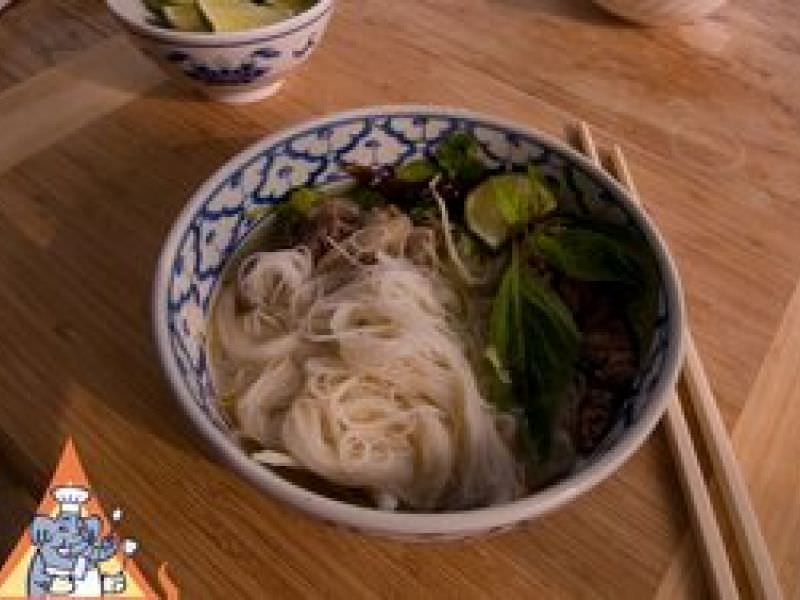 We LOVE this recipe and so does our kids. We were able to get excellent quality beef short ribs from a local butcher, get the best possible meat for excellent results. The recipe below makes a fairy mild soup, but you can spice it up with more sambal oelek and/or Thai chile peppers. Vermicelli noodles go perfectly with the beef, and you can add different kinds of greens to suit your taste.
Method for Vietnamese-Style Beef Noodle Soup
Whack the lower few inches of lemongrass with the back of a cleaver to bruise it. Cut the bottom 1/2 inch off the lemongrass stalks and discard. Cut another 4 inches up, so you have 6 four inch pieces. Very finely chop enough from one piece to measure 4 teaspoons, and set aside. Cut the remaining lemongrass stalks in half. Place beef and stalks in large pot. Add broth and 8 cups water; bring to boil. Reduce heat and simmer 1.5 hours.
Heat oil in medium skillet over medium heat. Add 1/3 of the sliced onions and garlic, saute one minute. Add 1 tablespoon sambal oelek, paprika, and chopped lemongrass; saute another minute. Add this mixture to soup; mix in fish sauce, sugar, crab paste and salt. Simmer until beef is tender, skimming foam from surface, about one hour. Remove beef from soup. Skim fat from surface of soup. Simmer soup until reduced to 8 cups, about 30 minutes. Add more sambal oelek if desired. Trim off any fat from beef; cut meat into bite-size pieces.
Bring large saucepan of water to boil. Add noodles; boil one minute (our cooking basket works great). Drain and rinse under cold water. Using scissors, cut noodles into smaller pieces. Divide noodles among four large bowls. Top with beef, remaining onions, green onions, and cilantro. Bring soup to boil; ladle over noodles. Toss cabbage and Thai basil in small bowl. Sprinkle over soup. Top with chiles, squeeze lime over. Enjoy!

Reviews