Rice vermicelli noodles, Wai Wai, 17.5 oz
Rice vermicelli noodles, Wai Wai, 17.5 oz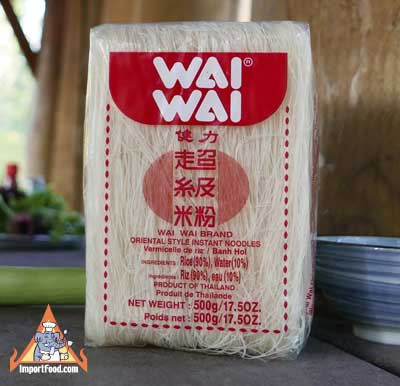 Add to cart
17.5 oz - $4.89

Rice vermicelli noodles, also known as "sen mee" in Thai, are delicious and easy to prepare, made by Wai Wai which is the premium manufacturer in Thailand.
These are a unique kind of noodle for particular use in the recipe Mee Krob. When making mee krob, put these noodles into hot oil and they instantly quadruple in size as if to pop like popcorn.
Otherwise, simply cook (or soak) in warm water for just two minutes, and they make a really healthy, hearty meal stir-fried or in soup. Add sliced meat and vegetables if you prefer. The noodles are very thin, a bit like angel hair pasta, so this is quite a lot different than chantaboon rice stick noodles which are wider and thicker.
As seen in pictures below, we prepared a quick stir-fry using Wai Wai rice vermicelli.
1. Slice your favorite cut of beef, then season with fish sauce, salt, black pepper, and a bit of sugar. Fry with vegetable oil, fresh shallot for a few minutes until done.
2. In a separate pot, place a handful of Wai Wai Rice Vermicelli in boiling water for about 1 minute or slightly less. Remove and drain.
3. In the frying pan with your seasoned beef and shallots, add the cooked rice vermicelli, then add some sliced green onion. Mix well over medium heat, gently stir together.
4. Serve with fresh lime, and we liked to pour some Healthy Boy sriracha sauce on the side.
We also offer Wai Wai instant noodles: Classic Oriental, and Tom Yum flavors.
Martha Stewart recommended ImportFood.com for rice vermicelli.
Stir-Fried with Beef and Lime
Videos:
Rice Vermicelli On Video: Mee Krob Snacks
See our street vendor video of sen mee keemao talay
Ingredients: rice, water.
Product of Thailand.
---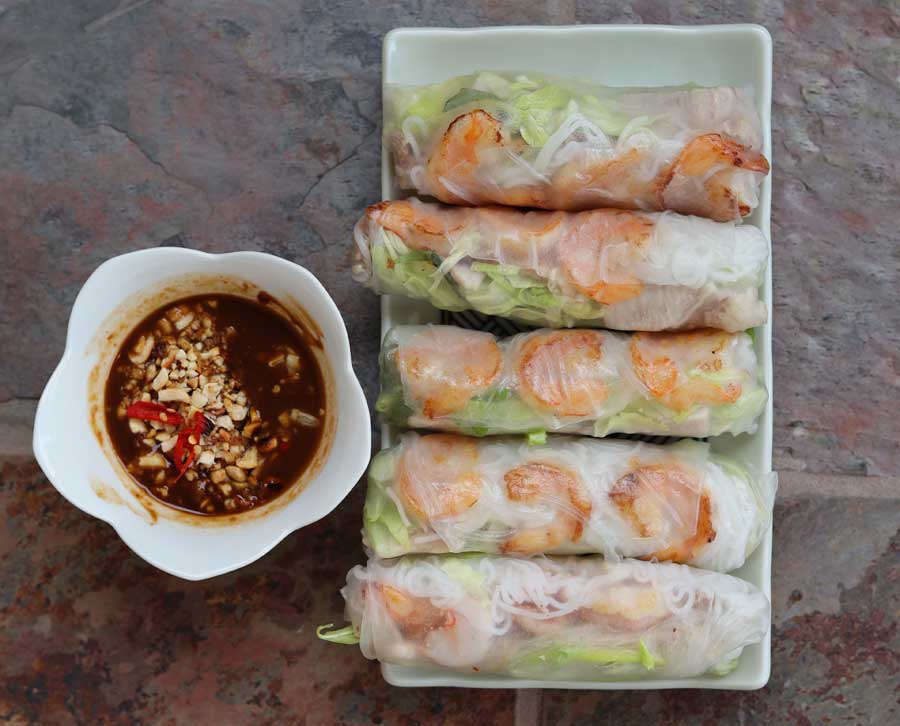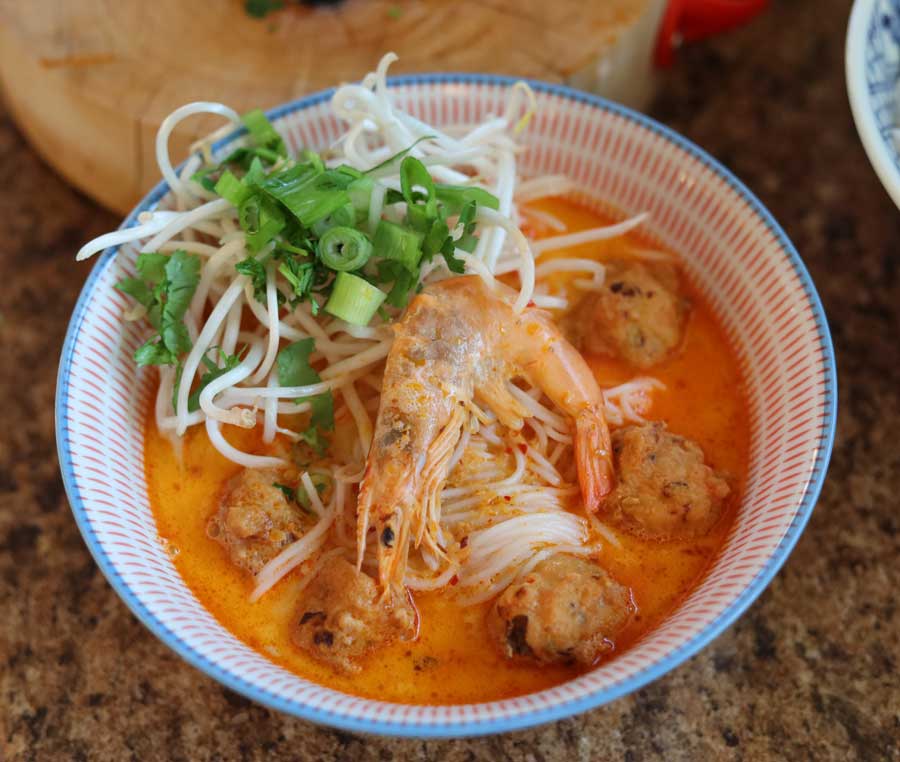 Laksa Soup with Shrimp Balls
Made with our Laksa Paste from Por Kwan Thailand and our delicious home-made shrimp balls. Served over rice noodles, this is a complete meal full of flavor.
---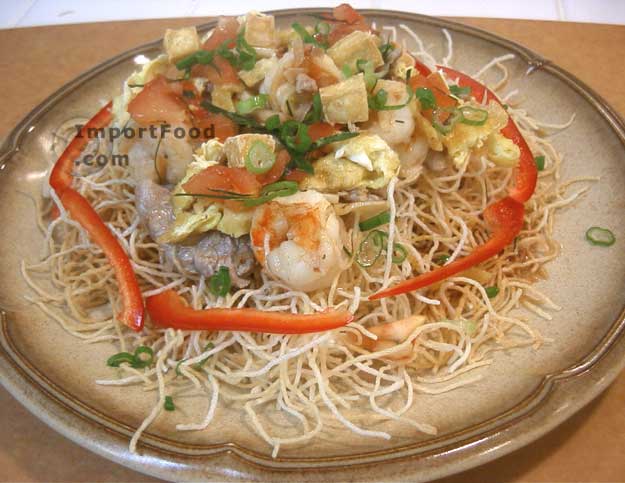 Thai Crispy Stir-Fried Noodle, 'Mee Krob'
Mee krob is a fun dish to present to friends, as the crispy noodles are very unique and unlike anything you find in traditional American food. It's fairly time-consuming to prepare but well worth it.
The authentic sweet/sour sauce offers wonderful, exotic flavor. It can be served without the pork and shrimp for vegetarians.
In Thailand this is prepared in a wok but we used a pot to fry the noodles which worked well, and a skillet to fry the other ingredients. See pictures below, also read about Mee Krob as part of our sidewalk guide of good eats in Bangkok.
---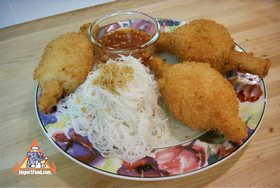 Thai Sugarcane Prawns, 'Goong Pan Oi'
We first discovered sugarcane prawns 15 years ago in Bangkok at a delightful Vietnamese restaurant called Sweet Basil, which is apparently still in business but at a new location.
It's not spicy at all, and the sugarcane adds a nice touch of sweetness to the prawns. Aside from the wonderful taste of this recipe, just the unique appearance of prawn cakes on a sugarcane stick is enough to make your friends marvel at your cooking prowess. We know you'll like this special recipe if you give it a try.
---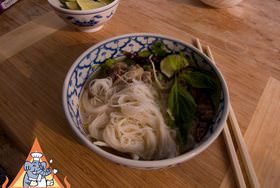 Vietnamese-Style Beef Noodle Soup
We LOVE this recipe and so does our kids. We were able to get excellent quality beef short ribs from a local butcher, get the best possible meat for excellent results. The recipe below makes a fairy mild soup, but you can spice it up with more sambal oelek and/or Thai chile peppers. Vermicelli noodles go perfectly with the beef, and you can add different kinds of greens to suit your taste.
---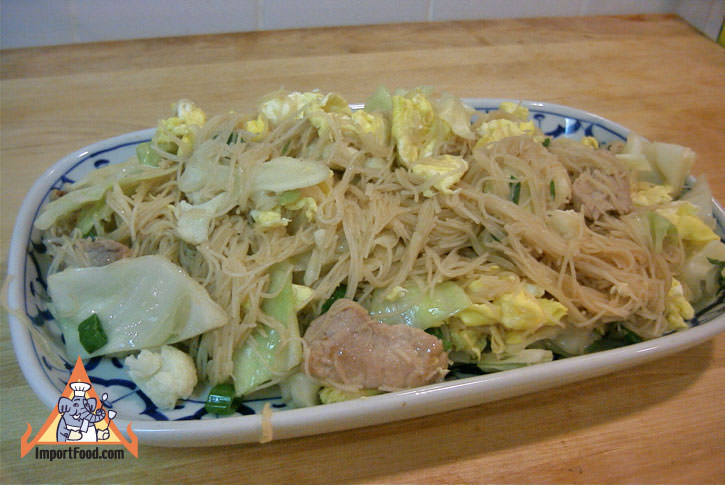 Thai Fried Vermicelli Noodle, 'Pad Mee'
We recently featured Pad Mee in a Thai street vendor video (see below), and this is a version we made in our own American kitchen. As it turns out, this became an instant favorite among our kids and their friends. Not spicy, and the noodles have a great consistency. Rice vermicelli blends well with vinegar, sugar, thin soy and black soy sauce in the wok, the result as shown is a healthy and tasty noodle dish.
Be sure to watch the video (below left), as a guide. We use a microwave method for blanching the vegetables. Also, we recommend soaking your noodles in water for at least 5 minutes before blanching them in boiling water.
---