Tempura - Japanese Style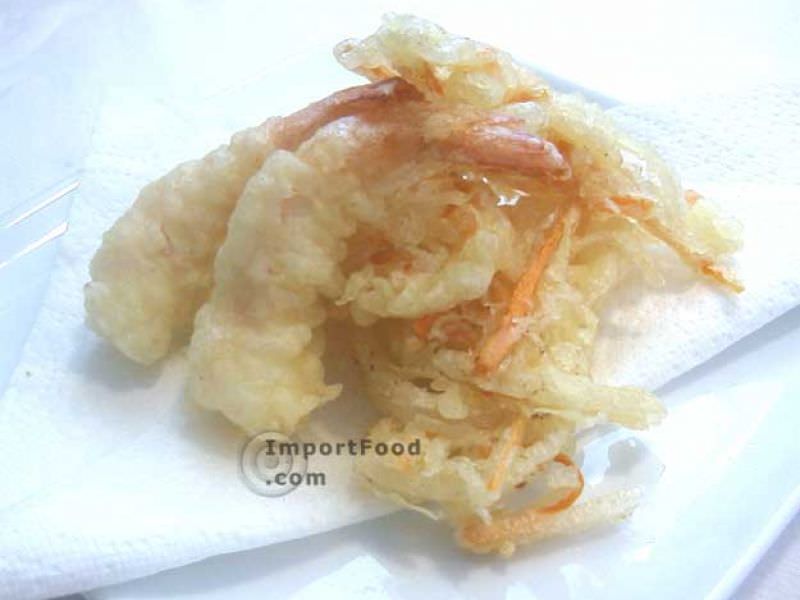 It seems everybody loves tempura, and with our authentic recipe you can't go wrong.
Ingredients
For 4 Person(s)
Ingredients
1

Cup Tempurako

1

Cup

Cold Water (for tempurako)

Oil

For Deep Frying

4

Large

Tiger Shrimps

1

Medium

Onion

1

Carrot

1/4

Cup Hontsuyu

1/2

Cup

Water (for dipping sauce)

1/2

Teaspoon

Minced fresh ginger
Buy ingredients for this Recipe
Method for Tempura - Japanese Style
Peel shrimp, retaining tail shell, and devein. Make a few slits along the inside curve to prevent curling during cooking. Thinly slice the onion and carrot. Heat the oil for deep-frying to 340F in a wok. Meanwhile, prepare the batter: lightly mix the tempurako and cold water. Using chopsticks or a fork, very lightly fold in the flour with just 4 or 5 strokes. Add sliced onion and carrot together in the bowl, batter with the Tempurako mix, and carefully drop a tablespoonful of battered vegetables at a time into the oil. Deep fry a few at a time at 340F and remove from the oil when both sides are light golden, and drain on paper towels. Repeat until all the battered vegetables are cooked. Do the same for shrimp.
In a small pan, prepare the dipping sauce for tempura by mixing Hontsuyu and water, and warm it up.
Serve tempura with dipping sauce. Add Oroshi Ginger in the dipping sauce.

Reviews